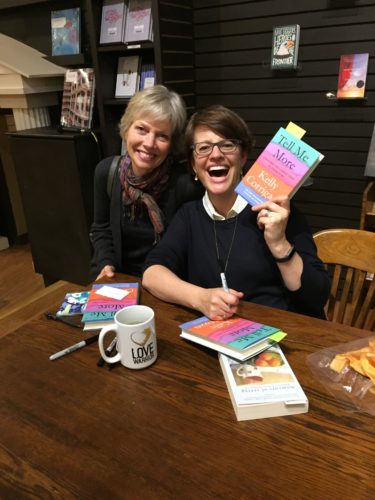 "Lives don't last; they thrill and confound and circle and overflow and disappear because it's like this, having a life." ~ Kelly Corrigan
The Huffington Post has called Kelly Corrigan "the poet laureate of the ordinary."
Damn, I thought when I first read that. I sort of wanted it to be me. Could there be any higher praise? But I'll also be the first to admit: she deserves every bit of that acclaim. I've loved each of Kelly's books, in part because of her rare, yet almost off-hand ability to create what feels like instantaneous, genuine intimacy between herself and the rest of us.
To open any Kelly Corrigan book is to think, "If we two could meet, we would definitely be friends." Although she and I had never laid eyes on each other until last week, I had to keep reminding myself that I didn't actually know her — yet.  More powerful than the truth was the feeling we'd been pen pals for years, ever since all our kids were young; or, rather, ever since I read The Middle Place. 
My guess is that if you're already a Kelly fan, you know exactly what I'm talking about. If you're not, no worries, you can start right here. Reading her heartfelt, self-deprecating, generous memoirs, one can't help but feel both seen and validated, welcomed into what appears to be a charmed inner circle — a safe place in which female friendships are treasured, the ups and downs of marriage and family life are survived with good humor if not always grace, and the messy, unfathomable rewards and challenges of motherhood are honestly, often hilariously, chronicled and given their due.
But this circle is also a place where awful things happen, where decent people screw up, where teenagers behave badly, and where dearly beloved ones die too soon. Because of course there is no such thing as a charmed life, only charmed moments – fleeting, precious moments that are all too often missed while our flighty, petty, over-burdened minds are occupied elsewhere. And Kelly Corrigan's subject isn't some made-up, idealized life but her own imperfect real one, with all its pain and beauty, heartache and redemption, loss and love, hairballs and eggshells and toenail clippings, tender deathbed confessions and unexpected epiphanies. She writes, to quote mindfulness teacher Jon Kabat-Zinn, about "the whole human catastrophe."  And in the process, she assures us that our own catastrophe is worthy of notice, embrace, and celebration.
Tell Me More made me laugh out loud in public and it made me cry unexpected, gulpy tears, in equal measure. To call it a self-help book would be to give it short shrift as the tender, often eloquent work of story-telling, personal exploration, and universal discovery it actually is. And yet, help it most certainly does. In the days since I first read it, I've found myself putting just about all of these twelve familiar phrases into practice in a whole new way: intentionally, lovingly, gratefully.
What are the hardest things we have to say to each other? How can we practice the art of listening, when our first impulse is to fix, explain, or solve? How can we find the right words to convey all that we feel and all that we know and all that we wonder about and all that we can never hope to understand? How do we talk about fear and regret? How do we summon the sentence that might open a heart, or ease a conscience, or erase a doubt? These are the questions at the heart of Tell Me More, a wise and deeply practical – even useful – memoir/manual for all of us who simply want to do a better job at being our better selves.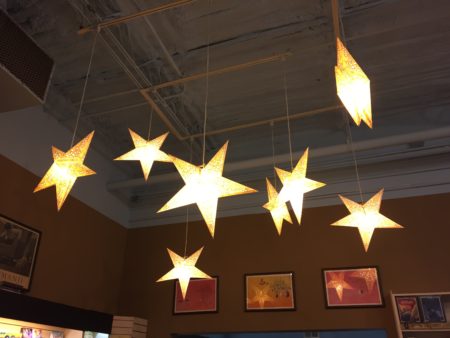 When I first heard there was a new Kelly Corrigan book coming out this winter, I went straight to my laptop to Google her tour schedule. While some might dream of a January escape involving drinks at sunset on a beach somewhere, my own antidote to the winter doldrums came together as soon as I saw that Kelly was going to read at Parnassus, my friend Ann Patchett's bookstore in Nashville.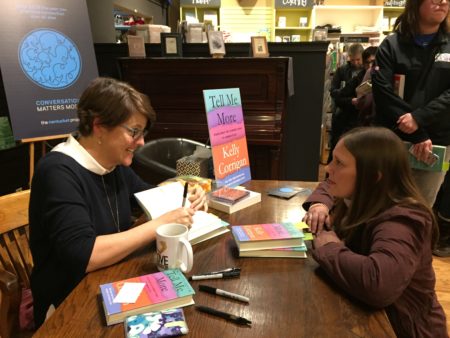 Destination decided! My soul daughter Lauren, just a three-hour drive away in Atlanta was game to come, as was my mom, who loved the idea of a road trip with us. And so it was that three generations of my family, blood mother and chosen daughter, were in the audience at Parnassus last Tuesday night. We had the joy of meeting Kelly in person and of hearing her talk about how, out of her grief at losing her dad and her best friend, came a deep desire to grow, to change, and to transform that sadness into even deeper awareness, simpler love, greater understanding, gratitude.
Of course, I could write a whole piece here about how much fun my mom and Lauren and I had romping around in Nashville for a couple of days (oh, the Patsy Cline Museum!!), but I'd rather get right to the point, which is this:
I have a signed first edition of Tell Me More from Parnassus to share with one lucky reader. Details below.
It's not often that I say, "Just get this book," but I'm saying it now. Whether you win a signed copy from me, or attend a reading yourself (Kelly's tour schedule is here), or head down to your local bookstore, do treat yourself to Tell Me More. In its own humble, unpretentious way, this one is a life changer. It's already shifted the way I'm talking with my own two grown sons. It's making me think more deeply about everything I say and everything I do. And I find myself wanting to press copies into the hands of all my own nearest and dearest, just because. And to remind them, as Kelly Corrigan has reminded me:
This abstract performance art called Family Life is our one run at the ultimate improv. Our chance to be great for someone, to give another person enough of what they need to be happy. Ours to overlook or lose track of or bemoan, ours to recommit to, to apologize for, to try again for. Ours to watch disappear into their next self – toddler to tyke, tween to teen – ours to drop off somewhere and miss forever.  It's happening right now, whether we attend to it or not."
It is said that the best books grow out of questions, not answers. "Shouldn't loss change a person for good, forever?" Kelly asks near the outset of Tell Me More. Her own search for an answer to that question is a gift to each of us who's ever wondered how we can possibly find meaning in the midst of heartache. I'm so happy to share this lovely, generous treasure of a book with you. Need a Valentine gift for some one special? Here's one that's pure love.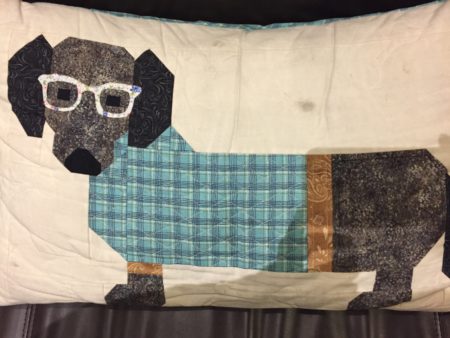 Oh, and by the way, if the idea of a road trip to Parnassus appeals to you, too, consider this:  Ann Patchett has asked me to return to Nashville on March 28 to interview Pulitzer Prize-winning author Anna Quindlen about her forthcoming novel Alternate Side at the store.  Ann will do the introductions.  Sparky and the shop dogs will be on hand. We'll talk about writing and the books we love, parenting and life as it is, growing up and growing old. I can't wait, and of course we'd all love to see you there!
to win a signed copy of Tell Me More
Just leave a comment below.
Share the words you are learning to say.  Or the words that create connection in your life.  Or the words someone once offered you that made a difference.  Or the words you find it impossible to speak.  Or the words that are in your heart right now.  In other words, simply show up, share a thought, and you will be entered in the drawing.
Deadline: I will draw a winner at random on Friday February 9 at noon EST.
Your signed book will come with a Parnassus bookmark.  Good luck to all!  Don't want to wait? You can order now from Parnassus here, or from Amazon here.  (Amazon is an affiliate link.)
(Feb. 10:  Congratulations to winner Sheri Rosacker.  And to every reader who who left a comment here, thank you for creating this incredibly inspiring list of supportive phrases, which benefit us all.  Such practical collective wisdom!)