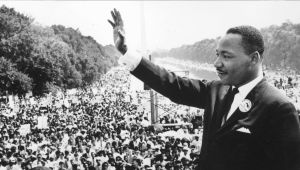 "I have decided to stick to love. . . Hate is too great a burden to bear."  ~ Rev. Martin Luther King
There's a neighbor up the road I've never met. I know his pick-up truck though, as I often find myself driving behind him as we come and go on our daily rounds. The truck is lifted, painted with camo, and festooned with decals and bumper stickers supporting the flag, the military, and the NRA. There's one that defines gun control as "hitting your target."
When I'm behind this man, I ease my foot off the gas and slow down, giving him space to roar off up the road and out of sight. Nevertheless, I've had ample opportunity over the years to absorb the slogans and messages plastered all over his vehicle, including this one on the center of his tailgate: "If you don't like it here, you can go back to the shit-hole you came from."
My heart clenches when I see those words. The angry bigotry, rooted in fear of the "other," scares and saddens me. I'd never heard someone refer to another country as a shit-hole until I saw my neighbor's bumper sticker.  I wouldn't recognize the man behind the wheel if we met in line at Rite-Aid, and so I've been left to wonder: Who would think, let alone say, something so hateful? Now, of course, I know the answer to that question. We all do.
It is January, 2018, and we live in a country where evening newscasters feel obliged to warn parents that they may want to remove their children from the room rather than expose them to the vile, racist language used by the President of the United States.
There was so much that was so horrifying about the first year of the Trump administration that I slipped, as the months went by, into a habit of trying to protect myself from future shock and more despair by following the issues carefully and then envisioning all the possible worst-case scenarios. There's plenty of dark fuel for those fires in the daily news from Washington.
But after twelve months, I'm exhausted from being constantly upset. A friend said she'd heard the phrase "outrage fatigue" on the radio this morning and realized that's exactly what she's been feeling. Me too.  As I thought on New Year's Day about my intentions for the year ahead, it dawned on me that while there is much going on  I can't control or make sense of, I can choose how to respond. And anger, fear, and despair won't make the world a better place. Faith might, though; and so could hope. Combine faith and hope with positive actions, no matter how small, and you have a potent alchemy for change.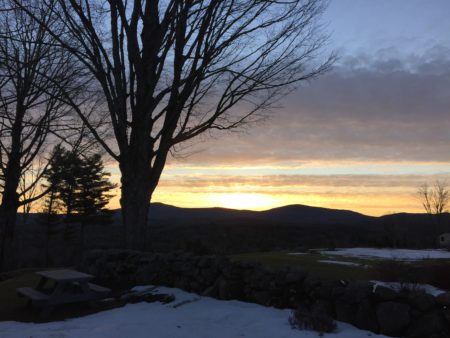 On the first day of this new year, I made myself a promise. Going forward, I would be more mindful of what kind of energy I send out into the world. For me, this means taking a moment early each morning to set the compass of my own heart toward gratitude. It means placing my feet firmly down upon the small, barely discernable path of optimism. It means remembering, as Jesuit priest and author Gregory J. Boyle has written, "There is no force in the world better able to alter anything from its course than love."
Choosing optimism doesn't mean turning away from the truth of where we are. It doesn't mean being in denial about the dangers and the inestimable damage already wreaked by Donald Trump and those who enable him. The reality of this presidency is deeply disturbing. It's the hateful bumper sticker magnified, touted on television, and turned into policies founded on the notion that some lives matter more than other lives.
But there is another reality. And that is our own humble, human goodness. In his New Year's Eve message to the people of Rome, Pope Francis expressed his gratitude to the ordinary men and women who quietly contribute to the health and beauty and charm of their city. "Artisans of the common good," he called them, citizens who simply do what they can to make things better, not through noisy words but by silent deeds.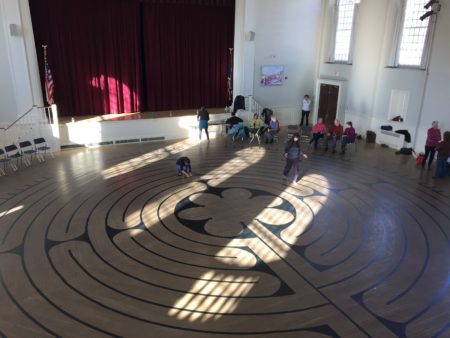 In my own small New Hampshire town, there are artisans of the common good at every turn – grocery boys who carry bags out to cars without being asked, auto mechanics who run a quick vacuum over sand-encrusted floor mats after doing an oil change, neighbors who show up unasked to shovel snow, postmen who deliver mail right to the door on a stormy day. There are singers and actors, artists and writers, activists and speakers who enrich our lives with their creative efforts. There are dedicated volunteers who turn out day after day and year after year, in all kinds of weather, to plant window boxes and town gardens, who teach schoolchildren how to grow and cook healthy food, who manage a vibrant, welcoming food pantry, who carry on traditions such as Children in the Arts Day in the spring, and Peak Into Peterborough in the fall, and the New Year's Labyrinth.
There are groups of committed men and women who came together in the wake of the 2016 election and who continue to make phone calls, write letters, and stand strong against the erosion of our democracy and core values. There is the Arab-American who offered a series of evening talks at area libraries last winter entitled "Ask a Muslim Anything," during which he generously answered any and all questions about Islam and the Muslim faith. And there are the Unitarians who, after a "Black Lives Matter" sign was stolen twice from the lawn in front of the church, made a new banner, a bigger one, and hung it from a second-floor window, out of harm's way.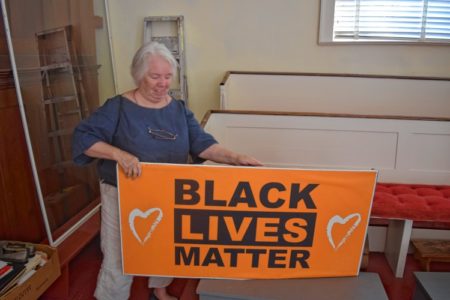 It's easy, as a white person in a rural, protected community, to take what I have for granted, even as I stare at the ceiling in the dark of night trying to imagine what it must feel like to be one of those 700,000 undocumented kids who were promised a secure life in this country, only to now face threats of being pushed out of the only home they've ever known.
Nothing I've experienced in my own 59 years is akin to that kind of danger and uncertainty. But I am trying to envision myself there, in the shoes of a young immigrant wondering what the future will hold, whether my country will honor its promise, and whether the artisans of the common good will prove stronger in the end than those who seek to expel and to exclude, who wish to build barriers and to separate us from each other.
Tomorrow is Martin Luther King Day. And so this afternoon, writing these words, I go in search of some of his. "Darkness cannot drive out darkness," King assures us. "Only light can do that. Hate cannot drive out hate: only love can do that."
This is the encouragement I need right now. Perhaps you need it, too – the reminder that we can only begin to change the world by first changing how we see and respond to the world.
"Faith," Dr. King said, "is taking the first step even when you can't see the whole staircase." Let us celebrate Martin Luther King Day 2018 by heeding his fierce encouragement to keep moving in the direction we want to go. Let us take the first step toward hope, whatever that looks like in this moment. And let us walk arm in arm on this path that was carved out by the words and deeds of all those who traveled it before us, who spoke up for justice, who acted from a place of deep compassion and kinship, and who made of their own ordinary lives a blessing. To be an artisan of the common good is to believe not only in our own goodness, but to shine a light on the goodness of someone else.  It is to stand, as Gregory Boyle urges, "with the demonized so that the demonizing will stop."
Need reason to hope?
Watch this.
Listen to this.
Play this.
Read this.
Check out this.