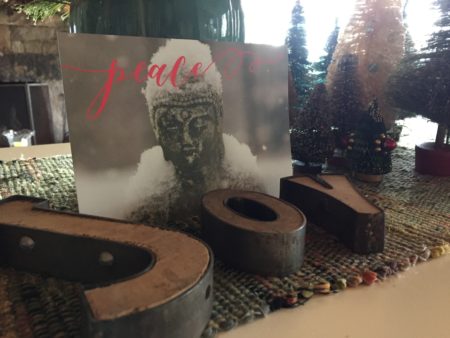 I've spent the last few weeks rummaging around in the basement, carting boxes of stuff off to Goodwill, decorating for the holidays, making granola and other gifts from the kitchen. When my mind is unsettled, I have a hard time sitting still. Better to put my body to work doing something physical that manifests visible results, whether it's baking cookies or cleaning the shower drain (I did that this morning).
Still, it feels strange to be entering the holiday season, stringing lights and cutting greens, when there's so little cause for celebration in the world at large and when so much of what we hold sacred (truth, democracy, and decency for starters) is under full-scale assault. To pay close attention to what's happening in our country is to wrestle with painful realities most of us couldn't have begun to imagine even a year ago. It is to open, as Annie Proulx recently observed, "a savagely difficult book without a happy ending."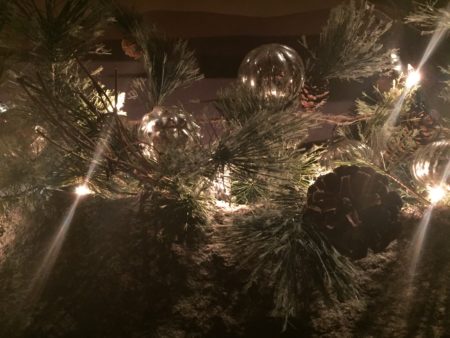 And yet, it is December, time in our house to put up a tree, to welcome grown children home, to bake cranberry bread and wrap gifts and gather with friends and family. What I always love most about these weeks before Christmas is the opportunity to connect with loved ones near and far, sending packages off in the mail, exchanging cards and holiday letters, lighting candles and gathering around crowded dinner tables. But this year feels different, as if the darkness of our human affairs has dimmed the lights of hope and faith and joy.
My guess is I'm not alone in feeling shaky and overwhelmed. Yesterday after yoga class, my friend Maude and I paused in front of a plaque in the studio, a quote from the Dalai Lama. Although I've walked straight past these words on the wall a hundred times, they suddenly hit home with the force of truth: "There are only two days in the year that nothing can be done. One is called Yesterday and the other is called Tomorrow. Today is the right day to Love, Believe, Do, and mostly live."
I have been desperately in need of this reminder. There's no magic formula that can take us back to better times. No amount of worry or despair or sleepless nights will shape our future. But there is today. And today offers countless opportunities to act with kindness, to embody peace, to donate to a good cause, to call a friend (or a politician!), to visit someone who's alone, to take small steps toward the light, steps that make the world just a little bit better.
Perhaps this is the challenge we are called to this season: to choose joy without turning a blind eye to the chaos. Joy not as an emotional response to the outer world, but joy as a practice, joy as an inner vibration of the soul, joy as an offering, a way of being, a way of healing what is broken.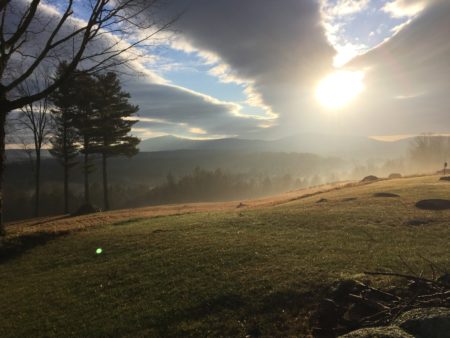 Do not be dismayed by the brokenness of the world.

All things break. And all things can be mended.

Not with time, as they say, but with intention.

So go. Love intentionally, extravagantly, unconditionally.

The broken world waits in darkness for the light that is you.

~ L. R. Knost
books for holiday giving
I've heard from quite a few readers who plan to give copies of Moments of Seeing this season. That means so much to me, and I'd love to make it even easier for you. For the month of December only, I'm offering signed copies of Moments of Seeing for just $15, a savings of 25% off the list price of $20.  Buy four copies (or any combination of my books totaling $60) and your shipping is free. I'll tuck in a bookmark, too!
Click here to order.
The link takes you to my husband Steve's small company, Earth, Sky & Water, where you may well be tempted to do some other holiday shopping.  I especially love the new holiday themed notecards and keep asking him to bring more of them home for me.  Perfect stocking stuffers and hostess gifts.