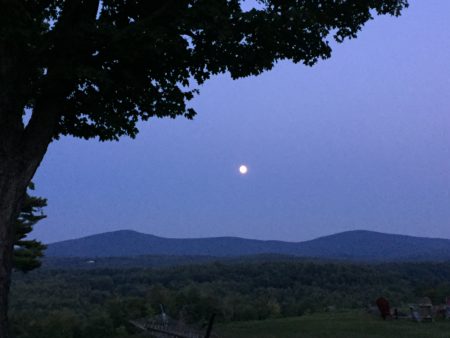 The crickets sang in the grasses. They sang the song of summer's ending, a sad, monotonous song. "Summer is over and gone," they sang. "Over and gone, over and gone. Summer is dying, dying." The crickets felt it was their duty to warn everybody that summertime cannot last forever. Even on the most beautiful days in the whole year — the days when summer is changing into fall — the crickets spread the rumor of sadness and change.    ~ E. B. White, Charlotte's Web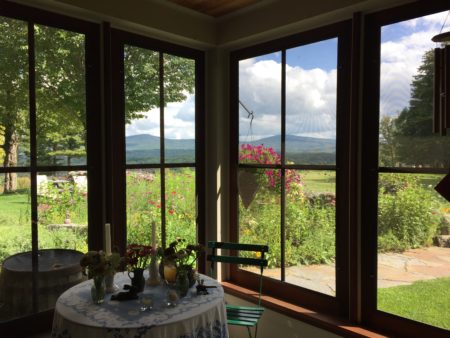 I've been listening to the crickets' warnings all afternoon, trying to accept the truth: summertime cannot last forever.  Much as I would love a hundred more days just like this one, there's no denying that change is in the air. From my "summer office"  — an old blue chair on the screened porch — I have a view of mountains, garden, and sky.  It's as serene a vista as any human being could hope to call home.  There is not another person in sight and I've allowed my computer screen to darken into sleep mode on the table in front of me. And yet distractions are plentiful.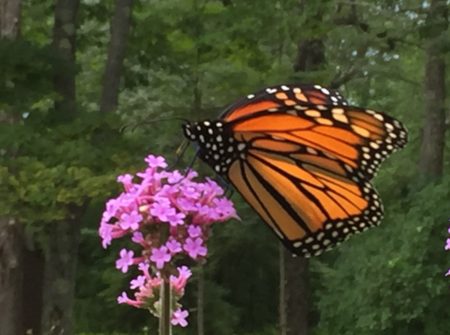 Bright, busy monarchs float from one purple verbena spire to another, and every few minutes I step outside to count them.  Six at once today, more than I've ever seen here at one time.  A pair of bluebirds splash in the birdbath while woodpeckers and jays come and go from the feeder. A breeze rustles through the leaves, clouds slide by, bees hum, the sun slips behind the trees.  As the day turns and the shadows lengthen, the cricket song intensifies, as if more and more insect musicians are finding their way into the field, tuning up their instruments, and joining the symphony.  It's hard to get much writing done.
Every year, my family teases me for mourning the end of summer even before the 4th of July fireworks are over.  I always want more – more dawn hikes up the mountain, more strawberries and blueberries and peaches to pick, more arugula and basil to cut from the garden, more swims in the pond, more dinners on the porch, more bouquets of cosmos and zinnias, more fires on the hilltop, more s'mores eaten in the dark, more nights of deep sleep with all the windows open.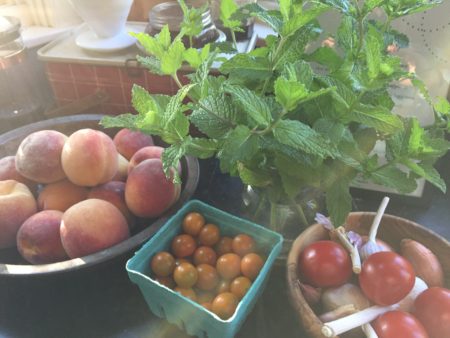 And yet, all summer long we have had these things. We've watched magnificent sunrises and sunsets, stood outside before bed gazing up at stars, tracked every phase of the moon as it's traveled across the sky.  There were swims and walks, pies and cobblers and corn, candlelit dinners and countless bouquets.  This year in the garden, my cosmos reseeded, poppy seeds scattered without much thought last fall produced a lavish display of lavender blooms all through July, marigolds thrived, and rain fell often.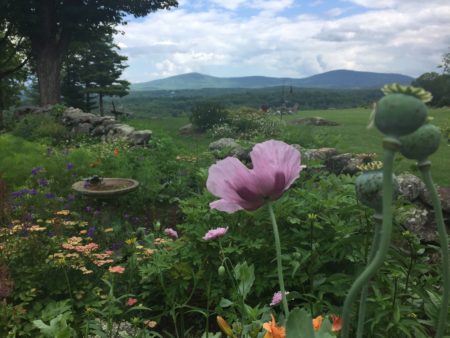 Our soul daughter Lauren came north to Boston for work and added in New Hampshire visits every time. Henry was home for a month before leaving for grad school in Cincinnati, and we drove to Maine for a perfect lobster roll and a walk by the ocean. Although Jack couldn't get here, the rest of us gathered for a raucous, wonderful family dinner in my parents' house on Bailey Island — a place so full of memories that to be there on a summer eve is to feel time collapse in upon itself, past, present and future colliding into one visceral breath of familiarity and longing and love. Here at home we have lingered around bonfires and roasted marshmallows and sent wish lanterns aloft, fueled by flames and silently bearing our hopes and dreams for peace into the night sky.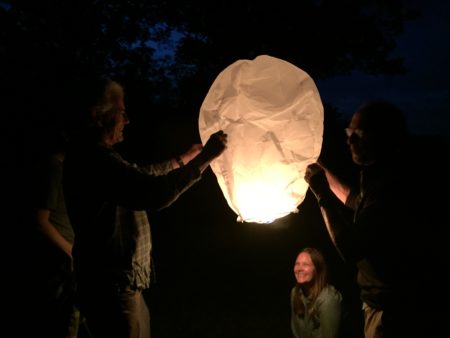 Daily, we are aware of just how much abundance our own ordinary life has offered of late.  Daily, I am grateful. And, too, I'm aware of a darker current running beneath each day's doings — a sadness and uncertainty that permeates even the simplest pleasure.
The other morning, watching a video of a Houston family return to their devastated home, while sipping coffee in the comfort of my own safe kitchen, I struggled to make sense of the scale of the catastrophe in Texas – a catastrophe already supplanted by an even greater one bearing down on Florida as I type these words.
For those of us far from harm's way, the scope of the dangers, the suffering, and the destruction are unfathomable. All day I've been trying to imagine it.  What is it like to see your very world destroyed before your eyes?  I can watch TV and donate money for the victims and pray for the first responders.  But these small gestures are nothing in the face of all that's happened, all that will happen, and all that needs to happen in order to set our battered world back on course.
Trying to prepare people for the worst before Hurricane Harvey hit land, the National Weather Service predicted that storm would be "beyond anything ever experienced."  Last night, talking to my sister-in-law on the phone in Florida, I heard the fear in her voice as she, alone in her house – far from the coastline, but in the path of Irma nonetheless — made her own preparations for living through yet another storm "beyond anything experienced."  Later, watching the newscasters grope for words that might convey the scope and potential dangers of the latest hurricane, the word "unprecedented" was used for the second week in a row.  Suddenly, it seems, "unprecedented" is happening with shocking regularity.  And none of us, really, has any idea what to do.
Fifty inches of rain fall.  Chemical plants explode.  Nuclear power stations are shut down. Every school in the state of Florida closes.  Power is lost. Entire islands are rendered uninhabitable. Wild fires rage out west.  An earthquake leaves dozens dead in Mexico.  Countless homes and businesses are destroyed.  Gas runs out, as does water, lumber, canned food, and time. Meanwhile, more storms gather strength off shore.
Our weather has become cataclysmic, just as the scientists studying climate change have been predicting for years.  It is one thing to hear those warnings.  It is another to watch tragedy after tragedy unfold on the TV screen, scenes of animals and people fighting for their lives, immigrants forced to choose between drowning and deportation, thousands of homeless human beings wading through water and sifting through wreckage.  And it is quite another thing altogether to actually live through any of this, to experience it directly.  Honestly, I can hardly begin to comprehend it.  At the same time, as a citizen of this country, I know that I must try.
Sitting here on a perfectly beautiful summer afternoon, it occurs to me that the rumor of sadness and change E.B. White evoked so many years ago is in fact a much larger truth today, an ending not only to a summer season but also to a kind of innocence none of us can any longer afford to indulge. On the surface, here, now, my own life has not changed.  But in our country, in our world, on the planet, there are indeed profound shifts underway.  We can continue to allow politics to divide us, to allow poisonous rhetoric to substitute for scientific fact, intellectual honesty, and informed problem-solving — but we do so at our peril.
Lately I've been thinking more and more that the whole idea of "sides" in any urgently needed conversation is both morally wrong and willfully dangerous.  Deep down, don't we all know this? When it comes to our planet, not to mention our survival as a species, there are no sides.  There are only human beings, human beings who must honor our interconnectedness with all of life, and who must find common ground and deep compassion for the earth and for one another if we are to save ourselves. History is not something that just happens to us. It is also made by us — shaped by the choices we make, the stands we do or do not take, the knowledge we do or do not heed, the words we do or do not say, the painful truths we do or do not accept, the values we do or do not uphold.
Perhaps what we need at this moment is to put our well-defended labels and prejudices aside.  They have not served us anyway.  No one benefits from the acrimony that divides Democrats from Republicans, left from right, liberals from conservatives.  I wonder what would happen if, instead of raising angry voices against each other, we were to join forces and begin to demand that our leaders, all of them, do what is right for our country, for our planet, for the animals and plants, and for each other.
There was not much good news to be found in the paper this week, but I'm heartened by an op-ed in the New York Times by Christina Todd Whitman. A Republican, the former governor of New Jersey and head of the EPA under George Bush, Whitman is, by her own admission, "not a part of the liberal resistance to the new administration." But she is a moral, thoughtful person with a healthy respect for facts. And, as such, she finds herself very much at odds with Donald Trump and his choice of Scott Pruitt to run the E.P.A.
"The E.P.A is too important to treat like a reality TV show," she writes. "People's lives and our country's resources are at stake." Exactly so.
What would happen if each of us began speaking out for what we know to be true: our planet is in peril and we must work cooperatively to save it.  Together, we can replace partisan politics and point-scoring with courageous, creative problem solving.  We can do the hard thing, instead of the expedient, pocket-lining, short-sighted party thing.
Huge swaths of America, not to mention our island neighbors, are battered and bruised today.  At this moment, millions are homeless, while millions more are evacuating or hunkered down awaiting imminent destruction.  While Irma heads for land, the Caribbean is on watch for Jose, the third major hurricane in as many weeks.  In Mexico, the earthquake death toll rises.  And yet, amid the devastation, there are also reasons to hope.
It is in these moments of natural disaster that we show up not as partisans but as people, each of us committed to help in whatever way we can.  I was struck by the story of one young Mexican "dreamer", a 31-year-old immigrant who would have been deported under Trump's plan to end DACA. He traveled 120 miles from his home to offer help to the people of Houston, only to lose his life trying to rescue stranded residents in a flooded apartment complex.  A reminder to the rest of us:  there are no sides.
From coast to coast, we are opening our wallets, writing checks, sending truckloads of hay and dog food, clothing and diapers and groceries.  Perhaps, too, we are finally ready to face the inconvenient truth: Life as we have taken it for granted on this earth is already over.  In the months to come, as tough decisions are made about what is sustainable now, something new will take its place.  Whether that new way of inhabiting our world will contribute to the healing of our planet or degrade it even further is up to us.  But if we are to choose the healing path then we must also be willing to travel that road as one people. And we must do so by placing a higher value on the health of the earth as a whole than we currently place on American power, political party, wealth, or expedience.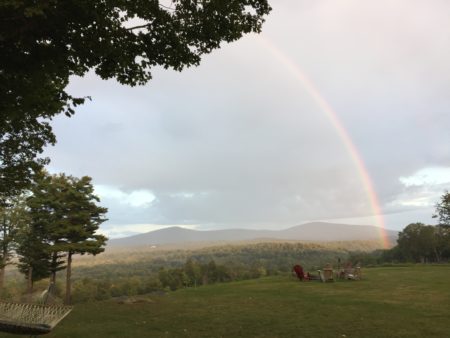 As I've been sitting here this afternoon, the day has changed, from balmy sunshine to cool and dark.  Storm clouds have rolled in over the mountains and a sudden shower is bringing a brief, welcome rain to the garden.  At this moment, there is a rainbow arcing across the sky. And so, looking out at this landscape I love so deeply, I find myself circling back to gratitude for what is, gratitude that is, as always now, inextricably intertwined with concern for what also is.   We live in anxious times.
Let us not give in to or turn away from this anxiety, but transform it into hope.  Let us engage with open minds and hearts in the hardest of conversations.  Let's read the writers and scientists who challenge our thinking.  Let's learn more and more, step out of our preconceptions and judgments, and then show up and find a way to make a difference. And, at the same time, let us remain awake to the small beauties and astonishments of our own ordinary days.  Our survival depends on this — a sense of wonder, a profound respect for the fragility of all that we cherish and, too, an unwavering awareness that we're in this together.  It's time to listen closely to the crickets' song, to heed their insistent rumors of sadness and change.  They are singing, after all, to you and me.  As poet David Whyte has written, "Your great mistake is to act the drama as if you were alone."

good works
If you are wondering where your donations to hurricane relief will do the most good, consider supporting the efforts of Team Rubicon, a dedicated group of veterans who are skilled in first response and highly organized. My yoga teacher worked closely with them in New York after Hurricane Sandy and recommends them highly.  You can learn more here.
There are already politicians from both parties in Washington who are more committed to solving problems than to scoring wins. Cooperation doesn't make headlines, but it can make headway.  A reader introduced me to the group No Labels.  Check them out here.
On Sunday, Sept. 24, I will join Team Diane (and thousands of others!) to walk 26.2 miles to raise money for ovarian cancer research.  Seven years after my dear friend died at 55, I remain committed to this cause, in part because I know that every dollar we contribute goes directly to her doctor's cutting-edge team of researchers at Dana Farber.  If you would like to know more, visit my page here. We are all digging deep these days.  That said, I am enormously grateful for your support — both in dollars and in good vibes as I try to get in shape to go the distance.  (To those of you have already made donations, thank you.  Handwritten letter to follow!)
SaveSave
SaveSave
SaveSave
SaveSave
SaveSave
SaveSave