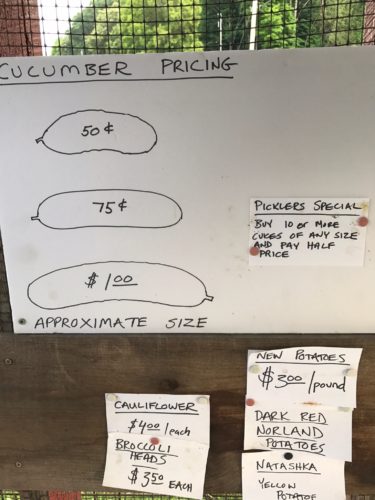 Acouple of weeks ago a friend texted me a photo from his local farmstand, where freshly picked cucumbers are priced according to length. Customers choose their produce, tally up what they owe, and leave their payments in a box. The farmer's innocently suggestive drawing made me laugh.
But what really struck me about the photo was the nostalgic beauty of this age-old endeavor – a way of doing business which simply assumes the best in each of us. During a summer in which the Boy Scouts have apologized for the behavior of the President of the United States and PolitiFact rates just 20% of his statements as true and 69% as either outright lies or false, it's hard not to feel sad and suspicious of our moral culture, no matter where you fall on the political spectrum. As a nation, we are watching the criminal investigations into this administration unfold with a mixture of horror and fascination. Often times, as yet another presidential lie is exposed and supplanted by an actual fact, I wonder how this man goes to sleep at night. And what of those individuals who repeat his falsehoods in exchange for a paycheck? How do you live with yourself if you know most of the words that come out of your mouth are untrue and the things you do each day are dishonest?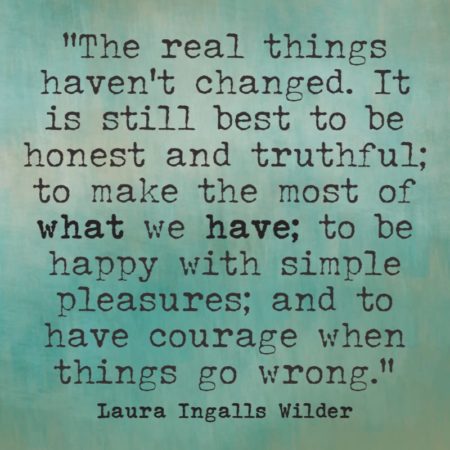 When my son Jack was very young, his favorite story was Pinocchio. Although we didn't watch many movies in our household, we did own the Disney version of Pinocchio and Jack watched it with endless fascination, as if that movie held for him the key to life. In a way, I think it did. There was Pinocchio, pulled again and again toward adventure and excitement and trouble, and tempted again and again to lie his way out of every jam. And there was Jiminy Cricket, whispering in his ear, "Go ahead, make a fool of yourself, then maybe you'll listen to your conscience."
What child really wants to hear "the still, small voice" that, as Jiminy himself acknowledges, "most people won't listen to"? Growing up, we learn integrity the hard way, by trial and error – cheating on a test, shoplifting a pack of gum, throwing trash out the car window, lifting a few dollars from a parent's dresser, telling a lie. Whether we get caught or not isn't the issue. What matters is how we respond to that sense of hollow regret and self-loathing that comes with doing wrong. We can numb it, ignore it, and pursue a self-interested, self-aggrandizing path. Or we can heed the voice of our own inner authority and begin to choose the high road — every time, even if it's hard.
It is only by strengthening our moral muscles that we grow up, grow wise, and become trustworthy. Maturity and integrity go hand in hand. But we are human, and fallible, and the process is ongoing. As Indian guru and philanthropist Sri Sathya Sai Baba observed, "Who you are is made up of three persons. There is the one you think you are, the one others think you are, and the one you really are.  Work towards making all three the same. Then there will be peace and bliss."
Fortunately, life offers us countless opportunities to practice spiritual alignment.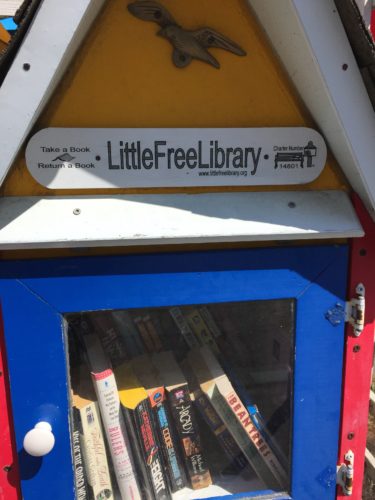 Over the last couple of weeks, I've countered some of the disillusion I feel in our government by keeping my eye out for old-style examples of the honor system. The truth is, we humans are healthier and happier when we do the right thing, even when no one is watching. It is lovely to be trusted. And it feels even better when we uphold that trust. A local farm stand or a roadside table offering flowers is an opportunity to participate in a two-way flow of faith in our own best selves.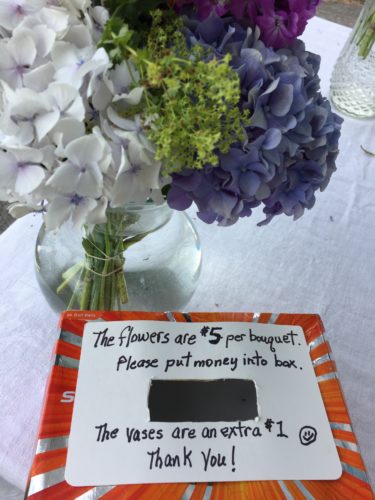 There is more than enough cause for despair in our nation this summer. I cannot change the President's ways. But I can commit to raising the bar even higher in my own daily life, and to finding small ways to both do good and to be good. I can choose to pay forward kindness and honesty, whether it's by picking up beer cans alongside the road, donating a special book for some passerby to discover, or placing more money than I owe in an unattended box.
Here are a few more photos from my summer travels. Collecting them has been fun, and participating in these friendly exchanges always lifts my spirits.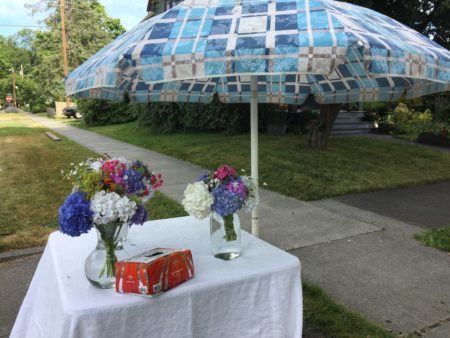 This charming table was set up on the sidewalk in the midst of a busy urban neighborhood.  I loved that even the vases were for sale — for a buck!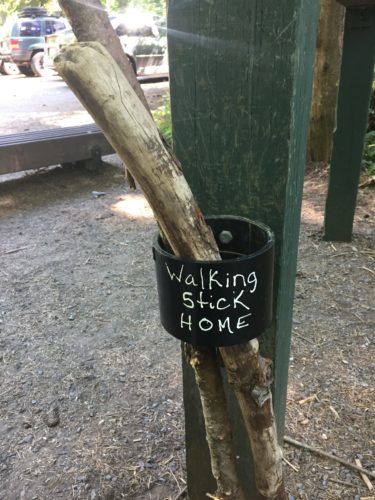 What a good idea, to leave behind a sturdy walking stick for the next hiker to use.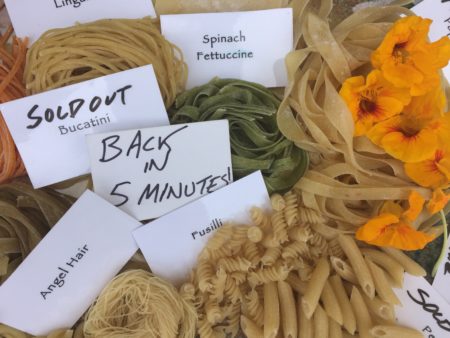 At the farmer's market, the fresh pasta purveyor trusted her customers to wait for her return, or to leave their money if they were in a hurry.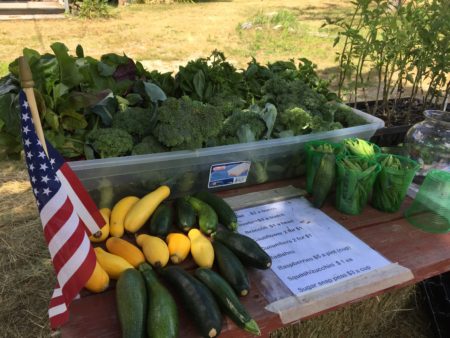 We walked past this neighbor's table in Maine a few times last weekend.  Each day the produce was restocked, beautifully.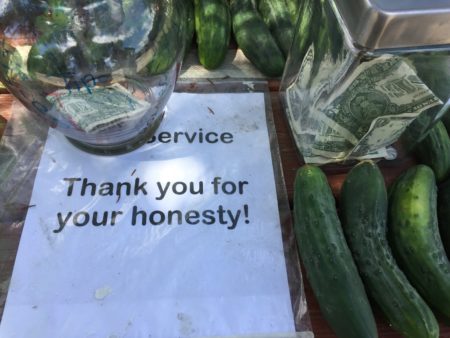 An honor jar is a point of pride, for both farmer and customer. And trust is a strong motivator, especially when the offerings are so generous.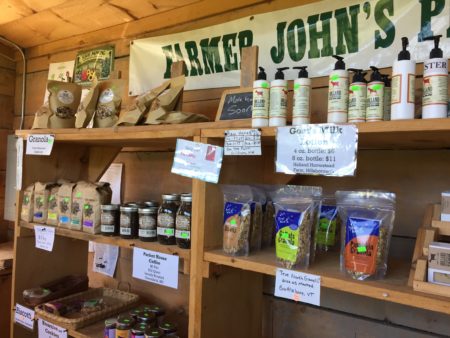 Here's the set up at my own local self-service farmstand.  There's only one Farmer John, and he's busy in the garden, so he trusts his customers to shop in his small store, record their purchases in a notebook, and leave their cash in the box.  There's a big basket full of spare change, a fridge full of berries and cheeses, organic lotions and potions, and home-baked pies made with love.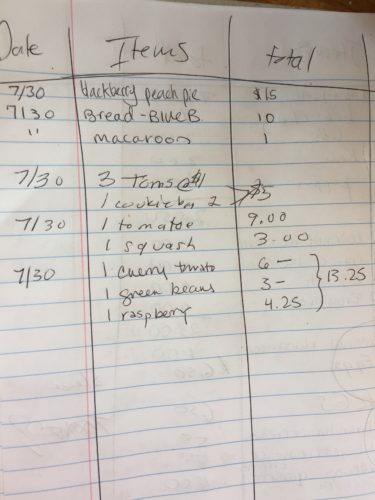 Although many local cooks and farmers bring their wares to sell at Farmer John's, the place runs without a single employee.  When the flag is at the door, the store is open for business.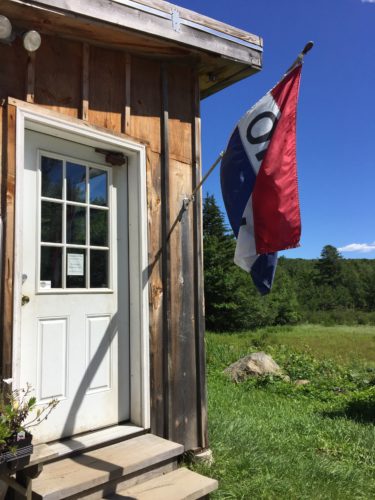 I'd love to hear about how the honor system is working in your neck of the woods.  In the meantime, may we each do our small part to spread goodness, to support each other, to appreciate the simple pleasures, and to live with integrity and courage.
SaveSave
SaveSaveSaveSave
SaveSave
SaveSave
SaveSave
SaveSave