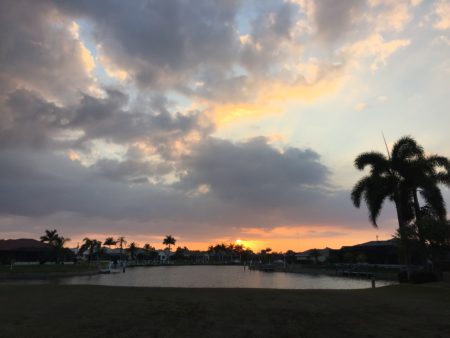 We need to recover an oasis of silence within the rhyme and reason of our active life, for it is in the silence that we meet the face of God. ~ Max Picard
It is still dark as I type these words. The sliding doors of the guest room at my parents' house in Florida are open to warm night air, the rolling sounds of distant traffic, the first low laments of mourning doves. For the last week my mom and I have been alone here together. Our plan when we arrived was to spend these precious days taking walks, reading our books (I ambitiously mailed myself a whole box from home), exercising, making healthful meals and enjoying each other's company.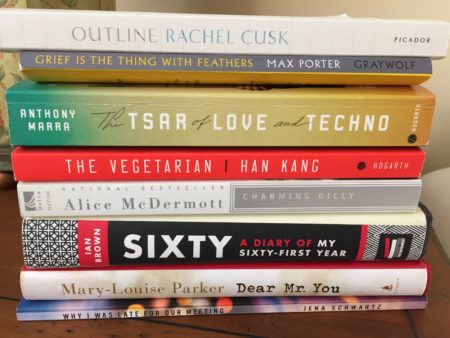 We've done some of that. But in all honesty, we've been distracted from our modest intentions. The drama playing out in Washington has overshadowed too many waking hours. Instead of immersing myself in the novels on the bedside table, I succumb to the pull of three or four different newspapers and magazines on line.
In years past, my mom and I would spread craft supplies out on the table and create home-made cards and tiny hand-sewn books with leather covers. This year, we've been sharing articles and posts from our Facebook and Twitter news feeds. And watching Colbert and Saturday Night Live clips. And making phone calls to senators and representatives. And signing petitions. And donating money. (And, as I mentioned here last week, not sleeping all that well.)
A few minutes ago, when I switched on the bedroom light and reached for my laptop, this quote about silence was the first thing I saw.   It arrived at the top of an invitation to a contemplative retreat. The words leapt out — an oasis of silence. I wanted to sign up immediately.
I can't run away to that small wooden cabin in the woods. But I am here for one more week, in a quiet house by a quiet canal in a neighborhood where, it seems, most of the neighbors are staying north for the winter. I've got no real obligations other than to be good company for my mom and prepare some talks to give next month. There's nothing to stop me from creating my own oasis of silence right where I am.
Perhaps you're ready for a break, too.
In phone conversations with friends over these last days I've noticed a creeping sense of exhaustion and overwhelm. We are all deeply concerned about the country. We are also tired and sad, embarrassed and anxious. We're having a hard time focusing on the present moment, or getting work done, or even committing to plans for the future. As one friend confessed the other morning, "I just don't wake up with the same sense of joy and optimism about the day that has always been such a part of who I am, and of my life here."
My friend happens to actually live alone in a remote wooden cabin. Full of books and plants and artwork, her home is nestled into a hillside and surrounded by a magical garden — a sanctuary not just for her, but for all the wild creatures with whom she shares it. What she has created there really is an oasis of silence, an oasis fed by a spring of joy. These days, she admits, the spring is more of a trickle.
As citizens of the larger world, we are all struggling. How many checks must one write to the Natural Resources Defense Fund before one can step into the backyard and look a beloved old apple tree in the eye? How many phone calls to a Senator does it take before you feel you've done your civic duty for the day and are free to go to the movies or take a walk with a friend? Can a blog essay published  or an article shared on Facebook create an authentic experience of opening and empathy, or are we just bouncing all these words around in an echo chamber of our own creation? How do we connect with those who hold different views of our problems? How do we begin to work together toward possible solutions? I haven't found anyone yet who's come up with a definitive answer to such questions. We are all finding our way.
After the election, The New York Times was so inundated with accounts of hate crimes and harassment occurring across the country that they began gathering the stories into a weekly round-up under the heading This Week in Hate. These are things I would rather not know about. At the same time, I feel a sense of responsibility; it is my duty, as an American, to know what cruelties my fellow Americans are inflicting upon each other. And, too, how my fellow Americans are suffering at the hands of their neighbors.
I used to love opening my email to find notes in my inbox from readers eager to share the parallels and synchronicities in our lives. These days, I click open notes from strangers not with joy, but with dread.  Many of them are cruel and accusatory: "You've become unhinged." "What happened to make you so hateful?" "You should stop writing and pray to God to clean your mind." "Unsubscribe me." These are just emails, silent messages that I can respond to with civility and then delete. But they do serve a purpose. They deepen my empathy. If a few angry emails cause my mouth to go dry and my heart to pound, I can only imagine how it must feel to awaken to find your tires slashed and a swastika on your car windshield, or feces dumped in your yard, or hateful words scrawled across your driveway. I can only try to imagine the terror of having your front door broken down at 4 a.m. by a team of customs agents emboldened to arrest first and ask questions later.
Here in Florida, where every repairman, construction worker, garbage man, and yard crew I encounter is clearly from somewhere else, I make it a point to wave, to smile, to say hello. It doesn't feel like much. In fact, nothing I could possibly do would ever be enough. I know that's part of what's troubling me, this sense of helplessness. No matter how much any one of us reads, posts, calls, marches, meets, tweets, or donates, it's not ever going to feel like enough.
But there's another hard truth that's also begun to sink in. What we've got here is not some passing crisis in the White House, but a long road that's already irrevocably transformed the assumptions we make about our government, our security, and our daily lives, both as individuals and as a nation. We must stay engaged and informed. We must find ways to show up, speak up, and reach out. But we must also pace ourselves. We must rest. We must clear a space in our days for quiet. We must take time to think and to reflect, not just react in despair or outrage to the latest headlines. We must, in the words of writer Cheryl Strayed, be sure to "put ourselves in the way of beauty." We must remind each other of our optimism. And our goodness. We must feed our souls and nurture our spirits so that we can continue to serve as ambassadors of peace and healing in the world.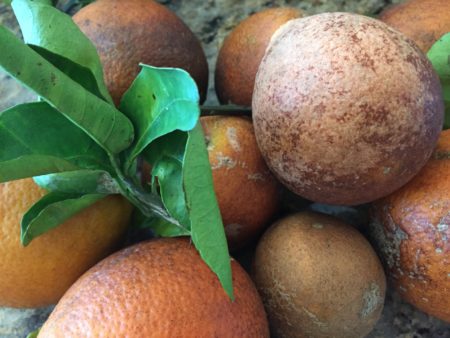 Today, here, I am stepping into an oasis of silence. I'll squeeze oranges for breakfast. I will go out for a walk and listen to the wind tossing the palms. I'll sit in the shade and finish reading the collection of almost unbearably beautiful short stories I began last night. I'll talk to my children and husband on the phone and do some yoga and make dinner for my mom. I'll leave the TV off and the newspaper untouched. I'll put myself in the way of beauty.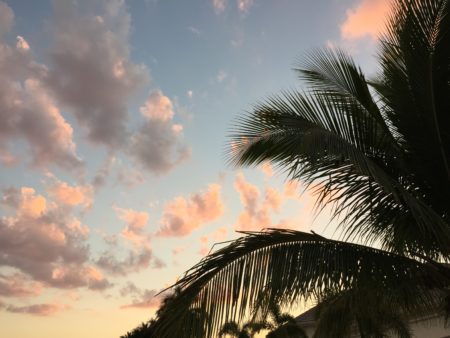 I hope you're taking gentle care of your own soul today, too. Together, we can do this. In the meantime, let us not forget the value of being still, of being awake, of being fully present to both pain and uncertainty. We are learning how to resist what is wrong, but we are also learning how to sit with our discomfort. And we have little choice but to open our hearts to mystery, in faith that there are forces at work in the world that are far greater than our human failures and fumblings.
Nothing we can do will be enough. Whatever we are able to do, may it be enough.
Silence creates possibility – the possibility of hearing. What we learn to do in silence is create within ourselves silence, to create within ourselves emptiness, to brush aside all words, all concepts, all feelings, all fantasies, all anxieties, all ambition – gently to brush away all these things that seem so important – to let them go and to empty ourselves so that if the word is spoken, we may hear it, and if the song is sung, we may attend.

 In silence we do not try to be anything or anyone. We give up trying to be and simply are. We become being. Or, to put it another way, we become nothing in order to become that which we truly are."    

~ Carl Scovel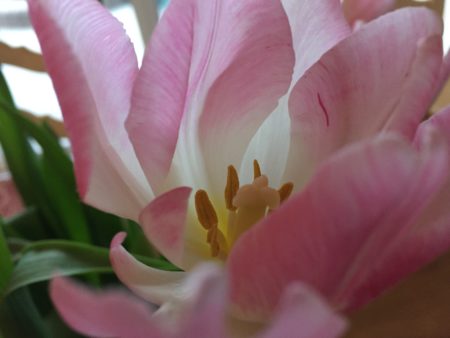 A heartfelt thank you to all who read and commented last week.  And congratulations to Jeanne and Kathleen, winners of the two hand-felted hearts by my artist friend Elizabeth Stubbs.  If you would like to support her ACLU fundraiser or see more of her work, visit her Etsy shop here.