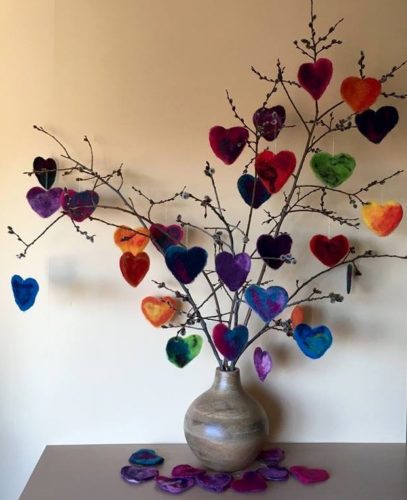 It is still dark, not yet five, too early to be awake. But here I am, eyes wide open. It's a new habit, this four a.m. restlessness blossoming into a low-grade anxiety that makes going back to sleep impossible. But this morning, oddly, it's a question that nudges me to consciousness:
How is your heart today?
I lie in bed for a while, taking stock. How is my heart? There's no easy answer.  And so I try to remember, instead, where I first heard or read these provocative, tender words.  In a book? A conversation? A blog post?
More curious now than sleepy, I turn on the light, reach for my glasses and phone, and Google the words "How is your heart today?" The first link that pops up jogs my memory: a beautiful essay from the OnBeing website entitled "The Disease of Being Busy," which I read quite a long time ago. In it, columnist Omid Safi, wonders:
Whatever happened to a world in which kids get muddy, get dirty, get messy, and heavens, get bored? Do we have to love our children so much that we over-schedule them, making them stressed and busy — just like us?

What happened to a world in which we can sit with the people we love and have slow conversations about the state of our hearts and souls, conversations that slowly unfold, conversations with pregnant pauses and silences that we are in no rush to fill?
These lines made a deep impression on me. Don't we all hunger for breathing room, for peace, for solitary reflection and, also, to be seen and understood? Doesn't every heart long for the kind of quiet, one-on-one conversations that allow time and space for vulnerability, intimacy, and soul connections that run deeper than words?
I'd recognized in Omid Safi a kindred spirit — a thoughtful husband and father, a busy university professor, and also a writer who invites us to slow down and to pay attention to what matters. "We know what we want," he suggests. "A meaningful life, a sense of community, a balanced existence. . . .We want to be truly human." These, of course, are the very ideas upon which I strive to build my own life.
Still, when I see the date on the essay — November 2014 — I'm a bit taken aback. I can't help but think how very different the world I've awoken to today is from the world most of us took for granted just two years ago when this essay was published. Two years ago, our country was not yet swept up in the bruising presidential campaign and election that has led us to this moment – a moment in which, if the president's travel ban is upheld in court, Omid Safi, a Muslim and the director of Duke University's Islamic Studies Center, would not be allowed entry to the United States.
I do not think it is a random thing that my unconscious mind has nudged me awake this morning with an inquiry about the state of my heart. And so it comes as no great surprise when I reach the end of Omid Safi's essay and find that the quote I've come in search of has its origins in Muslim cultures. Safi explains that when you want to know how someone's doing, you would ask, in Arabic, "Kayf haal-ik?"  Or, in Persian, "Haal-e shomaa chetoreh?" How is your haal?
"What is this haal that you inquire about?" he continues.
 It is the transient state of one's heart. In reality, we ask, 'How is your heart doing at this very moment, at this breath?' When I ask, 'How are you?' that is really what I want to know.

I am not asking how many items are on your to-do list, nor asking how many items are in your in-box. I want to know how your heart is doing, at this very moment. Tell me. Tell me your heart is joyous, tell me your heart is aching, tell me your heart is sad, tell me your heart craves a human touch. Examine your own heart, explore your soul, and then tell me something about your heart and your soul.
 Soon it will be Valentines Day. We will send cards and candy and flowers to our loved ones. But perhaps Valentines Day this year offers us an opportunity to go deeper than usual. What would happen if we were to ask ourselves, and each other, a question that requires a little more time and a lot more courage to answer: How is your heart doing at this very moment?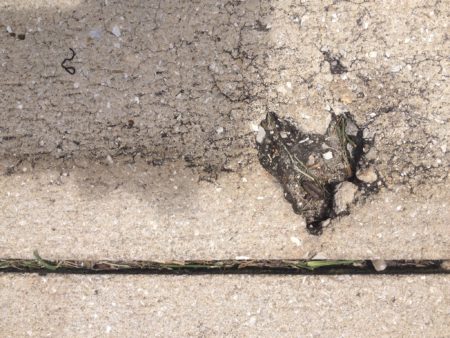 The truth is, my own heart, these days, is often heavy. The words sad and fearful come to mind. Disbelief and shock are in there, too, although as the days pass I'm a little less surprised by each new political low and a little less shocked by the rapidly accumulating assaults on our democracy. The belligerent, false, and cynical have all too quickly become commonplace. And what was once unimaginable has swiftly become our new reality: a country in which the president lies to the people, threatens the press, insults judges who test the legality of his executive orders, and courts favor with Russia as he insults our longtime friends and allies. The list goes on.
Like some who have confessed themselves too exhausted or too depressed to keep resisting the chaos of loss and destruction, I, too, have been tempted this week to shut off the news, to ignore the latest round of threats and falsehoods coming from the Capitol, and to go about my own private business in the hope that America's dangerous new course will somehow be set to rights.
But there is a glimmer of something else in my heart, too, something more powerful than despair. Something which refuses to be extinguished. I'm not even sure what to call it – some combination of responsibility and faith and hope.
This small, true flame is the one I want to nurture and feed. This flame – call it kindness if you will, or compassion — is what makes me me. It is what keeps me committed in the face of confusion and defeat. And it is what reminds me that to care for my own heart is to care for every other bruised and beating human heart as well.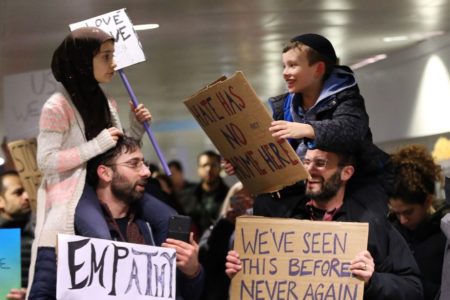 If the last few weeks have given us a taste of some previously unthinkable "new normal" in our country, then we are also realizing that it's up to each and every one of us to examine our own hearts with more courage and resolution than ever before. A few days ago my friend Claudia Cummins shared these wise and timely words by Buddhist teacher Jack Kornfield:
There is a fundamental nobility and dignity to all human beings. In your own way, your practice is to find this nobility and freedom in yourself, and honor it in others. When fear and untruth guide us individually or collectively, they lead to suffering for all. The dharma offers another, wiser way to live.

 Now is the time to practice, to steady your mind and open your heart. Then listen to your deepest values and find your own unique way to embody and stand for them. The world needs your wisdom and care, your compassion, your clarity and courage.
 This then, must be our practice now. And as we settle in for the long haul, why not take our cues from the stories of ordinary men and women all over the country who are embodying these values, whose words and deeds do much to honor the nobility and dignity of all human beings?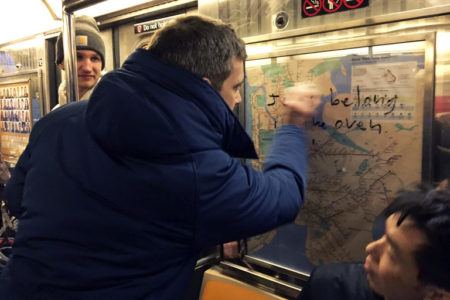 I'm inspired by the New York subway riders who used hand sanitizer from their purses and pockets to scrub clean a car defaced by swastikas and hateful words. By the Jewish congregants in a small Texas town who offered their Muslim neighbors the keys to their synagogue when the local mosque was destroyed in a fire. By the Jewish and Muslim dads whose children met and shared a smile at a protest at O'Hare airport. By the Juilliard students who responded to a church group's protest against the "vanity of the arts" by playing their violins for the protesters who had come to taunt them. By the lawyers who showed up in droves to offer assistance to refugees who were stranded in our nation's airports when Donald Trump's travel ban went into effect.  And by the suburban synagogue members who gathered at O'Hare with signs and roses and warm coats to welcome some of the last Syrian refugees allowed into the country.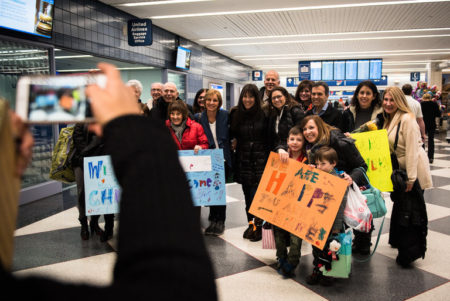 Isuspect that, if asked why they stepped up, every single one of these men and women and students and children would say what one of the subway riders expressed: "We were just being decent human beings."
However, we can't afford to take such decency for granted. For, just as thousands of citizens were protesting Donald Trump's travel ban, there were "ordinary" men and women who were executing it – with a lack of caring that offers a chilling reminder that, to quote the Baltimore Sun, "No would-be autocrat can act alone. As a practical matter, he needs subordinates willing to carry out orders."
And so I read verified reports of a five-year-old child being taken from his mother and hand-cuffed as a "security threat," of an elderly woman detained without food for twenty hours, of another detained for over thirty-three hours and denied use of a wheelchair, and I have to examine my own heart yet again. Painful as it is, we must acknowledge that this, too, can happen here. And that, as the Sun pointed out, "If we do nothing, that is a choice. It means we accept a government that has demonstrated it is capable of inflicting cruelty on the innocent and defenseless."
My heart is telling me to make a different choice. I invite you to do the same. May we commit to steadying our minds and opening our hearts. May we listen for our deepest values and find our own unique ways to embody and stand for those values. May we be kind. May we be clear. May we be brave.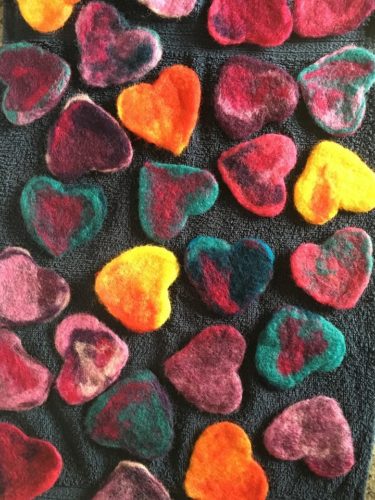 In this spirit, an artist friend has launched a "heartfelt" fund-raiser for the ACLU. She is working tirelessly to create beautiful hand-felted hearts for Valentine's Day – and she is donating all the monies raised from her efforts to the ACLU. I'm delighted to share her work with you and have made a donation in honor of you, my readers. Which means I have two lovely hearts crafted by Elizabeth Stubbs to give away.
To enter to win, just leave a comment below. I will draw two names at random on Tuesday, February 14. My small Valentine's Day gift to you — and to those working to support civil liberties for all.
So tell me, How is your heart today?
here is the deepest secret nobody knows
(here is the root of the root and the bud of the bud
and the sky of the sky of a tree called life; which grows
higher than soul can hope or mind can hide)
and this is the wonder that's keeping the stars apart
i carry your heart (i carry it in my heart)    
~ e.e. cummings