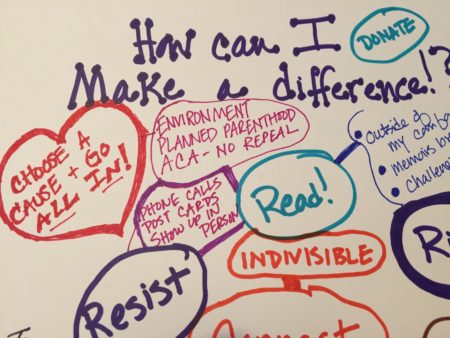 When I began writing here in 2009, I was feeling my way. I did not have a Facebook page or a Twitter account or a smartphone and, for a private person like me, the idea of creating personal content to post online was somewhat terrifying. My earliest blog posts were done at the request of my New York publisher, to help create a social media presence that might result in a few additional sales for the memoir I'd just written about being the mother of teenagers. Although the word "platform" wasn't part of my lexicon, my twenty-six-year-old publicist told me I needed one. And so, with the help of my then college-age son Henry, this website was born. I had no real plan, other than to write about whatever gifts and challenges my own daily life handed me and to see how things went.
One thing I was pretty certain about was that I wouldn't delve into either religion or politics in public. For one thing, my intention at the time was to build a community of readers – and there's no better way to lose a friend or a fan than to stir up the waters of dissent and disagreement on divisive topics such as God and elected officials. Besides, I'm inherently averse to conflict. Why ruffle feathers, when I could try instead to simply please everyone who happened to find their way to my website? Within the broad scope of "the gift of an ordinary day" I could offer a rumination about making applesauce in autumn, an anecdote about my sons, reflections about growing older or letting go, a few photographs of the peonies in my garden. These were the things I most loved writing about anyway. And with every post I was speaking as much to myself as to anyone else, reminding myself to be present, to be grateful, to pay attention.
As the years went by and this circle of readers grew, we also came to trust each other. I took a few deep breaths and shared some pretty tough stuff here, painful personal stories of loss and grief, and then was overcome by the responses I received in return. Week after week I was moved and uplifted by the comments that arrived in my in-box – words offered in solidarity and friendship, words of compassion and wisdom, words of generosity, eloquence, and hope. Here, through both our reading and our writing, we held each other up through good times and hard ones.
Last summer, as the national conversation swirling around the presidential election heated up, I faced a decision. I could carry on writing pieces without any reference to the political drama unfolding in our country. Or, I could share my grave concern about the possibility that Donald Trump would become our 45th president.
There was a part of me that was tempted to stay silent: Better not write about my own fears or the values I care about, or some people may not like me anymore. But in the end I couldn't do it. To ignore what was uppermost in my mind and heart seemed disingenuous and false and cowardly. In the words of Senator Cory Booker, "In the cause of justice, never remain silent just so that others may remain comfortable."
I know that one small voice on one small blog doesn't make a difference in anyone's big picture. And yet, I also believe that one person's silence speaks volumes.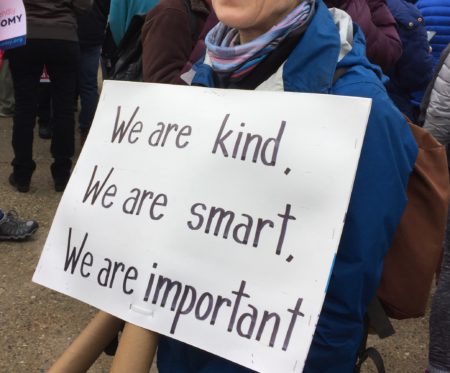 Much as I would love to be sharing a winter soup recipe today and the good news of a son's acceptance to grad school, I'm here instead to write the second part of this piece I began last week about how we might find ways to show up and speak out – something I never dreamed I would be doing. And I think it's worth saying that speaking up is not the same as whining, as some have suggested. Donald Trump is the president and I do accept that; I have no choice. But Donald Trump's words and deeds have turned me, and so many others, into activists.
If you're here reading this essay, then my guess is that you, too, are in a place you didn't ever expect to be – trying to find your way in a new American landscape in which politics has never felt more personal. As concerned citizens of a country we all love, it's become nearly impossible to separate the two. To voice our concern about what's happening in our nation at this moment is not "hateful," as one reader suggested, it's human.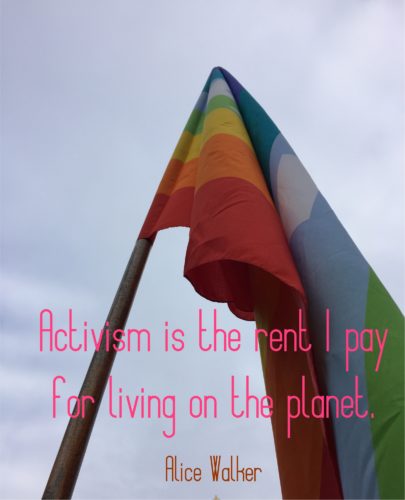 And yet, perhaps naively, I continue to hope that we can all agree on the basic values of civility and kindness, tolerance and empathy, honesty and fair play. I hope we can share our political views and concerns and trust them to be received with the same kind of respect given to our stories of personal challenges or our concerns about our children. Unfortunately, that kind of  common courtesy and respect for our differences has not been much in evidence in the White House over the last week. So perhaps it's little wonder that we've seen a decline in basic manners in our daily discourse as well. My guess is that just about every one of us has had some painful experience of reckoning and backlash as a result of speaking out in recent weeks. And yet, day-by-day and conversation-by-conversation, circumstances are requiring us to become both braver speakers and better listeners.
If we were not activists before, we are realizing we must become activists now. We are finding ourselves moved to do what feels right, rather than settling for what's easy. We're making choices that reflect our best selves and our highest aspirations for our country, rather than giving in to our darkest fears. But it feels important to acknowledge that these fears are not groundless. In just a few days in office, the president has taken executive actions that threaten civil rights, free speech, national parks, health care, women's rights, immigrants, LGBT rights, voting rights, and, with his silencing of the Environmental Protection Agency, the very planet we call home. The possibility of a tweet-triggered nuclear war is enough to keep many of us awake at night, wondering whom — if anyone — might rein him in before he does us in.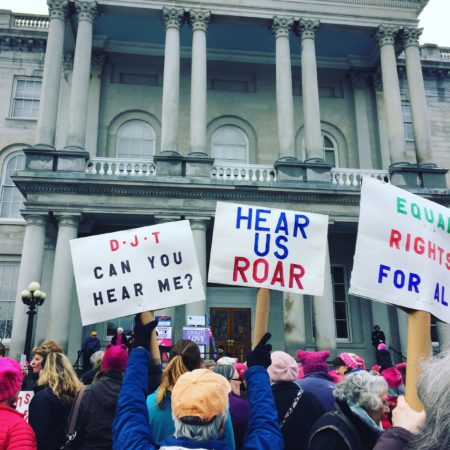 In the past, my quiet temperament has kept me on the sidelines of most organized political efforts. But last Saturday, I knew exactly where I needed to be: outside in front of the state house here in New Hampshire with a group of friends and 5,000 other human beings who are committed to supporting our fragile civil liberties, our basic rights as citizens and, most important of all, the earth itself.
And then, my heart full with all the personal stories I'd heard, I came home from that inspiring, empowering day and wondered, "Now what?"
I have no idea if it's possible for us to make a difference. What I do know is that I can't live with myself if I don't at least try. Over the last week or so, along with millions of other concerned Americans, I attempted to carry on some semblance of normal life while absorbing each day's bleak news. I also sought ways to offer constructive, peaceful responses to a president and administration I find increasingly combative and disturbing.
Like you, I'm learning as I go. I keep reminding myself: I can't do everything, but I must do something. So, in the spirit of our shared desire to move forward with hope and through good work, here's some of what I've figured out so far.
The 5 R's of Activism for Introverts.

Read.
"A reader lives a thousand lives before he dies. The man who never reads lives only one."  
~ George R. Martin
The man in the White House is leading only one life. We owe it to each other to lead many more than that. Now more than ever, I want to be informed, to see things from different angles, to stay abreast not only of events as they unfold, but also of their potential repercussions. For years, my daily sources for news and in-depth news analysis have been The New York Times and The New Yorker. (The New Yorker is my home page, so it's the first thing I see when I turn on my browser.) Since the election, I've been reading  The Guardian online and also The Washington Post, which is fearlessly fact-checking the news coming from the Capitol. Bill Moyers sends out a free daily newsletter with links to a wide-ranging round-up of articles about current events gathered from independent sources.
I draw much nourishment and inspiration from the writings of other women on the path, and  I especially appreciated  posts this week by Karen Maezen Miller, Nancy King Bernstein, and Gretchen Staebler. If you've wondered just why it's so hard for everyone to be on the same page, this essay helps explain.
But one thing we can probably all agree on is that in the midst of such chaos, it serves us and our country if we take time to read more widely and more deeply. As one Women's March sign in New Hampshire said, "Make America Think Again."
Reconnect
"A dream you dream alone is only a dream. A dream you dream together is reality." ~ John Lennon
I've never forwarded a chain letter in my life and am not a fan of group emails. But desperate times call for desperate measures. Now is the moment to reweave sturdier connections with friends near and far. Go through your address book, create an email list, and send out a feeler. Ask your friends if they'd like to receive more emails from you containing articles, essays, and/or suggestions for their own activist to-do lists. Many people do want to learn more and to get involved, they just aren't sure how.
Join your local Indivisible group, or start one in your town.
By the time Trump took office, a smart, motivated group of Congressional staffers had already created this practical, boots-on-the-ground manual with advice for organizing and resisting his agenda. Since December it's been downloaded over a million times, and over 4,500 local groups have formed and registered. You can download the whole manual for free. Go to the Indivisible website to find out if there's an existing group near you.
Where I live, we have two. Both meet weekly and maintain active Facebook pages with daily updates, phone numbers and addresses, and "marching orders."
Cultivate community by hosting monthly neighborhood dinners. Invite your fellow activists and keep each other fed and inspired. Or, invite everyone and agree to work together to find common ground and to double-down on such bi-partisan issues as working to get big money out of government by repealing Citizens United. (To learn more about that effort, start here: American Promise.)
What ever you do, don't run away from the hard conversations. Turn toward them. Soften. Hold your ground. Listen. Speak your truth. Listen some more.
Reward.
"We make a living by what we get. We make a life by what we give." ~ Winston Churchill
We all want to support good work in the world. At the same time, the amount of need and the number of organizations trying to meet those needs is enough to make your head spin. I could drive myself crazy signing every petition that comes through my inbox and sprinkling small feel-good donations far and wide.
I do sign the petitions – it can't hurt. But to stay sane, I'm trying to focus my energies and resources in just a couple of places. What matters most to you? For me, it's the ACLU, which is working tirelessly to keep legal pressure on the Trump administration for transparency (and his tax forms), and Planned Parenthood, which is being defunded by the GOP. But the environment and the health of the planet is, by many measures, the most urgent cause of all. There are many groups dedicated to saving the earth. They all sound worthy, so where will our money have the most impact? Here, from Outside and Earth Easy, two links that help answer that question.
Don't have room in your budget for donations of any size? You can still support good causes with your dollars. Instead of buying a gift for a birthday or holiday, make a donation in that person's name to a cause they care about. Or, if you really need something to wrap up — a shower gift for a new baby, a birthday present for Uncle Phil — or even some new T-shirts for the gym, head to the online shops of the causes you care about. There you'll find everything from onesies for the babe to coffee mugs, tote bags, and apparel that proclaims your support.  Try these for starters: the ACLU, Planned Parenthood, Greenpeace.
There are lots of creative ways to support positive change that don't drain your bank account, and many ways to reward those who are out on the front lines doing good work in the world. Gifts of time, food, transportation, or childcare for those who are testifying, marching, or traveling to rallies and meetings – all are appreciated and strengthen our community.
Resist.
"Never doubt that a small group of thoughtful, committed, citizens can change the world. Indeed, it is the only thing that ever has." ~ Margaret Meade
This really is the crux of it.
You can begin right here, with Jenifer Hofman's weekly Action Checklist for Democrats, Independents, and Republicans of Conscience. Jenifer provides clear instructions for actions you can take from home to support freedom and equality for all Americans. Her tent is big. She features lots of other good stuff there, too. Sign up for weekly newsletters full of both inspiration and instruction.
This week, I was just one of thousands of people who were making phone calls and writing letters to the White House, to our senators and representatives, and to state and local officials. Our democracy depends on communication between its citizens and its leaders. Just days into the new administration, many of these avenues of communication have been quietly shut down. And yet, we must not go silent ourselves. Let's continue to speak up, and to have faith that our voices, joined, will be heard.
Respect.
"We are sun and moon, dear friend; we are sea and land. It is not our purpose to become each other; it is to recognize each other, to learn to see the other and honor him for what he is: each the other's opposite and complement." ~ Hermann Hesse
It feels more important than ever to honor and uphold the values we teach our children and by which we live our lives. When our leaders aren't modeling integrity or valuing the qualities we try to cultivate in ourselves, then we just have to work harder. And so I renew my commitment to listen to people who disagree with me, and to give them room and space to voice their views. (For me, that's already meant developing much tougher skin!) I will also quietly insist on that same respect in return.
I am more conscious of my own privileges as a straight, white, upper-middle-class woman. And I remind myself that there's much I don't understand because of the life I've been fortunate enough to live. I will do my best to practice empathy by imagining myself in someone else's shoes, and then by trying to see the world through their eyes. I will be kind. I will be truthful. I will be generous with my heart, with my time, with my wallet, with my compassion. And I will continue to speak up and to work for the values and rights I believe are under assault.
Risk.
"Don't be too timid and squeamish about your actions. All life is an experiment. The more experiments you make the better." ~ Ralph Waldo Emerson
We introvert activists are already out of our comfort zones. I certainly am. But our democracy is out of its comfort zone, too. As are its most vulnerable citizens. As is our beautiful, overheated planet. Let's agree to support each other out here in the rough waters of the open sea. Let's experiment. Let's live bigger. These lines by my friend Claudia Cummins put wind in my sails this week.
   A Blessing for Living Big

Consider the possibility that you are not you. Or rather that you are not the little self that you perceive yourself to be, with your small story and your passing struggles.

Consider the possibility that you are an instrument of the greater You of the universe, of the vital energy that longs to spread and stretch through the cosmos, reaching all the way back to the beginning and all the way forward into forever.

Consider the possibility that you are infinite and real. Drop your small-minded obsessions with your transient self and struggles. Invite the vast vitality of the world to flow through you. Have faith. Live big.

Be bold enough to reclaim your birthright as a strong and beautiful messenger of life. Serve the world as an instrument of its kindness and peace. Shine brightly as life plays its sweet and soulful songs through you.
This is the second of a three-part series.  Next week, some thoughts on caring for our own souls during challenging times. In the meantime, I'd love to hear your thoughts and suggestions — both for activism and soul care.