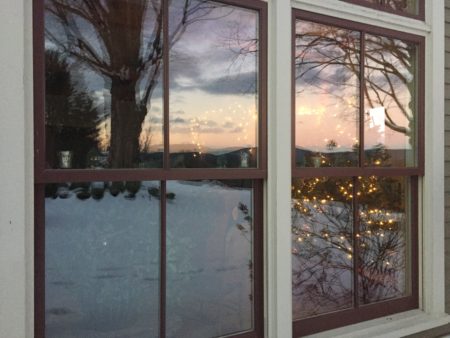 I've just flicked on the white Christmas lights – there are bright, tiny twinkles on the porch, on the tree, around the fireplace. Earlier, I ran some errands in town and bought groceries at the store where the guys behind the counter know every customer by name. I stopped in at the local bookstore to sign a few copies of my book for special orders. Back home, I filled the birdfeeder and stood outside for awhile, watching the sky change color and waiting for the hungry chickadees to come close. I sat in the kitchen with a cup of tea and ordered a couple of final gifts. The day flew by. It was good, full of reminders of what I love about our life  in this small New England town. And now dusk is falling, along with the temperature; by tomorrow morning it's predicted to be below zero. Our son Jack, home for this week, is off playing basketball with a friend. My husband is still at work. And there is time, just enough time, to write a few words before I have to start making dinner.
Usually I would relish this moment – a brief pause in the midst of life to gather some thoughts about the meaning of the living. And yet, I've been hesitant to write lately. My subject is almost always some variation on the beauty to be found in ordinary life — the pleasure of fully inhabiting small, fleeting moments and the grace proffered by everyday miracles. And as always, I do find both joy and comfort in the simple pleasures of these brief December days: a walk through new-fallen snow, chopping apricots and ginger and chocolate to make our favorite cookies, a candlelit dinner, lingering around the table afterwards as our son reads aloud to us his favorite passage from the long novel he's just finished. But even joy these days feels complicated, a bit tarnished by my own darker view of our world and my fears about what's ahead.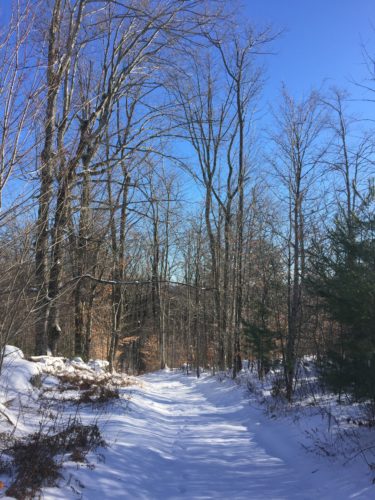 I was about to read your latest post and buy your book," a reader wrote me recently, "and then only a couple of sentences in, I see you bring up politics." She continued: "All I want is to read about gardening and family life. I see you have written about acceptance and forgiveness in the past, but you can't get over the election. So sad."
It's true. It's been over a month since I wrote that post and received that letter. And I'm still not over the election.
Most mornings, my husband and I silently maneuver around each other in the kitchen, making coffee and toast and pouring cereal. We look out the window as the sun makes its appearance over the mountains, each day a fresh beginning full of promise and possibility and hope. And then we sit down together as the room fills with light. It is not our way to talk much in the morning, but I imagine he steels himself in some way, as do I, before opening the newspaper. The news of the day offers little in the way of either reassurance or hope.
I'm tempted to turn away, to pick up my new book of Mary Oliver essays instead, and to read about her favorite pond in spring, or the seagull with the broken wing she once rescued on a cold December morning.
"What a life is ours!" she writes. And I agree. What a life to cherish and to notice and to celebrate. Mary Oliver reminds me to pay attention. "Doesn't anybody in the world anymore want to get up in the middle of the night and sing?" she asks. Yes, yes, I answer, I do. The moon was heavy and full last night, pearl-colored, casting crisp black tree-shadows at the edges of our snow-covered fields. We were awake at 4 am, and the stillness of the world was stunning to behold – a glassy, illuminated landscape stretched out beneath a sky pricked with starlight. It was indeed a night worthy of song. We didn't sing, but we did gaze. And we whispered together for a while as we looked out the bedroom windows, and then, grateful for our warm, solid house, we snuggled back down amid the pillows. When the sun rose three hours later, we were there to witness it, fully aware of life's abundance, of our own luck and privilege: to be alive, to live where we do, on this quiet hilltop where, in my own daily life, nothing much has been changed by the election of a new president except the contents of my heart and my growing sense of apprehension for this country I love.
I could choose beautiful sentences to feed my soul at the breakfast table, and in the past I often did just that. Yet it feels somehow irresponsible these days to eschew the stupefying news of the world for my favorite poet's ruminations about its beauty. Somehow, I must make room in my mind, in my heart, in my day, for both. And so, first, armed with strong coffee, I force myself to absorb the news.
The profound disconnect between our President-elect's values and my own intensifies by the day. It deepens with each rich, ethically challenged, climate-change-denying Cabinet member he appoints. My sense of shame and disbelief grows with every falsehood he proffers as truth, with each crude put-down or shallow tweet or empty promise or off-the-cuff threat he makes. Meanwhile, I'm increasingly grateful to the hard-working journalists who believe the truth is worth striving for, who work diligently to separate actual fact from Trump-fiction, and who are bold and wise enough to enter this urgent national conversation with clear reporting and much-needed analysis about what's happening to our democracy. Although I have never considered myself much of a political person, these days I take time to read the long pieces by writers who bring historical perspective and deep understanding of the issues, who can articulate for the rest of us just what's at stake here. I force myself to consider the worst-case scenarios and I welcome every piece that offers hope or constructive suggestions for how we must work together if we are to save ourselves from ourselves.
I can't speak for anyone else, but I do know that part of the quiet despair I've wrestled with since November arises from my own sense of helplessness, a feeling almost akin to the alarm I once felt as a teenager, in the moments just before I witnessed a car wreck on a quiet road in California. It was terrible and inevitable, that small bright red car's slow-motion spin out and slide toward destruction. I was stunned by the deafening sound of the impact, followed by the deafening silence of stillness. I have never witnessed anything so frightening and so irreversible, before or since. Indeed, this is a memory I deliberately keep wrapped up and tucked away, for in that long-ago moment there was nothing to be done but watch it happen. Forty years later, there is nothing to be gained in recalling it, except to say that this impotent dread is familiar. This time, though, it's not a fleeting moment but a constant, underlying sense of powerlessness. And, because I am an adult now, with some practical experience of the consequences of terrible events, I also understand that the moment of impact is only the beginning, and that what follows is much, much worse.
In times like these, when the civic values, freedoms, and precepts we once took for granted are threatened, every impulse we have bends toward action. We want to avert disaster, do something to make things better, spare ourselves and others pain, change the course of events that have already been set in motion. And yet, for the most part, we have no idea what to do. We can choose to stay informed, speak up in public as well as in private, and find ways to support those whose lives are endangered by the perogatives and priorities of this new administration. But the fact is, we can't do much to change the big picture, and the big picture has grown only more disturbing since November 8.
For me, dealing with these feelings of impotence and sadness and anger is still a daily challenge. Donald Trump will take office. And we, each of us, will have to figure out how to respond to his decisions and their repercussions, whether they immediately impact our daily lives or not.
As my friend Karen Maezen Miller wrote last week, "There was a contract we thought we had, a contract with the future that depended on our effort, intelligence, honesty and decency. Did you ever feel that? It was fragile, to be sure, but it's what we grew up believing." Yes, I did grow up believing that. And so I'm right there with her now, when she says, "It feels as if the flags should be flying at half mast."
The truth is, to me this election did feel like a death of sorts:  of ideals, of progress, of a certain, perhaps innocent, faith in the "best self" of our country.  And so to acknowledge in its aftermath a sense of grief seems normal.  Grief is an informed, reality-based reaction to loss. And loss is what many of us are feeling at this moment. As C. S. Lewis wrote in his beautiful memoir A Grief Observed, "No one ever told me that grief felt so like fear." I cannot help but read these words and think of another reader I've corresponded with over the years, the mother of five African American sons. "I still feel like I have been punched in the gut and I will be grieving for a while," she wrote me on November 10. "I don't want people to force me into acceptance." For this mother, as for millions of others whose lives are rendered more vulnerable by Donald Trump's election, grief feels very much like fear. She says as much, when she writes about her sons: "I fear for their lives every day, and now more so."
And yet, grief is never the whole story. As anyone who has survived the death of a loved one well knows, grief often goes hand in hand with grace. There are moments, even in the darkest night, of light. In our grief we find a way to reach out to someone else who is suffering. In our grief we discover the seeds of new resolve, a sense that we can no longer stand by but are ready to stand up instead. In the midst of sadness we become even more grateful for small gestures of kindness and generosity, more attuned to the world's beauty and its fragility, more compassionate toward others who struggle, more tender as we go about our daily work. In our grief, we're reminded that even where there appears to be no common ground there is always common humanity. And so, we become a bit more inclined to listen with an open heart, to make a greater effort to understand those who mean well yet see things differently. Slowly, one word and gesture at a time, the fear part of grief can be transformed by a fierce choice for love. There is no one among us who isn't fighting some battle or another, no one in this world who is immune – to grief, to fear, or to love.
Broken open, with our own inner flags flying at half mast, perhaps we can begin to see a way forward. For me, that way may not be marching or protesting or sharing streams of commentary on social media, although I support all these efforts.  Quiet by nature, I seek out a quiet path. But I have decided, after much reflection, that I will continue to write what I feel. I will continue to trust in the possibility of an ongoing, civil conversation even among people who disagree. For me, choosing love over fear means acknowledging this painful truth: we human beings are not always rational and the issues that divide us are painful and complex. We are not good or bad, but both, flawed and human and striving. And so, I feel a need in my own life to cultivate gratitude and accountability. Both. The gratitude may be for small, simple things – homemade cookies, a sweet text from a friend, a hand to hold. And the actions may be simple, too — another contribution to Planned Parenthood or 350.org, a letter written or a phone call made, a thoughtful piece of writing or independent journalism shared, or an attempt to reach out and support someone who is doing positive work. There is as much cause in this world for hope as there is for despair. It helps me to remember that, to hold both hope and despair in some sort of balance.
By the same token, joy and sadness may seem like opposites, but they are often inextricably intertwined. My challenge isn't to untangle these threads and toss the dark one away, but to weave something beautiful and true using both. To choose love over fear means finding the courage to speak from my heart, knowing there will surely be more readers who respond, as one did not long ago, "Take me off your email list. I disagree with your politics. This isn't the forum for such a discussion."
To choose love over fear means holding this online space as a place where we can indeed have these discussions – not all the time, but certainly in those moments, such as this one, when the personal feels political.  To deny that we are all connected, or to suggest that we ought to somehow separate our politics from our daily life is to turn a blind eye to the meaning and complexity of our own existence. I do love gardening, but when I am watching a monarch butterfly alight on a fading coneflower, I can't help but think beyond my own little patch of ground to the whole planet, and about the dwindling numbers of monarchs, the extinction of species, the threats facing our own. When my family gathers at the dinner table, we don't turn on the TV, but we do discuss the news of the world; we do our best to make some sense of things that are unfolding far away from our cozy kitchen. To do otherwise is to deny the intimacy of our connection with everything else in the universe.
I am not an expert in parenting, gardening, cooking, literature, or being present with dying loved ones. But as a mother, gardener, cook, reader, and friend, I have been challenged to become more adept at each one of these things. It is the ongoing work of being human that has called forth my greatest efforts, as well as my continued questioning and devotion, if not always great skill. And so, I've written about my own struggles to do better, to understand more fully, to learn. To me, the value of this writing is not in the expertise I have to offer, but in my willingness to show up, to be vulnerable, and to clear a space in which others may share their experiences, too. And so, I wonder: if this small online home isn't a forum in which my own thoughts can be expressed and those of others safely heard, then what exactly is it?
It is by choosing love over fear that I share my life in my writing. And it is with love, not fear, that I trust others to receive those offerings with compassion, and perhaps to show up and offer their truth as well — even if it doesn't align with mine. We are here on earth to learn to be ourselves, in all our confusion and hope and beauty and humility. And we are here to listen to each other, as we find our own path forward in a world that feels increasingly confusing and chaotic. May we continue to speak and write with empathy and civility. May we honor our differences with grace and affirm our shared humanity with gratitude for all that binds us. May we be kind.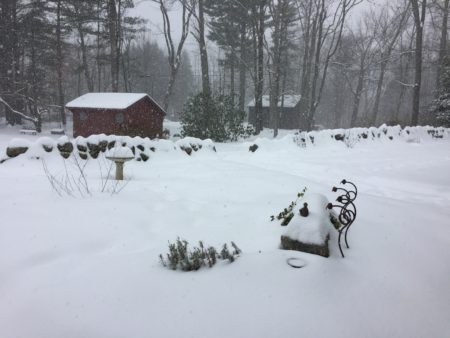 It's been several days since I sat down before dinner and began writing this piece. I didn't intend for it to be so long. And yet now, reading it over, I realize there is more I'd hoped to say. But it's time to close my computer and get on with things. The snow is falling hard here this morning, and I have shoveling to do, cards to mail, and groceries to buy for the only dinner we will have together this season as a family. One son is still asleep asleep upstairs as I type these words. The other is making his way home from New York City on a slow-moving bus. Tonight, we will light a fire, welcome my parents in, and carry plates of food into the living room. We'll exchange Christmas stockings and take turns saying what we're grateful for. The prospect of this entire day fills me with joy. Yes, it's joy that's shadowed by my awareness of all that's not right with the world, but it is also joy that arises from gratitude for all that is. It is joy, tempered. Perhaps that's the only kind of joy that's really possible. For today, it's enough.
"Ultimately, we have just one moral duty," wrote a young Etty Hillesum shortly before she died at Auschwitz at the age of twenty-nine. "To reclaim large areas of peace in ourselves, more and more peace, and to reflect it towards others. And the more peace there is in us, the more peace there will be in our troubled world."
As this long, difficult year comes to an end, here is one moral duty we can share and work toward together. More peace in our own hearts, more peace in our troubled world.