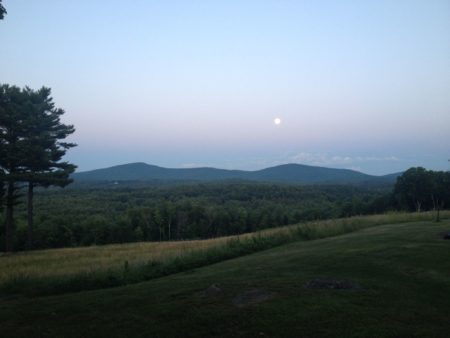 It's just after 5 a.m. as I type these words, still completely dark outside. But my friend Margaret Roach and I have already said "Good morning" via Skype with a blitz of typed messages. (It's way too early to talk out loud and risk waking my husband, recovering from a week of flu in our bedroom down the hall.)
Margaret reports she's having trouble sleeping these days, too. Combine post-election angst, the unusually warm November days,  darkness descending suddenly at 4 pm each afternoon, and a moon that demands one's full attention, and it's little wonder that we're each feeling a bit out of sync with our normal routines.
For me, there's a familiar comfort in starting the day with a chat with my dear friend. I picture her already at her desk, wearing slippers and cozy black leggings, cup of green tea in hand, while I'm still propped up against the bed pillows, awaiting the first rays of light before venturing downstairs. Always, we find something to laugh about. Always, we sign off feeling better, even if all we've really done is compare notes on our inner clocks' failures to adjust to the time change and tried to encourage each other to stick with our winter exercise routines.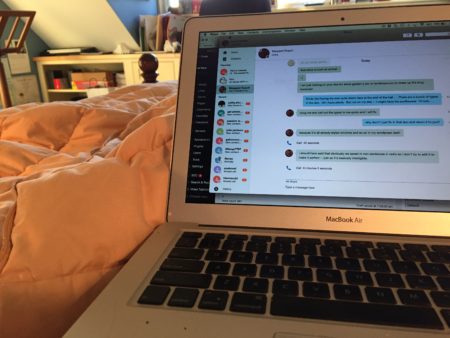 For the last seven years, Margaret has been not only my friend and garden advisor, but also my writing colleague. Because we live three hours away from each other, our early morning Skype sessions are a way for us to stay current between visits. (For me, Margaret's pre-dawn productivity is also an impetus to get up and get to work.)
If we aren't exchanging advice about under-eye concealer or how to deal with a brazen woodchuck in the garden, we're trying out ideas for some-day-maybe projects, urging each other on as deadlines loom, and sharing the sorts of small experiences that only another writer would deem worthy of mentioning: an uninterrupted afternoon of writing, a thoughtful note from a reader, a moment in nature that gives rise to inspiration on the page, the perils of procrastination, a Wendell Berry poem that leads to deeper reflection, the quiet satisfaction of getting down one or two good paragraphs.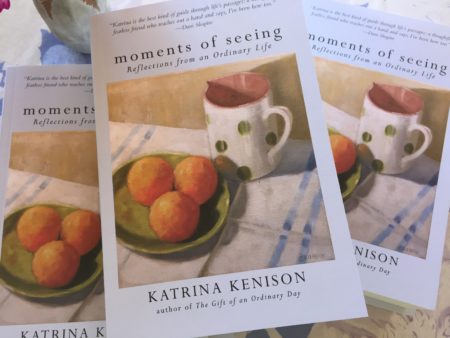 When Margaret received her copy of my new book, Moments of Seeing, she messaged me on Skype after reading an essay about my grandmother. "Well, now I'm crying," she said. "And of course I'm thinking about my own grandmother, who also left me an invisible yet precious legacy – she was the one who taught me how to garden, and that every plant mattered."
With that, Margaret suggested that instead of Skyping in the dark this week, we should open up our conversation to her readers and listeners. Would I like to be a guest on her podcast, and have an on-air chat about grandmothers and Thanksgiving menus and how it feels to self-publish a book? I would!
Honestly, there wasn't much difference between talking with Margaret in the recording studio and our early morning check-in chats. The twenty minutes flew by, as the time always does when the two of us get going.
In the spirit of  Thanksgiving and our friendship, we are both giving away signed copies of Moments of Seeing.  And we'd love to hear about your grandmother, too.  Leave a comment below, and then cut and paste it over at Margaret's site as well, to double your chances of winning.
From my home to yours, I wish you a Thanksgiving filled with warmth and love and peace.
the podcast
Visit Margaret here, to listen to our podcast (and to read along with the text if you wish).
Want to order your own signed copy of Moments of Seeing?  You can do that here.
how to win the signed books
TO ENTER TO WIN a signed copy of Moments of Seeing, simply comment below, answering the question:
What hand-me-down from your grandmother–whether garden-related, or a recipe, or just some advice or a funny memory–do you want to share? (Or maybe your grandfather was the one you gleaned something enduring from–that's fine, too.)
Then to double your chances to win—two books are being given away, one on each of our websites—scurry over to Margaret's book give-away now and paste your comment there as well. Click here.
No answer to the question, or simply feeling shy? No worry; just say "count me in" or something to that effect, and I will, but a reply is even better.
Winners will be drawn at random after entries close at midnight on Tuesday, November 27. Good luck to all.