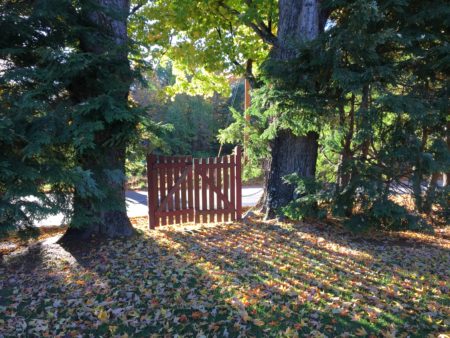 It is one of those late, mild, autumn days that feel particularly precious in New England. We love them even more because those of us who live here know the rhythm of our seasons all too well. There won't be many more afternoons like this one. In just a week or two, the landscape will be entirely different, scrubbed and bare, gray and frozen, far less hospitable. As I type these words, the world beyond my kitchen windows is bathed in molten sunlight. Bright yellow leaves drift down from the maples nearest the house, so that even the ground seems to glow and burn with light.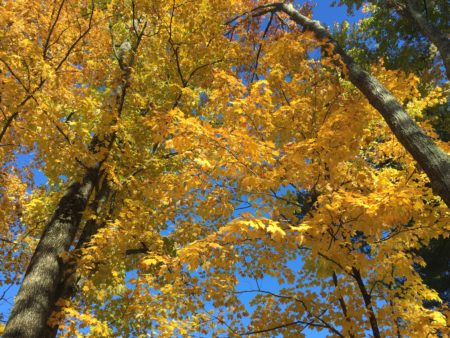 As always in October, I find myself thinking backwards, aware of the special resonance this month has had for me for as far back as I can remember. As a child, I loved October because it was my birthday month. I associated the brilliant change of season with the big change for me of being another year older; the two went hand in hand, just as did chilly mornings and knee socks. I remember brief, gasp-inducing October swims in icy waters; fried dough and ferris wheels and charcoal birthday portraits on gray paper at country fairs; the winey, intoxicating fragrance of Concord grapes ripening by the roadside. The Octobers of my childhood included pumpkins to carve, Halloween costumes to make, and so many leaves to rake into piles under my father's instruction that my hands would sport blisters before the work was done.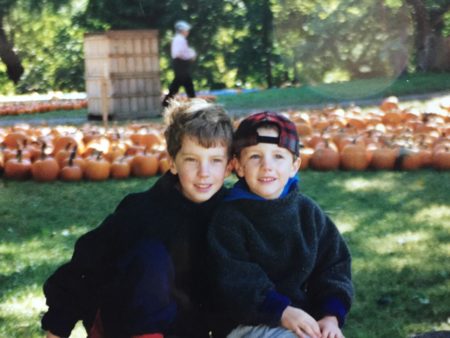 Earlier today, a wooden crate of Macoun apples at the farmer's market made me suddenly miss my now-grown boys as they once were.  How I would love to relive our old apple-picking and pumpkin-choosing traditions. Autumn was always a good time to be a mother. The truth is, having children gave me permission to be a kid again myself, to spend hours  with my sons stirring pots of applesauce on the stove, gathering acorns, and pressing the most perfect red leaves between sheets of wax paper tucked into our fattest books.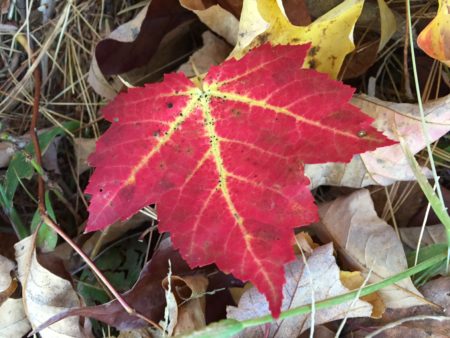 Those days are long gone. Instead, with one son apartment-hunting in New York City and the other fully immersed in a new job in North Carolina, I remind myself that my husband and I did our jobs; that our task now is to live deeply into this current life chapter in which past and present are layered together, the sum of all our hallowed yesterdays simply bringing more depth and meaning to this ephemeral, precious present.   And so, alone at home, I allow a particular slant of sun through the trees to draw me across the road and into the woods.  As I walk along the familiar path, the soft peaty earth and dappled light give rise to long-forgotten memories of riding my horse through the autumn woods as a girl of fifteen.  I cherished the freedom of those wild, solitary explorations after school, when I could disappear for hours with no one worrying about me or even much caring where I was. The horse was trail-worthy and my seat was good, and so we were entrusted to take care of each other, my Morgan mare and I.
The scent of woodsmoke from a neighbor's fire brings back memories of gathering around our own backyard blazes, just as the carpet of pine needles alongside the road catapults me even further back in time, to another October when I collected paper bags full of them as a child for a neighbor to spread over his strawberry patch. Perhaps all autumn memories tend to be bittersweet, burnished by time, a reminder that change is our only constant, that nothing lasts.  "To every thing there is a season," we're told in Ecclesiastes, "and a time to every purpose under the heaven."  Here on the cusp of sixty, these words take on a deeper kind of truth, for there is no holding on to what's past, no grasping at that which has already slipped away:  youth, my sons' childhoods, loved ones no longer with us, the summer's long, bright days.  There is only now, this season, in all its fleeting finery.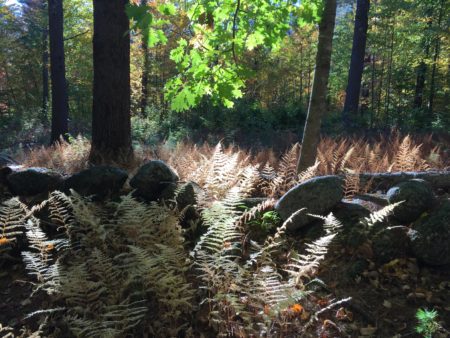 In recent years, my own experience of October has acquired shadows. Two of my dearest friends both died in October, one just a year ago tomorrow. I've thought especially of my friend Lisa every day these last few weeks, sensing just how thin the veil really is between the earthly realm and the heavenly one. Even something as subtle as the quality of light in the afternoon can erase time, so that we are once again sitting on her sofa as we were last autumn, gazing out the windows and marveling at the way the sun can turn ordinary trees into gold.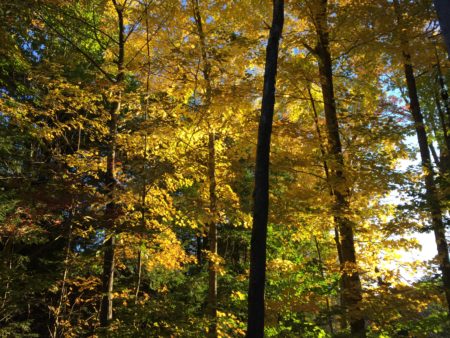 Of course, I'm also remembering every "last" of my friend's heart-wrenching journey, recalling exactly where we were on each of these October days last year, the quiet vigil at her bedside, way the world seemed to grow more tender and more beautiful as she released her hold on it, and how, at the end, the swirling leaves and clear night sky seemed to affirm the vast mysteries within which our own human destinies are enfolded.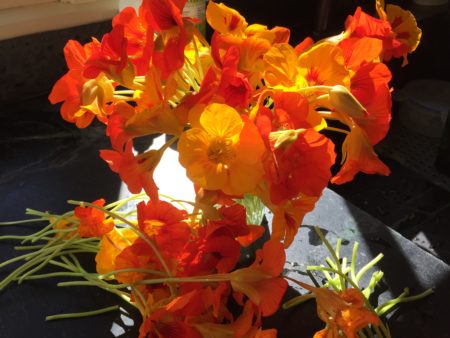 Yesterday afternoon, with the first serious frost of the year approaching, I cut as many nasturtiums as I could, a final bouquet of cosmos, a few of my  favorite plum-colored zinnias. I filled all my vases with the season's last blossoms and then stood outside to watch the nearly full moon rise, feeling the temperature drop steadily by degrees.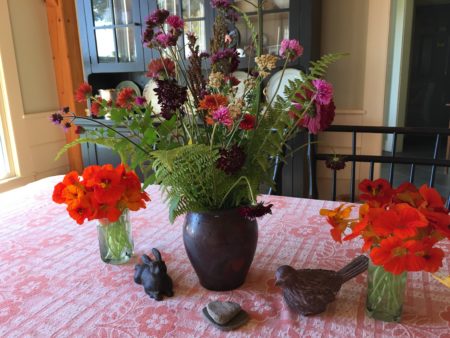 There's never any way to predict the vagaries of weather, the first cold night, the inevitable end of one season and the invisible beginning of another.  And so when I left home for a long-planned trip to England a month ago, I knew the garden might not wait for me. While I was hiking in the Cotswolds with a group of wonderful women friends  (more about that journey on another day) and then exploring London with my husband, I knew I might also be missing the peak moments of a season I always treasure at home.  How could I not be here for that brief, dramatic hour when every leaf on the maple tree outside our bedroom window turns yellow and then suddenly begins to glow, like an enormous golden torch set ablaze by the sinking sun? To travel is always to forgo the fleeting, irretrievable transformations that occur in your own corner of the world, moments that unfold in all their splendor whether you're there to bear witness to them or not.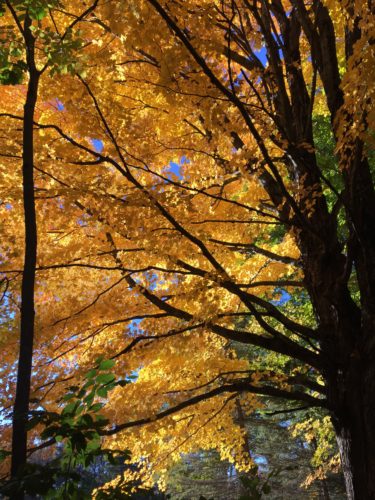 Frost often comes in September here on our hilltop, and certainly no one would place a bet on nasturtiums after October 1. And so all I could do, as I tramped through England, was hope. The basil would be gone by the time I arrived back in Peterborough, no doubt about that. But I figured I might return home to find some sturdy, spicy arugula leaves still green enough to cut for salad. Always, I am greedy when it comes to fall. Lovely as it was to spend those weeks overseas, I was also eager to get home.  I  wanted one more trip to the farm stand, a final satchel of summer's tomatoes, a few long golden walks down our road toward town, and most of all, this: a last, leisurely stroll through my garden, scissors in hand. And then, to stand outside at dusk, watching the day's transparent colors drain from the sky, the mountains turning rose then purple, then gray, then shades of black. The full, Hunter's moon hanging in the sky.  A house full of summer's final flowers. I got my wish.
Here, a few more glimpses of this most glorious and poignant season's inevitable ending and some words to go with them. As L.M. Montgomery writes, "I'm so glad I live in a world where there are Octobers."  Me too. Oh, me too.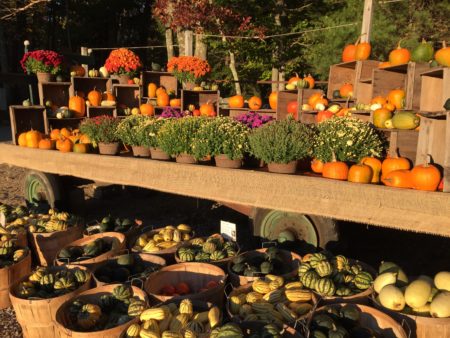 "Just before the death of flowers, 
and before they are buried in snow,
 there comes a festival season
, when nature is all aglow."  ~ Anon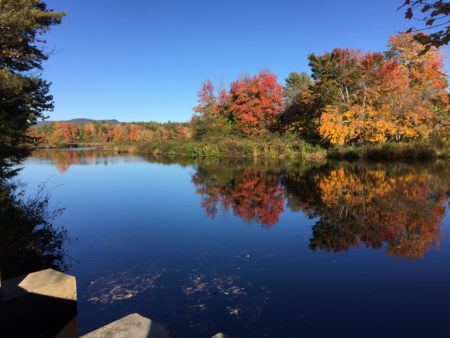 " 'Only today,' he said, 'today, in October sun, it's all gold— sky and tree and water. Everything just before it changes looks to be made of gold.'" ~ Eudora Welty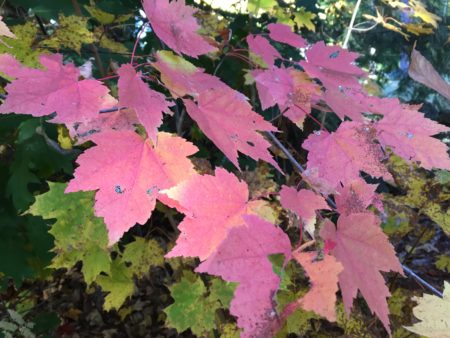 "Even if something is left undone, everyone must take time to sit still and watch the leaves turn."
                    ~ Elizabeth Lawrence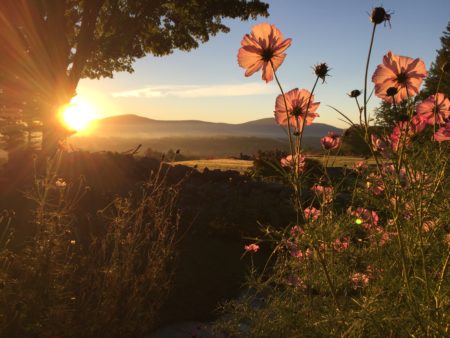 "There was something frantic in their blooming, as if they knew that frost was near and then the bitter cold.  They'd lived through all the heat and noise and stench of summertime, and now each widely opened flower was like a triumphant cry, "We will, we will make seed before we die." " ~ Harriette Arnow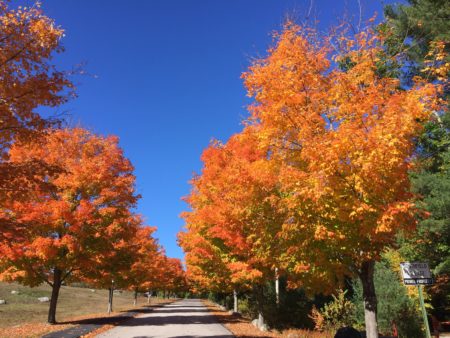 "There is no season when such pleasant and sunny spots may be lighted on, and produce so pleasant an effect on the feelings, as now in October." 
 ~ Nathaniel Hawthorn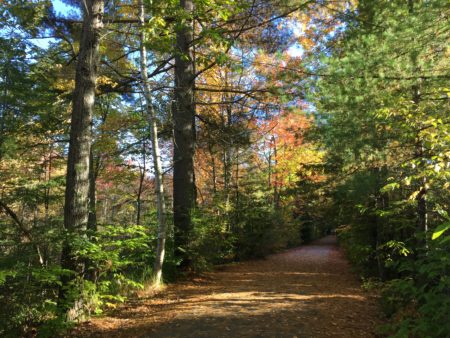 "Delicious autumn!   My very soul is wedded to it, and if I were a bird I would fly about the earth seeking the successive autumns."  ~  George Eliot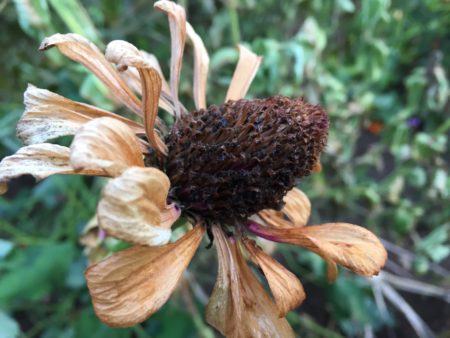 "There comes a time when it cannot be put off any longer.  The radio warns of a killing frost coming in the night, and you must say good-bye to the garden.  You dread it, as you dread saying good-bye to any good friend; but the garden waits with its last gifts, and you must go with a bushel basket or big buckets to receive them."  ~  Rachel Peden
moments of seeing: reflections from an ordinary life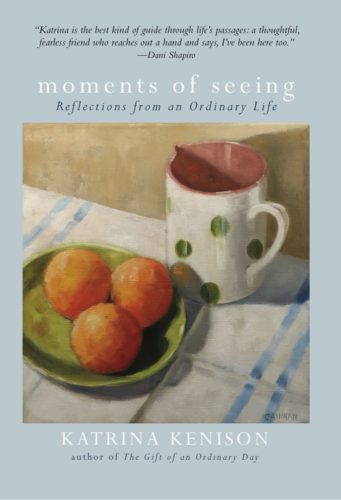 Finished copies of Moments of Seeing arrived early.  This book was a labor of love.  I worked closely with the designer, chose the paper, the cover, the size, and was able to create exactly the book I've always wanted — beautiful to behold and easy to read. I'm thrilled with the way it turned out.  Anyone who pre-ordered a book has probably received it by now. I signed over 500 copies and my dear son Henry printed out all the the labels, packed every order, and carried them all to the Post Office.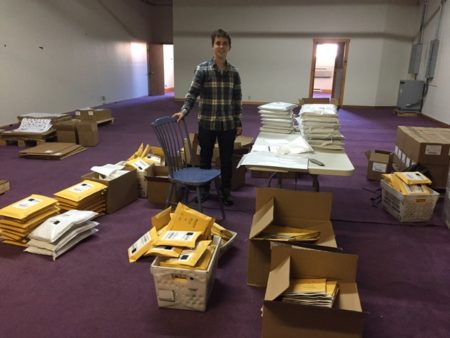 (NOTE: If you received an email about your advance order from Scott, Accounts Manager at ES+W, LLC, I thank you in advance your quick response.) In the meantime, do let me know what you think of the book!
If you'd like to purchase a signed copy, click here.  Buy 4, and your shipping is free!
My husband Steve's company, Earth, Sky & Water, is my official publisher for Moments of Seeing, and the secure order page is at his company website. While you're there, feel free to browse around and check out the beautiful collection of nature guides, cards, and prints, too.
FIRST READING:  NH friends, I'll be doing the first reading from Moments of Seeing on Thursday, Oct. 20 at the lovely Hancock Public Library at 7 pm.  For details, click here.  Do come!