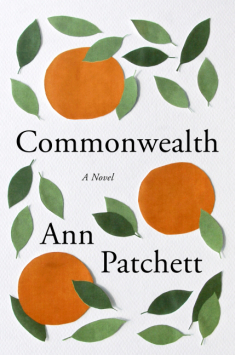 For sixteen years I had what was arguably the best job in the world. It certainly was the best job for me. As a first-time mother of an infant, I wanted nothing more than to be at home with my new baby. At the same time, I'd loved my career as a literary editor and I still had to earn a living. By some miraculous stroke of luck and grace, the universe afforded me the chance to do both.
A week after my baby was born, I got word that I'd been chosen to be the new series editor of The Best American Short Stories, an annual anthology beloved by readers and writers alike. Three months later, I hired some help, bought my first desktop computer, set up a system to keep track of everything (magazines logged into FileMakerPro, the stories themselves written up by hand on file cards), and got down to work. It was amazing — I was getting paid to read.
I dressed for my new job in stretchy old black leggings and sweatshirts spotted with baby drool. I had no set hours and three deadlines a year. The magazines arrived by the box load and the babysitter came for a few hours every morning. While she was there, and while my son slept, and in every other spare moment of the day, I read short stories.
Sixteen years flew by. During that time, two little babies grew up into teenagers and sixteen volumes got published and I read thousands and thousands of stories. I had the joy of "discovering" such new voices as Amy Bloom, Junot Diaz, Akhil Sharma, Edith Pearlman, and Nathan Englander, and helping to introduce them to wider audiences. Meanwhile, I also had the privilege of working closely with some of our most accomplished writers — chatting about what made certain stories work and others miss the mark with the likes of Louise Erdrich, Tobias Wolff, Garrison Keillor, Barbara Kingsolver, E. L. Doctorow and many others. Co-editing with John Updike The Best American Short Stories of the Century allowed me not only the happy, prodigious task of reading every story ever published in the series since its inception in 1915, but also the privilege of engaging in an intensive, congenial, two-year correspondence with one of my lifelong literary heroes.
But without doubt the greatest good fortune that befell me as the editor of BASS was my enduring friendship with writer Ann Patchett, guest editor of the final volume of my tenure. After working together for over a year, getting to know each other by email and phone and letter, we finally met in person for the first time in Harvard Square at a PEN reading for The Best American Short Stories of 2006. It was a bittersweet night for me. Handing off the editorial baton to my successor seemed like the end of an era, the end of my professional identity, the end of steady income, the end of structure to my days. I had no idea what I'd do next.
At some point during the evening, as a sheet cake was wheeled out into the foyer and a set of leather-bound copies of all the volumes I'd edited was readied for presentation, Ann slipped her arm through mine. "This must feel so weird to you," she said. And then, "Well, the book is done. But can we still be friends?" I'm happy to report that, ten years later, we still are.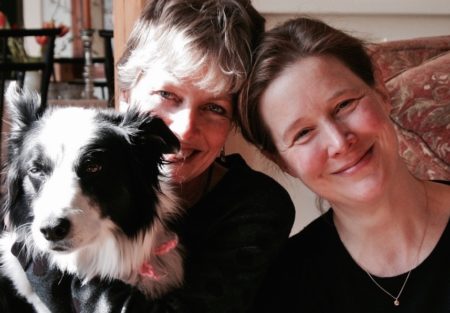 I could go on and on here about the joys of this special friendship, but I won't. Because what I really want to do is make sure you know: the best novel yet from this most generous and gifted storyteller will be published next week.
Three years ago, late one night, after I'd done a reading at Parnassus Books, Ann's renowned destination bookstore in Nashville, she and I sat sipping tea in her living room. A new book was taking shape in her mind and she was trying it out on me, wondering out loud if she was finally ready to embark upon a deeply personal, even autobiographical novel. It was time, she mused, to write about the one thing that scared her the most: her own family.
The story she was imagining would focus on the children of divorce, territory she knows well. As she acknowledges in her courageous, candid essay "This is the Story of a Happy Marriage," she and her sister and their step-siblings "weren't the products of our parents' happy marriages; we were the flotsam of their divorces." When marriages implode, so does childhood. What happens in the aftermath is at the heart of Commonwealth, an emotionally resonant page-turner that draws you into the lives of two young families and then holds you in its firm yet tender grip through a span of nearly fifty years.
I finished reading the galleys of Commonwealth sitting in a rocking chair at dawn last spring, while the rest of my family slept. Determined to make my way in silence and solitude through the final pages of this heart-wrenching, engrossing book, I allowed the tears to flow even as I felt the kind of rare, deep satisfaction that comes when an author does her work to perfection. Knowing something of Ann's own difficult childhood, I also knew how close to the bone this novel cuts, how liberating and difficult it must have been to write at last, and how brilliantly she had transformed reality into something even deeper, richer, and more compelling – a story so finely and truly wrought that every event, small and large, seems at once inevitable and surprising.
Only this morning, as I read this marvelously intimate interview with Ann in The Guardian, did I glean just how harrowing her process was, once she finally took the lid off and began mining her own experience. Speaking about "This is the Story of a Happy Marriage," she recalls "the sweat pouring down her face as she wrote it, while she experienced the distinct sensation that she was 'sitting in the middle of the highway in the dark, with a legal pad, thinking: I'm going to get squashed by a truck'."
My guess is that Commonwealth was a bit sweat-inducing as well. And yet, the real achievement of this book is that it's fiction, the stuff of real life run through the imagination of one of the unmistakably great novelists of our time and quietly, assuredly fashioned into a small literary masterpiece. As Ann's mother wryly observed, "None of it happened and all of it's true."
I can't wait for every single person I know to read this book. I can't imagine a more engaging novel for book group discussions or for families to pass around or for two friends to talk about over a cup of tea. You could not ask for a better companion for a day spent in bed, or for a train ride, or for those betwixt and between moments of life when you find yourself with a few stolen minutes of reading time. My own hardcover copy arrived in the mail yesterday and I'm about to plunge right back in.
Are you a reader who appreciates a good first line? I just opened the book and was reminded that this must surely be one of the best: "The christening party took a turn when Albert Cousins arrived with gin." And with that, you're off, embarked on a true-yet-not-real story that will make you laugh, that will break your heart and that will, ultimately, reaffirm your faith in both the essential goodness and the resilience of the human spirit.
If you're new to Ann's writing, just go ahead and start right here, right now. There's plenty of time to catch up. And if you're already a fan, well, all I can say is, Carve out a little time for yourself and prepare for deep, unbridled pleasure.
A signed first edition to win!
I've bought one signed, first-edition copy of Commonwealth to give away to a reader here.  To enter to win, you must be a subscriber.  (Sign up now, if you don't already receive my newsletter.)  Simply leave a comment below.  Share what's on YOUR bedside table or your must-read list for the fall.  (I know this will result in a reading list we'll all be happy to have.)  Of course, you can also just say, "Count me in." A winner will be chosen at random at 12 pm on Thursday, Sept. 15.  Good luck to all!
Or, order a book right now and have it signed by Ann.
Official publication date is Tuesday, Sept. 13. However, if you order books by noon on Monday from Parnassus, Ann will sign (and even personalize) your copies. Click here.
Prefer to order from Amazon? You can, of course, but this IS a great opportunity to support an independent bookstore AND to receive a signed first edition of what many are predicting will be the book of the year. That said, click here to buy from Amazon. (Amazon links on this site are affiliate links.)
And now, a bit of advance reading:
I've rounded up these links to whet your appetite till Commonwealth is in your hands.
The Parnassus website is my favorite place to hang out for all things book-related. If you ever wonder what to read next, you have no further to look for compelling, trustworthy recommendations. Also, there are always new author interviews, inside stories, and, best of all, Ann's blog. Click here for a behind-the-scenes look at her writing process for Commonwealth.
Well-kept secret: The Guardian has better book coverage than any American newspaper. This interview with Ann is revealing and captivating and funny. It captures the essence of who she is.
Today's New York Times has a glowing review. However, proceed with caution. I think it reveals too much. A huge part of the pleasure of this novel comes from not knowing what's going to happen. My suggestion: read the book first.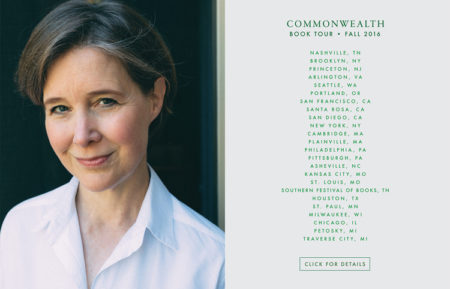 Finally, this.  Ann's about to hit the road — thirty cities this fall alone.  Little wonder; booksellers love her as much as her fans do.  And she is as wonderfully engaging in person as she is on the page. She may be coming to your hometown.  Check out her full schedule here.
moments of seeing: reflections from an ordinary life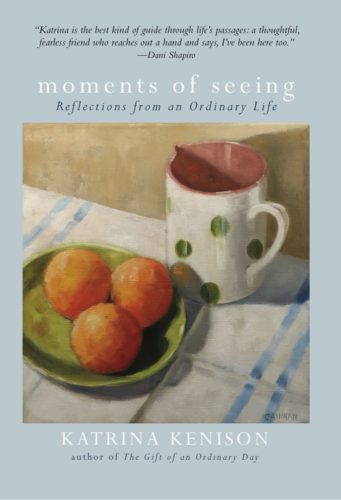 Copies of my new book will be shipped on November 1.  But you can order your own (signed!) copy now.
For more info, and to pre-order your copy, click here.  (Hint: It just may be that you can get all your holiday book shopping done right now: a brilliant novel to gulp down and a fat collection of essays for the bedside table. . .)
Note: My husband Steve's company, Earth, Sky & Water, is my official publisher for Moments of Seeing, and the secure order page is at his company website. Lucky for me, Steve and his staff are fully equipped to handle order fulfillment. And yes, they can even arrange to ship books overseas. While you're there, feel free to browse around and check out the beautiful collection of nature guides, cards, and prints, too.