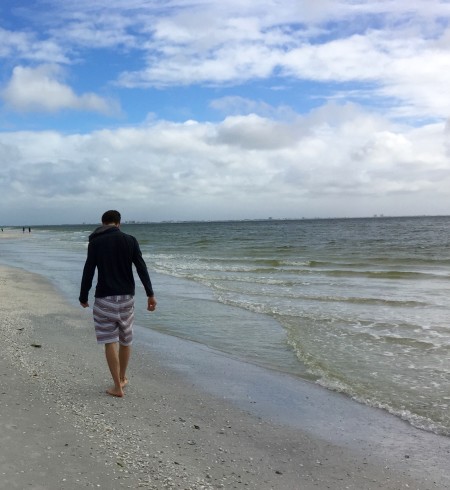 I just got off the phone with my son Jack. He touched in as he often does these days after school, to say hi, to tell me about the few questions he missed on a test, to let me know he's going to AA tonight, where he'll receive a 30-day sobriety chip.
It's been a month since Jack had a beer or used any other substance, 80 days since he last smoked pot, his drug of choice.
At 23, he is meeting his own sober adult self for the first time. In a way, so am I.
These have not been ordinary days. But in all my years as his mother, I have never been so proud.
A month ago, on his 50th consecutive day of not getting high, Jack told me he was going to write a status update on Facebook to share what he'd been going through. My first response was concern for him, for his privacy and for the fragility of his still-new sobriety.
"Think carefully before you do that," I said. He already had. He'd led a double life for years. And he didn't want to do it anymore. So he put it out there, for all to see:
These last couple months some things have happened for me that really forced me to step back and look at myself objectively. After countless past attempts and failures I have finally committed to confronting my deep-seated patterns of addiction. After today I will have successfully stayed sober for a full 50 days. This is the longest time for me since I began smoking weed when I was 15 years old. I am writing this status because the reason I fell into this pattern was because I neglected to be open and honest with people about how I was suffering, and instead opted to portray myself as someone who had all their shit together and was always happy and enthusiastic. The truth is I was so ashamed and guilty about how I could not control myself, that it was too frightening to let people see what was really going on. I can't think of a better way to facilitate a change than by being honest right here on FB for everyone I know to see. So there it is. Thank you to every one of my friends who are supporting me through this drastic life change.
I'm not yet well versed in the twelve steps of recovery. But my sense is that these early days are a particularly vulnerable time – a kind of tender, bare-naked limbo between the old, ingrained ways of numbing and escaping and the delicate beginnings of new coping skills and healthy habits.
For Jack, a huge part of this process has been about stripping away the layers he's hidden behind for years.
Smart, funny, creative, athletic, passionate, my son has always been a natural leader and a loyal friend. He has prevailed, almost effortlessly, in many areas of his life — on the pitching mound as a kid, on the tennis court in high school, in challenging AP classes, in the sound engineering program he's now completing in Atlanta, and most recently in a physically and emotionally demanding job that requires deep commitment on his part.
At the same time, he's lived another life, one he's put enormous energy into keeping hidden from many who know and love him. There was the charismatic, easy-going, self-confident young man who could inspire a team to victory, improvise a guitar riff, or step out on a stage and juggle five balls without breaking a sweat. There was the nonchalant student who could always pull out a decent grade at the last minute. There was the defiant, impulsive teenager who acted first and regretted later. And there was someone else, too: a boy who found his own chaotic emotions too uncomfortable to bear, who numbed his feelings of inadequacy with hits of pot, who lied to cover up his feelings of weakness, who found himself increasingly powerless to live the life he dreamed of, and who felt like more of a fraud and a failure with each passing year.
In recent weeks, Jack and his dad and I have been engaged in a painstaking process of getting to the truth of things. A necessary reckoning, a first tentative step toward healing.
Hard as it was to look back on some of the darker moments of these last few years, we each wrote letters – raw, no-holds barred letters — that gave full voice to our memories, our worries, our fears. We let our true selves be seen, in all our sadness.
For his part, Jack gave us a full accounting. Coming clean was a step in his recovery; absorbing all he had to tell us was part of ours. None of it was easy.
But I can say this: each of us told the truth. Each of us listened. Each of us was heard. And dismantling the old walls, on both sides, was a relief. There was nothing more to separate us. And so we could reach right back out and touch each other again, for real — with love, with forgiveness, and with a commitment to move forward from here. Together.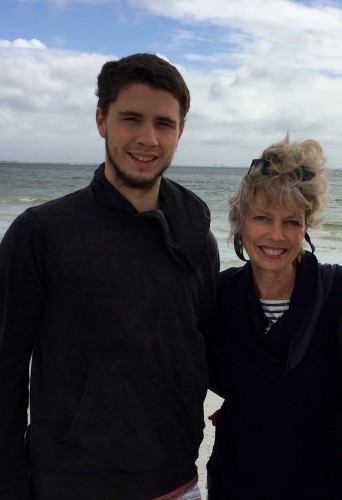 Truth, as Jack is discovering, is a powerful antidote to shame. It takes such courage to step out of hiding and be seen as we really are: imperfect, striving, hopeful, scared. And now he is widening the circle. With each new day of sobriety, with each 12-step meeting, with each conversation in which he shares his struggle, his network of support grows larger. Bit by bit, the loneliness and isolation that have been his secret prison are transformed — into both accountability and connection. But as my son reminds me every time we speak, it's a slow, at times excruciatingly painful process.
The other day, I suggested that hard as this is, he has much to be grateful for. "The thing I'm most grateful for," he said, "is that I don't hate myself anymore."
Hearing the son I love so much speak those words nearly broke my heart. But it also made me think about the profound value of standing tall in all our vulnerability, allowing our deeply flawed, most authentic selves to be fully seen.
I can't help but wonder how many other teenagers and young adults are living lives that look good on the outside, while suffering on the inside. I know there are many who can ride life's ups and downs with ease, who can enjoy alcohol and marijuana without ill effects, who experiment with drugs without becoming dependent or addicted. But I also believe the fear of being not-enough, of being unlovable, of being inadequate runs deep through our culture. And no, a loving home and caring attentive parents are no guarantee against either inner suffering or self-harm. We are all wired for struggle, and some of us are wired for addiction. That is a battle no one can fight alone.
Jack has a long road ahead – recovery, as we know already, isn't a destination but a lifelong journey. But he's put his feet down on the path. He's walking it. I can't clear away the obstacles in front of him nor take on the work that's his alone to do. I can be here, though, listening each day, sharing both his struggles and his victories. I can let him know how proud I am of his progress and of his courage. And, with Jack's permission, I can follow his example by telling the truth, entrusting each of you reading this with the first chapter of his new story.  Thank you for sharing this journey with us.
"Courage is a heart word. The root of the word courage is cor – the Latin word for heart. In one of its earliest forms, the word courage meant To speak one's mind by telling all one's heart. Over time, this definition has changed, and today, we typically associate courage with heroic and brave deeds. But in my opinion, this definition fails to recognize the inner strength and level of commitment required for us to actually speak honestly and openly about who we are and about our experiences — good and bad. Speaking from our hearts is what I think of as ordinary courage."   ― Brene Brown