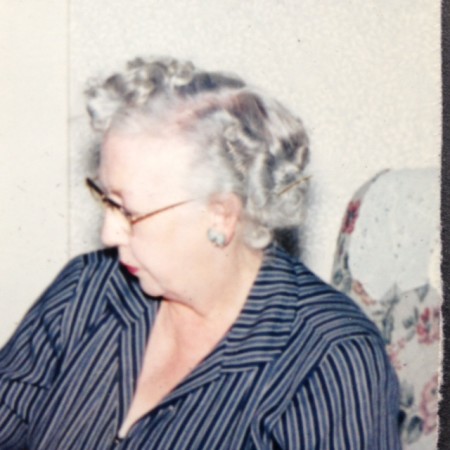 "Break a vase, and the love that reassembles the fragments is stronger than that love which took its symmetry for granted when it was whole." ~Derek Wolcott
I was not the best little girl. Shy, bookish, solitary, dreamy, not athletic, a bit chubby, I was certainly no trouble-maker. At school, a year younger than most of my classmates, utterly clueless about fashion, part of no clique and always two steps behind on the latest trend, I kept my head down and my mouth shut, hoping not to be noticed. At home, where repercussions for misbehavior were swift, I did as I was told and tried to stay out of the way. I read a lot. I wrote. I colored, painstakingly, in a beloved, finely drawn coloring book with my colored pencils. I sat contentedly on the floor of my bedroom, making tiny dolls from wooden clothespins and sewing clothes for them.
But the truth is, at my grandmother's house, I pushed the limits. When my brother and I were little we spent many weekends with our grandparents, who were happy to give my young, overworked parents a break. My grandmother who, at the age I'm remembering her, was just a few years older than I am now, seemed to me at once frail, elderly, and immortal. She was tiny, less than a hundred pounds, with feet the size of a small child's. Asthma sometimes forced her to lie down on the couch in the middle of the day, wheezing with each breath. Her heart was weak. She was always in and out of the hospital, for gallstones and kidney stones and I don't know what else. And yet, because I'd never known anyone to die, it never occurred to me that someday she would. I couldn't imagine her other than as she was, up in the morning before anyone else, her breath rattling a bit in her chest, frying eggs at the stove, tending to her home, to my grandfather, to us pesky children with our endless questions and demands.
My grandmother – Wilda was her name — was a housedress-and-apron kind of grandmother. There were always cookies in the jar, a dried up Lipton tea bag by the sink waiting to be used a second time, a half-stick of butter softening in a dish by the stove. She kept her collection of china tea cups on proud display in the dining room, a stack of magazines — The Ladies Home Journal, Family Circle, and McCall's — by her chair, recipes copied by hand into a falling-apart notebook, antimacassars tacked into place along the back of the sofa, hard butterscotch candies in a covered glass dish, Laurence Welk on the TV, witch hazel and a big blue jar of Vicks and a flesh colored bottle of calamine lotion in the bathroom cabinet, lace-trimmed hankies in the top right dresser drawer, a pack of Wrigley's spearmint gum down at the bottom of her black handbag, amidst the lipstick-stained tissues. (Gum that she would generously dispense, though always by the half piece, to make it last longer.)
I see her now in my mind's eye, this small, kind, busy woman, pushing her huge brown Hoover vacuum across the flowered carpet, it's bright headlight illuminating the path ahead.   There was always a seriousness to her work, care taken but no fuss made, simply another dinner to be prepared, more dishes to wash, a shopping list to be written out on the back of an envelope.
I remember standing by her side in the vast Baptist church she and my grandfather attended, smelling her powdery smell, listening to her sing the hymns in a high, thin, warbly voice, feeling at once terribly bored and completely safe. I remember five-minute trips in her boat-sized white Oldsmobile – she could barely see over the wheel, despite the extra height afforded by a square pillow she sat upon to drive — to the little store down the road. There, my brother and I would pester her for treats – something we never would have dared with our parents — and she would always give in, extracting quarters from her change purse to pay for our orange popsicles and Pixie Stix and cheap plastic toys.
I loved her. And yet.
When I came across this beautiful line by Derek Wolcott yesterday, the first thought that came into my head was a memory of the evening I broke my grandmother's antique, hand-painted kerosene globe lamp that had once belonged to her mother. The lamp, one of the only things that had accompanied my grandmother throughout her modest life, from her childhood in a small town in the Maine woods to the tidy ranch house where she would end her days, had been wired with electricity for the 20th century. It was delicate and beautiful, her most precious, most cherished possession.
My brother and I had had our after-dinner baths. We were probably still dripping, damp skin sticking to our pajamas, revved up and acting silly because, at our grandparents' house, no one cared if we made noise or danced like wild little savages in the living room. He was three, a toddler imitating his big sister; I was six, old enough to know better than to swing a big wet towel around over my head like a lasso. My grandmother asked us, kindly I'm sure, to stop. We pretended not to hear. She asked again, firmly this time, warning, "Something is going to get broken."
Something did. I whipped my towel around with a mighty flourish, one last time. It caught the lamp and sent it flying. The glass shattered, scattering everywhere. My grandmother burst into tears.
I remember little else about that night, except that there were no raised voices, or spankings, as there would have been at home. I was not shouted at or punished, though I fled down the hall to my bed, in tears myself. There was no hope of reassembling the fragments. From behind the closed door, I could hear my grandmother weeping, the tinkle of glass being swept into the dustpan, the roar of the Hoover getting up the last bits.
As I tell this story now, my heart still hurts to recall it. The lesson, too, is fresh and raw; in fact, I am learning it anew these days. And it has nothing to do with obeying my elders or refraining from rough-housing in the living room.
My grandmother's beautiful heirloom was shattered, but her love for me was intact, not even chipped or cracked. In the morning, there was no mention of the lamp I had broken. Instead my grandmother took me into her arms and reassembled the fragments of me, gluing my broken, heartsick, remorseful, self back together.
I did not know, at six, whether I was a good person or not.
I was very much afraid that I might not be very good after all, that I wasn't worthy of love — or even of the Pixie Stix and gingersnaps and half sticks of gum my grandmother gave me. I did not know that good people say and do stupid, reckless stuff, which does not make them bad, only foolhardy. I did not know that a broken thing doesn't matter nearly as much as a broken heart, or a broken word, or a broken trust. I did not know that the glue that mends a broken relationship is forgiveness. Or that in choosing to forgive someone who has wronged or hurt us, we do indeed reassemble a shattered love into a stronger whole.
I did not know when I was six that, that fifty years later, with my grandmother long gone from this earth, I would sit in my kitchen on a snowy winter day thinking about her, yearning for the kind of open-hearted pardon she offered me so long ago. For, although I do now believe in my own essential goodness, I can still, unwittingly, break things that are precious. I can be wrong and graceless and dumb. Recently, I wrote and sent a letter I should have kept to myself; the emotional equivalent of swinging a towel in the living room. I caused a special friend, a cherished friendship, to suffer.
Whether this particular vase can be reassembled by love I don't know. I can only do my best to gather up the broken pieces, to make amends, to wait patiently and see. But in the meantime, I want to do a better job of loving like my grandmother, quietly and wholeheartedly — without feeling so compelled to have my say or my way, without expectation or attachment.
To love like a grandmother means to offer pardon without need of an apology. It means to love with no strings attached or conditions to be met. To love like a grandmother is to know: we all make mistakes and we all need to be hugged and held and forgiven the errors of our clumsy ways. To love like a grandmother is to remember that no one gets out of bed in the morning with the intention of sending a lamp flying through the air or doing harm to someone we love, and yet our lives and our needs inevitably bump up painfully against the lives and needs of others. A wrong word, a rash action, a hurtful gesture, or a simple lapse of attention – we are all guilty. To love like a grandmother means to tenderly forgive these human errors in others, in ourselves. It is to see the beauty and the value in the vase that's been broken and painstakingly, imperfectly repaired.