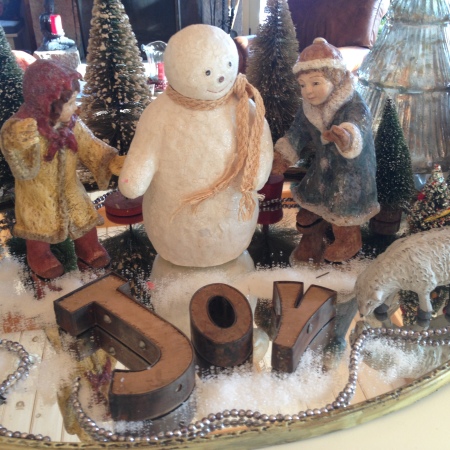 When our sons were young, there was no holding off Christmas. Henry, born December 18, absorbed holiday melodies in the womb, from "Jingle Bells" to the Messiah. His in-utero nickname was Bing, for Crosby, which morphed into Der Bingle after a visiting friend introduced us to the German diminutive. (Of course, we had no way of knowing then that music would turn out to be his "language" of choice but now, looking back, it seems almost pre-ordained; he arrived in a season of shimmer and twinkle, surrounded by love and borne into our arms on a wave of joyful noise.)
That year, in the final weeks of my first pregnancy and with a December due date looming, my husband Steve and I were organized in a way we've never been before or since: all our gifts bought and wrapped and shipped weeks in advance, a tree up and decorated the day after Thanksgiving; holiday cards mailed December first and a newly appointed nursery awaiting its tiny occupant. All was in readiness, every diaper and onesie neatly folded and stacked, every holiday ornament shining in its place.
Four days before Christmas we brought our precious newborn home from the hospital, dressed him up in the miniature velveteen Santa suit my brother had given him, and snapped our first family photo in front of the tree.
And so it was that the holiday and Henry were linked for life. At three, he donned his own Santa hat and sat at the dinner table on Christmas eve, singing "The Twelve Days of Christmas" by heart while his newborn brother Jack dozed in my lap, just over a month old but already a bit too big to be squeezed into that wee hand-me-down Santa suit.
The traditions accumulated with the years: driving through nearby towns on an appointed wintry evening to view Christmas lights in all the different neighborhoods with Bing Crosby and Leon Redbone providing a familiar soundtrack in the warm, dark car and the kids singing along at full tilt from the back seat. Unpacking the boxes full of miniature fir trees I've collected over the years and creating small forests of them on the mantel and shelves. Placing the slender metal angel silhouette on the top of the tree. Baking cookies and cranberry bread and spiced nuts. Attending the Christmas Revels in Cambridge with our dear friends and former next-door neighbors. Reading Truman Capote's A Christmas Memory out loud in front of the fire.
Always, Henry has been the instigator of Christmas in our household, and the rest of us are generally content to let him take the lead. It was Henry who made sure the box of Christmas books was carried up the basement stairs and unpacked the day after Thanksgiving. And it's Henry who insists our Christmas morning breakfast include both oatmeal scones and Jimmy Dean sausage balls, which he willingly makes and freezes a few days early, knowing that if I had my druthers we would quietly eliminate Jimmy D. from the menu.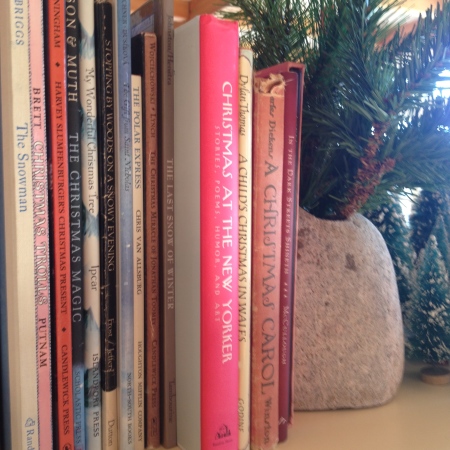 It was Henry who, at age six, organized the first of many annual Christmas shows, with all the kids in the neighborhood singing carols under his direction and, in later years, performing on their various musical instruments. And this year it was Henry, now on the faculty at his old high school, who taught the students the choral arrangements for the annual Nativity pageant — yet another tradition embraced and passed on.
But this year, as Thanksgiving came and went, I found myself resisting Christmas even as those around me were eager to embrace it. The very thought of hauling the decorations out made me feel irritable and tired and overwhelmed. It seemed as if there was already too much – too much to think about, too much to do, too much stuff in every nook and cranny of the house.
Maybe everyone has their moment: the sudden realization that you simply can't move forward without first turning around and digging into what's been piling up around you. I do wish my own flash of motivation had come a few months ago, when things were just a little less hectic, but we can't control these things. I hit my breaking point the day Steve and Henry arrived home with a Christmas tree tied to the top of the car.
"I just don't think I can start Christmas yet," I admitted to them. "Please, give me a couple of days."
And then I picked up a small book that's been sitting by bed for a while now, The Life-Changing Magic of Tidying Up. According to author Marie Kondo, there really is magic in order, happiness in tidying, transformation just waiting to happen as soon as we start taking out the trash.  A few weeks earlier I'd read the first few pages and immediately decided I probably could part with the years worth of old New Yorker magazines I'd piled into the bookshelves in our bedroom.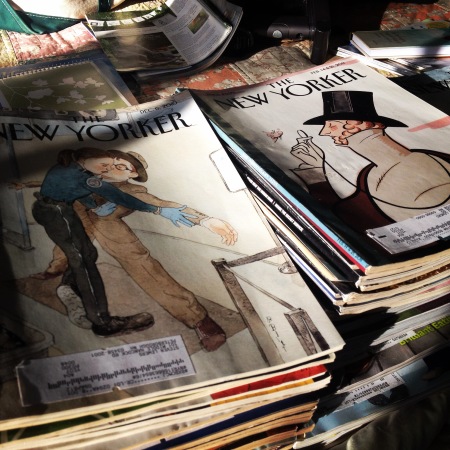 That first, heady purge led to several bags of books, pulled off the shelves and donated to the local library. The newly emptied spaces in our bedroom seemed to glow in the sunlight and the newfound sense of spaciousness inspired me to vacuum under the bed and clean my bathroom drawers. Pretty soon, though, I got busy again and the cleaning came to a halt. But I didn't forget the sense of relief I'd felt at finally tackling just a few of my cluttered spaces.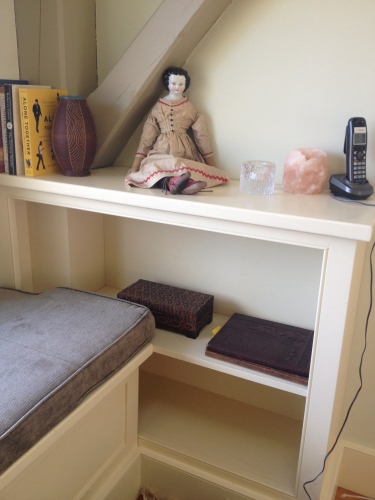 The New York Times has called Marie Kondo, a phenomenon in her native Japan, a kind of "zen nanny," and so she is, at once likable and firm. She's a little woo-woo, too: Socks have souls? Sweaters prefer to be neatly folded? Our personal possessions have lives of their own and brighten under our care? And she's nothing if not down-to-earth: "Effective tidying involves only two essential actions: discarding and deciding where to store things. Of the two, discarding must come first."
I was in.
Marie has one rule of thumb, and it makes me laugh. "The best way to choose what to keep and what to throw away," she suggests, "is to take each item in one's hand and ask: 'Does this spark joy?' If it does, keep it. If not, throw it out."
And so I spent the first few days of December in search of some joy of my own — not stringing lights or shopping for gifts or baking cookies, but cleaning out the basement, and holding one random item after another in my hands.
I applied the "joy test" to old clothes, to winter hats and gloves, to boxes of my own unsold books (including multiple copies of foreign editions –what to do with ten copies of Mitten Strings for God in German??). I applied it to the kids' school papers, tablecloths and dishes from a suburban life that ended a decade ago, lamps without shades, still perfectly good but hardly harbingers of happiness. I texted photos to Jack in Atlanta: a moldy basketball, a box of Magic cards, an old guitar amp, a tangle of cables and a box of unidentifiable electronics. By the time I got down to vacuuming mouse poop and swabbing grimy hidden corners and sweeping spider webs away, I didn't even mind doing the dirty work.
The basement led, a day later, to the cellar storage freezer where I discovered, among other hoary artifacts, rock-solid remnants of the 2010 Christmas ham, carefully wrapped and labeled. The bags of blueberries we picked last summer? Yes, there is joy in every one; we will be eating blueberries on our morning oatmeal all winter long. Those petrified loaves of bread covered with freezer frost? Not so much. Another trash bag, filled and carried out the door.
On a roll, I headed up the stairs to the pantry. There, I was met with half-gone boxes of pasta, a small shop's worth of expired spices, old cans of things and old things in cans. There is no joy in an unlabeled bag of unidentifiable grain, nor in a bottle of cloudy vinegar, nor in that dusty box of faro purchased for some summer salad that never got made. But it was, indeed, a joy to take every single thing off the shelves, wash every surface, and carefully choose what went back. It was a joy to send a box of good things to the local food bank. And how happy I was to find the blackberry jam I bought at the farm stand last July and then forgot all about.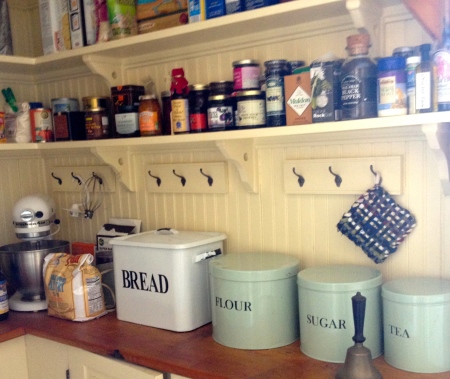 By day three of my cleaning extravaganze, I felt as if I'd set down a heavy burden I hadn't even been aware of carrying. I kept slipping into the pantry, just to have a look and smile. My step was lighter, my holiday spirit finally starting to simmer.
"You know, Mom," Henry pointed out, "if you don't stop cleaning and start decorating, Christmas will come and go and the tree will still be in the corner in the garage."
He was right, of course. The office, the linen closet, and the laundry room can wait till 2015. We've spent the last few days readying the house for Christmas, in no hurry at all, playing our favorite Christmas music and carefully choosing what goes up and what gets put into a box to take to the still-good table at the recycling center so that someone else can find a treasure and bring joy home.
It feels as if getting rid of some things that no longer serve us well, that no longer make us happy, that no one in our family really needs or wants, has opened up some emotional space as well as physical space. Confronting my own possessions has made me less inclined to shop and more inclined to offer Christmas gifts of time, of food made with love, of experiences that can be shared. As Marie says, "We need to show consideration for others by helping them avoid the burden of owning more than they need or can enjoy." Exactly so.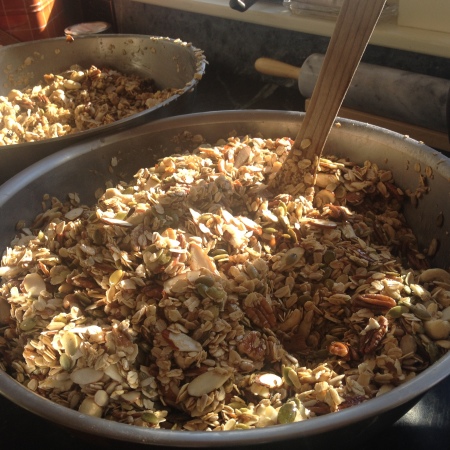 I could have spent Tuesday at the mall, but instead I spent it in the kitchen, making granola for everyone on our list. (My fool-proof and quite adaptable granola recipe is here; I hope you'll try it, too!) Thursday, it was spiced nuts: the perfect stocking stuffer or holiday hostess gift. (The recipe I used is here. I increased it times ten and filled small Weck jars with nuts for a beautiful presentation.)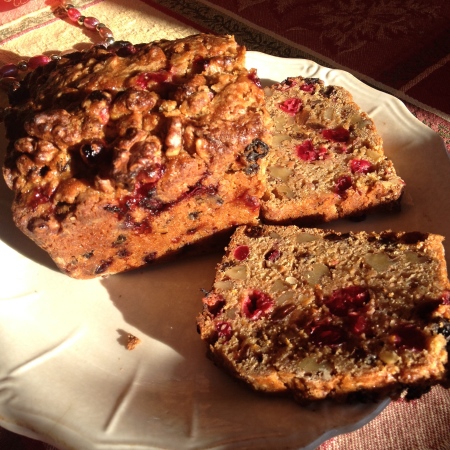 Saturday morning, as sun poured into the kitchen, I made a double batch of cranberry orange bread from the recipe my mom always used and then went out for a walk while the loaves baked. When I got back to the house and opened the door, the sights and smells of Christmas at home did indeed lifted my heart: baking bread in the oven, holiday greens in pitchers, cherished decorations carefully arranged. As my mom packs up a lifetime's worth of things from her home, some of her favorite decorations have made their way to me this week, and now the Santa who once graced her mantle has found a new home on ours.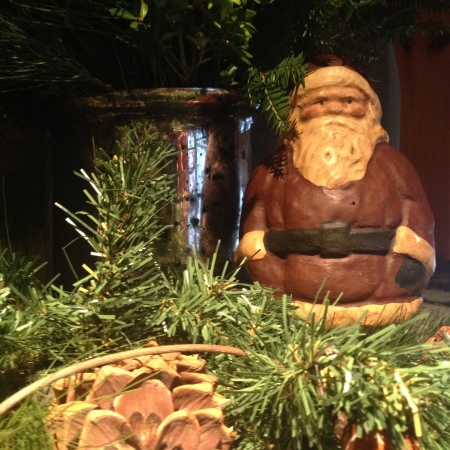 In a few days, Henry will turn twenty-five and, as always, Christmas and his birthday will be all wrapped up together. Jack will fly home and our family will be under one roof at last. As always, we will gather with our friends this weekend for the Christmas Revels and for chili and cornbread around their table afterwards, as our grown children make the same jokes they always make about the sword dancers' dwindling numbers and the shuffling guys holding up reindeer antlers in the second act.
Some night next week, we'll sit in our living room and I'll read Truman Capote aloud till the last page, when I'll pass the book over to someone else to finish so that I don't have to read through tears. On Christmas Eve, Henry will play the service in the church where he served as musical director when he was just out of college. And the next day our house will be full with family and friends and dogs and all the stuff of Christmas.
There will be joy. There already is. Joy slipped in quietly and took up residence in the space I cleared for it.
I wish you and yours much joy and peace abounding through this holiday season and into the new year.  Thank you, my dear friends, for showing up here so faithfully and for engaging with me in this ongoing conversation about our ordinary, extraordinary days.  I am grateful for each and every one of you!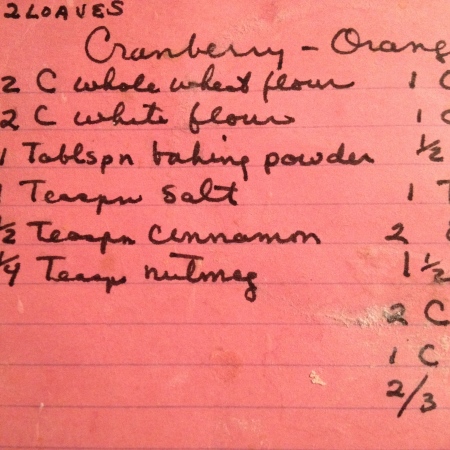 my mom's cranberry-orange bread
(This recipe will make two loaves; I make the recipe two at a time, working in two separate bowls, so I can slip four loaves into the oven at once instead of two. I've also cut back on the sugar and upped the spices from her original.)
Preheat oven to 350 degrees
2 C. whole wheat flour
2 C. white flour
1 T. baking powder
1 t. salt
1 t. cinnamon
½ t. nutmeg
1 t. ground cloves
1 C. brown sugar
½ C. white sugar
½ C. unsalted butter
1 heaping T. grated orange rind
2 eggs
1 ½ C. fresh orange juice
2 C. fresh cranberries
1 C. chopped walnuts
1 C. raisins
Combine dry ingredients. Cut in butter. Combine orange juice, eggs, orange rind. Add to flour mixture and mix until just wet. Fold in cranberries, nuts, and raisins.
Pour into 2 greased and floured loaf pans. Bake 55-60 minutes. Cool on wire rack after removing from pan.