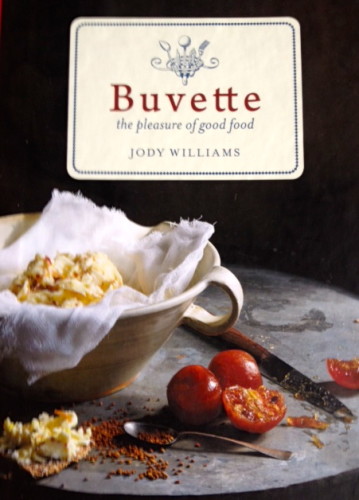 Summer, thirty-five years ago. I was nineteen — ripe for adventure, ready to be inspired, in love for the first time, and headed for Paris.
My boyfriend (of whom my parents quietly, firmly disapproved) and I had worked and saved for a year to come up with $4,000 — enough, we hoped, to get us overseas, pay for a cheap used car and fund a summer of low-budget travel. I had my first passport, a few semesters of college French under my belt and a head still swimming with a thousand carefully memorized Art 100 slides.
For months, my more practical (but no more worldly) companion had studied the Michelin green guides and pored over road maps, planning possible routes across the continent.
My own self-assigned homework was less useful but considerably more titillating. Ernest Hemingway, Gertrude Stein, A. J. Liebling, Henry Miller, Colette, M.F.K Fisher were my tour guides, and their descriptions of all things French– from oysters on the shell to sex to the light in the sky at dusk — had filled me with hunger and anticipation. 
I'd read everything. Experienced nothing.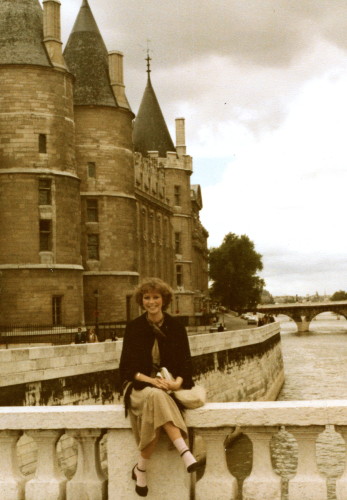 For a small-town girl from New Hampshire, Paris was a coming-of-age story, an irresistible invitation to leave my old unformed self behind and become someone altogether new – a person who broke bread instead of sliced it, who carried a cheese knife in her backpack, scribbled in a journal at sidewalk cafes, drank diminutive cups of espresso at dusk and pitchers of vin de table in the Latin Quarter by night. (Why I didn't peel off those ankle socks along the way, I can't say.)
Serious young Smith student that I was, I dutifully stood in front of the Mona Lisa, listened to organ music at Notre Dame, perused the book stalls along the Seine, visited the graves at Monmartre. We admired the view from the Eiffel Tower and wore our shoes out walking through one arrondissement after another, from the heart of the city to its outer edges.
But really, all I wanted to do was eat.
Our wallets constrained us, yet we barely registered deprivation. Every flaky croissant, every fragrant bowl of onion soup or round of goat cheese wrapped in a grape leaf and tied with twine was a delight for the eye and palate. Couscous was a revelation, café au lait a good reason to get out of bed in the morning. The night we wandered into a tiny bistro on the Left Bank and discovered the phrase moules- frites was life-changing.
The boyfriend didn't last, but my love for all foods French has never waned. I left home that summer before my senior year of college having never cooked much more than baked potatoes and my mom's beef stroganoff. By the time I returned three months later, I was as passionate about learning how to cook the foods I'd discovered as I was about eating them. Travel to foreign lands was wonderful adventure to be sure, but it now occurred to me that perhaps I could create my own adventures, right in the kitchen. Cooking well, it seemed to me, might actually be a way to live a more sensual, thoughtful life.
That long-ago summer was the beginning of a lifetime of experimenting, learning, savoring.   Over the years, I've tried my hand at hundreds of dishes and collected way too many cookbooks. What I've found is that neither the hunger nor the curiosity ever goes away. There's always a new restaurant to visit, a new dish to try, a new challenge to try to recreate at home.
So when a food-loving friend told me about Buvette, a tiny bistro in New York with a decidedly Gallic twist, I couldn't wait to go.  (Yes, I was charmed by the bike before we even walked through the door.)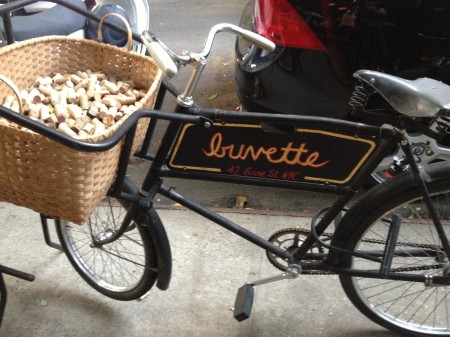 Perched at a tiny table, elbow to elbow with fellow diners, dipping a hunk of baguette into a bowl of mussels Provencal and drinking wine out of a small water glass, the years melted away. The West Village neighborhood crowd is young and casual, the bar is packed, the mood convivial. People come to Buvette to cheerfully rub shoulders with one another and to eat food that tastes as if it were made by your best foodie friend rather than by a chef paid to impress.
Now, Jody Williams has brought the spirit of Buvette to the page in a new cookbook inspired by her beloved restaurant and devoted to "the pleasure of good food." Here is simple, handmade, straightforward French comfort food that's as satisfying to prepare as it is to eat. No architectural concoctions topped with obscure sauces here. No exotic ingredients or complicated presentations. Instead, Jody's beautiful, do-able, casual-but-polished recipes re-ignite my own passion for fresh ingredients and thoughtful dishes made with care.
I don't get to New York often, but if I did, Buvette would be my go-to spot for a morning coffee or an unhurried dinner with friends. So, it's probably not surprising that Buvette has also turned out to be the cookbook I find myself pulling off the shelf most often this summer.  (Summer fruit salad, yogurt parfaits, tomato salad with cucumbers and bread, soupe au pistou, old fashioned lemonade, wax beans with pesto. . .intuitive dishes all, but ones I'm happy to be reminded to make.)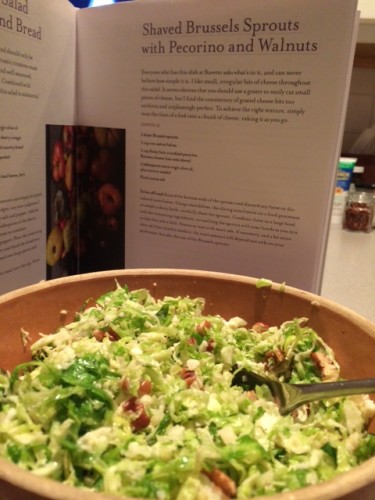 A few weeks ago, I gave a copy of Buvette to the friend who'd first tipped me off to the restaurant. Hours later, a photo arrived: shaved Brussels sprout salad. "I was inspired," he texted.
That's the kind of cookbook this is: you page through, feel a little twinge of hunger as you pore over the photos of fresh figs and cheeses and hearty soups, and then you get up and head for the kitchen, to see what you have on hand. And you realize that even a bunch of radishes from the farmers' market can stand on their own, and are worthy of a bit of loving care as you bring them to the table.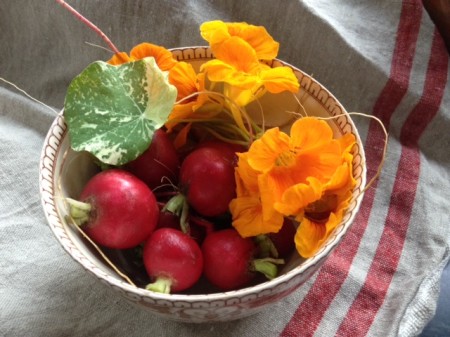 As Jody says, "Buvette is more than a place; it's also a feeling and an idea. It's a way to cook, entertain, and live. It's a recipe for living more meaningfully."
I've made Jody's Asparagus Milanese once a week for about a month. And every time, I've forgotten to snap a photo before I spooned it out of the pan. Last night was no exception. But I did remember to grab my camera just before the grilled figs and goat cheese disappeared.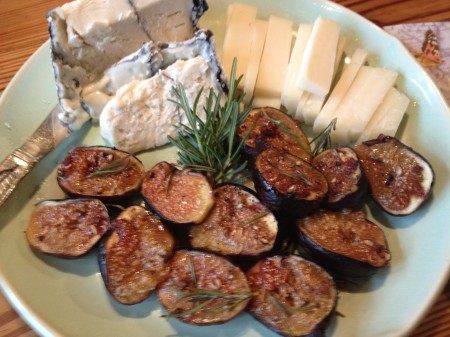 I have one copy of Buvette to give away here, and I'm delighted to spread the word about this lovely cookbook.  (Looks as if I'm not alone. The New York Times has just published a rave review, too — they couldn't resist those brussels sprouts either.)
how to enter to win a copy of Buvette
Simply leave a comment below.
Answer the question:
What are you putting on your summer dinner table these days?
Of course, as always, you can also just say: "Count me in."
I'll choose a winner at random after midnight on Saturday, July 26. Good luck to all.
(Just want to start cooking?  You can order a copy here.)
See you at the farmer's market!
Buvette's Asparagus Milanese
(serves two, but is easily doubled)
Coarse salt
Small handful of asparagus, tough ends removed
2 T. unsalted butter
2  good-quality large eggs
Freshly ground black pepper
Finely grated Parmesan cheese
Bring a small pot of water to boil, season with salt, add the asparagus and cook until just tender, about 2 minutes.  Drain immediately and transfer to paper towels and let dry for a minute or so.
Heat the butter in a skillet over medium heat.  Add the asparagus to the butter, with the spears together in the center of the pan.  Crack the eggs directly into the pan at the edges of the asparagus, sprinkle with a bit of salt, cover and cook until the whites are just set, about two minutes.  Sprinkle with a generous dusting of Parmesan cheese and a few healthy grinds of black pepper.  (I like a bit of chopped parsley, too.)