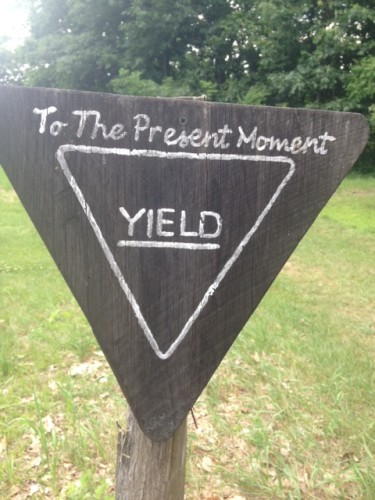 On Tuesday afternoons this past year I've been a traveling yoga teacher, lugging a bag full of straps and foam blocks and lavender eye pillows to a small elementary school in a nearby town.
My students, a dedicated handful of regulars, are all in their sixties, including the school principal and her now retired husband, who once taught English to my son Jack. We work gently together, accommodating a tricky hip (mine), chronic back pain, osteoporosis, balance issues, and the inevitable assortment of aches and injuries that are simply part of the territory now that we are no longer young.
Last fall, on the first afternoon I arrived at the school to teach, I was surprised by a few sudden tears the minute I walked through the front door. It hit me – suddenly, although certainly not for the first time — just how far down the road I've traveled from all that transpires each day in this tidy, welcoming brick building.
Everything I saw brought back a memory: The box of lost-and- found baseball caps and tangled sweatshirts, the collection of canned goods for the food pantry accumulating in the foyer, the children's bright artwork on the walls, the sight of a lone L.L. Bean backpack forgotten in a corner, the distinctive smell of kids and chalk dust and used books and half-eaten lunches.
The question rose up hot and fierce as a reprimand in my chest: "Had I loved my life enough?"
The honest answer? Probably not. Back when my own two boys were small, what I now know to be evanescent felt as if it would go on forever. I made a hundred sandwiches, a thousand, with no end in sight. How many mornings did I urge my kids to hurry, warn them that they'd be late for school, lose my patience as they whined or dawdled or resisted some obvious necessity – hair combing, boots on the right feet, raincoats?
Much as I tried to pay attention, tried to remind myself nothing lasts forever, and certainly not first grade or third or fifth or childhood itself, I couldn't possibly have anticipated the speed with which the years would fly by while I was in the thick of it all myself, mired in the details of doctors appointments and homework assignments and t-ball practice.
Perhaps it is ever so. Perhaps it's only the lived experience of seasons passing that can teach us the truth of impermanence, as endings pile up willy-nilly.
Perhaps it is only by enduring a progression of lasts that an ordinary now is transformed into an achingly precious present moment.
Perhaps it is only in pausing every now and then to gaze behind to where we've been, that we can turn face forward again with hearts full of gratitude for the ground beneath our feet.
With the school year over, my Tuesday afternoon classes have concluded as well. Over time, I did get more comfortable walking down the hall, nostalgia for the past giving way to a kind of cultivated ease in the present.
Still, I would always stop to look at the bulletin boards, to enjoy the children's artistic creations, to read the their names, to remember just how it felt to visit my own sons' school all those years ago and see their latest efforts displayed in the hall.
As the last school day drew nigh, the children made summer "bucket lists," sharing their hopes and dreams for the months ahead. There were lots of pictures of sunscreen tacked to the board, along with aspirations for summer vacation: play with my cousin, go to the beach, ride my bike, go camping.
I thought about making a summer bucket list myself. What would be on it? Read a book a week. Meditate every morning. Take a walk every day. Be more disciplined about writing my blog posts.
I got just about this far before I realized: my summer bucket list sounded suspiciously like a to-do list.
Last week, my husband Steve turned 65. A big one any way you look at it. Medicare. Senior citizen discounts. Fifteen years shy of eighty. Only thirty-five less than a hundred.
As it happened, I was away from home attending a book festival on his actual birthday. We'd both been busy all week, running in opposite directions, he with a board meeting to attend, me with a talk to deliver, no room on our calendars for a party or a dinner out, both our sons away.
I wracked my brain for an appropriate gift and came up empty. There is nothing he needs. Nothing he really wants that he doesn't have already. Nothing except, of course, more time. The one gift money cannot buy.
And then it dawned on me – time was a gift I could give. No receipt needed, no return possible.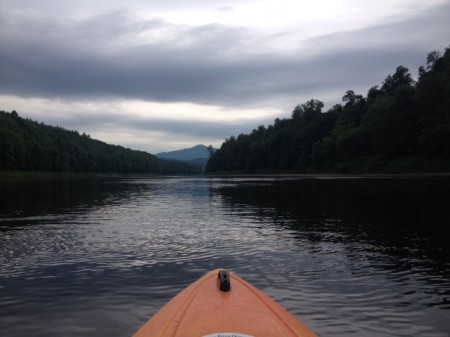 Steve played hooky from work and I planned a day for the two of us.
"Trust me," I said. And he did.
We got up early, had breakfast with friends, then headed north to Vermont and our date with a rented double kayak. After a few hours of paddling down the Connecticut River and lunch at the Harpoon brewery, we made our way through an underground tunnel to enter an outdoor sculpture garden called, appropriately enough, The Path of Life.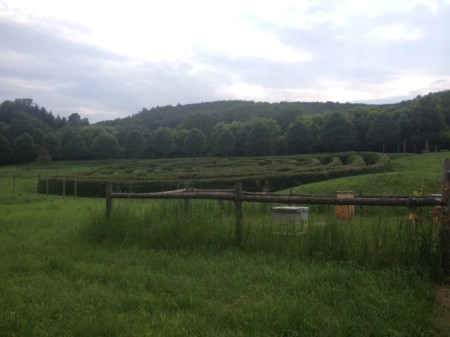 Metaphors abounded – from the hemlock maze, signifying the adventures of childhood, all the way to the circle of dead oaks and charred carvings that evoke death, and finally the quiet grove of delicate white birches suggestive of rebirth and life's renewal.
It was a weekday afternoon and we had all fourteen acres of this inspired, idiosyncratic garden to ourselves. It felt as if time had indeed slowed down a bit. There was space to talk, plenty of time to wander.
"I still can't wrap my head around sixty-five," Steve said as we approached a towering jazz combo exuberantly constructed of old wood and metal scraps.
"Sixty-five is old. But inside, I still feel the same. How can that be? I'm not even sure how I'm supposed to act at this age."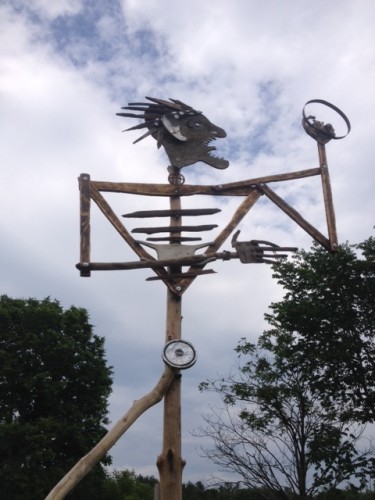 We looked up at the faded, venerable musicians playing their silent song for the ages, perfectly embodying the spirit of creativity.
Maybe there is no "supposed to," they seemed to say. Maybe the work of growing older is about finding your own song and singing it fearlessly, joyously; singing even when it seems no one is listening. And maybe aging doesn't have to be about submitting grudgingly to loss, but rather about accepting and choosing life just as it is — and beating out a wild, heartfelt tune that acknowledges all of it, all the joys and pains and conflicts that are part of the human trip.
Knowing where our journey would wind up, we took our time. Why rush down the path of life, when one can choose to sit for a while under the tree of knowledge, survey the view from the top of the hill of success, meditate with a full heart upon one's ancestors and absent loved ones from within the circle that represents family?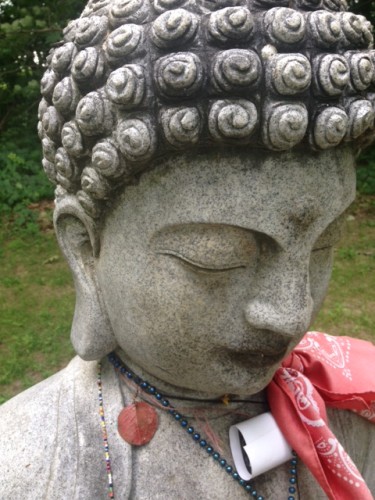 As the end approached, we moved even more slowly, lingering, wanting to make it last, determined to drink fully of every experience along the way. (Another revelation: as it is in the garden, so it is in life.) We made an offering to the Buddha, walked the labyrinth, lay flat out on the grass and closed our eyes and imagined our own final rest.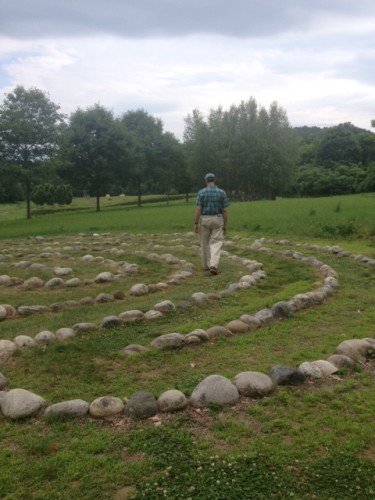 Back in the car at dusk, driving south toward a dinner of Thai food and listening to Willie Nelson sing my current favorite song, "Just Breathe," we were both quiet.
I found myself brushing back tears, as does seem to happen more and more often these days. But these tears weren't for the past, not at all. They were for the exquisite beauty of the moment, for our own shared, expansive, richly layered present.
And it suddenly occurred to me that I do have a summer bucket list after all. It's not a to-do list. Nor does it include a fancy vacation or any grand ambitions or even the stack of books by the bed that I really do long to read.
What I want most this summer is simply to spend time with the ones I love. To have more days just like this one. Enough presence of mind to pay attention. And enough presence of heart to make gratitude my song, acceptance my refrain.
Yes, I understand that every life must end, uh-huh
As we sit alone, I know someday we must go, uh-huh
Oh I'm a lucky man, to count on both hands the ones I love
Some folks just have one, yeah, others, they've got none
                                   Stay with me…
                                   Let's just breathe…
Do you have a bucket list — either for the summer or for your life?  What's on it?  I'd love to know! 
how a (grudging) critic made my day
Although I've received quite a number of lovely letters from male readers, I suppose I do think of myself primarily as a women's writer.  So I shouldn't have been surprised that my book would meet with some resistance from the no-nonsense New York journalist Jesse Kornbluth. Aka The HeadButler, Jesse is the author of a highly opinionated, persuasive, and incredibly popular blog about all things literate, trending, cultish, or practical — from music and movies and books to gifts and gadgets to food and wine.  The HeadButler is nothing if not tough; he admits, right up front, that he was prepared to loathe my book, that he prefers a dose of denial to contemplation, that the very word "journey" drives him nuts.
And yet.  He chose to read Magical Journey. He read all the way to the end, despite the title, despite the subject, despite everything he was prepared not to like.
And this morning he published this amazing review, which made me bristle for all of about two seconds, and then made me laugh out loud, and then made me want to give him a huge hug and take him out for dinner.  How could I not share it with you?
Click here to read my one and only published review by a guy!