If we had power over the ends of the earth, it would not give us that fulfillment of existence which a quiet, devoted relationship to nearby life can give us." ~ Martin Buber
D
ear Tess,
So, okay, I was wrong.
Love at first sight is possible after all. I wonder, though, was it the same for you? Did you really know I was your person, and that we were your family, just as immediately and as surely as we knew you were our dog?
I can admit this now: I didn't actually believe I could give my heart away again — not so completely, not even to another black and white border collie with a paint-dipped tail and a coat of silken cowlicks.
Besides, I'd finally gotten sort of used to the pet-free life. Sleeping  a little later. Saving money on dog food and vet bills. Skipping the morning walk, the poop patrols around the yard. Staying in out of the rain. No one's bladder to keep track of but my own. No dog hair on my black yoga pants, no stray bits of kibble crunching under foot, no new holes under the azalea or scratches in the pine floorboards. No one eating the appetizers off the coffee table or barking at the door to go in or out or staring at me with imploring eyes, telegraphing the unmistakable late-afternoon message: "Shut your laptop and put on your sneakers."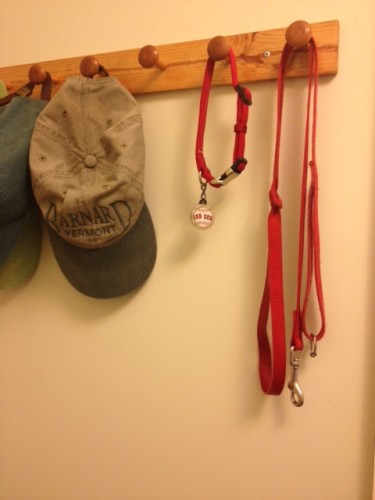 Sure, there was an emptiness around here, but I'd almost stopped noticing it. Just as the silence after Henry and Jack first left home, crushing at first, became part of the fabric of my days, my wrenching grief over the death of your predecessor had softened over the winter into, well, a new kind of normal. We humans can get used to anything.
And then May came. The last recalcitrant snow finally melted, revealing a backyard still scattered with faded tennis balls. The sun woke us up at six, then even earlier. Birds sang. The world beckoned. Our boys came home, both of them at once.
"You said spring," my dog-loving friend Debbie reminded me. "And it IS spring."
She gathered up all the old tennis balls and piled them in front of the garden Buddha, an offering of sorts.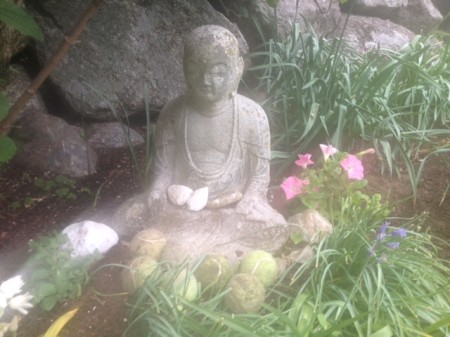 One night, Jack and I clicked on a link I'd bookmarked a while ago, back when Gracie was still with us — a border collie rescue farm in upstate New York.   And there they were: a hundred Gracie cousins all in need of homes, each one with a story to break your heart.
In truth, Tess, we skipped right over your photo that first night, seduced by roly-poly puppies and cavorting adolescents.
I printed out the adoption application, only to be stopped in my tracks by its lengthy essay questions ("Describe a typical day in your dog's life. . .") and the many requirements. Would we be willing to install a hard fence? Would we promise to enroll with our puppy in obedience school? How many hours each day would our dog be alone? Would we use a crate? Would we take a dog with special emotional needs? With chronic health issues?
Finally, there was just a week left before the boys departed again. If we were going to welcome a new member to the family, it did seem as if the family should actually be here to say hello.
And so I returned to the website, scrolled down past the youngsters, and there you were, hiding in plain sight – a four-and-a-half year-old orphan girl named "Princess" who'd seen way too much death and loss and change in your brief, chaotic life. Would you wait for us?
On a chilly Sunday, Henry, Debbie, and I made the five-hour drive to Morris, NY, knowing you might very well be gone by the time we got there. Another family was coming to meet you in the morning; they had first dibs.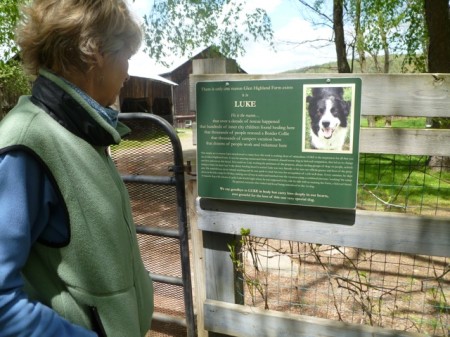 Pulling up to the farm's gate after our long morning on the road, I offered up a little prayer to Gracie, who I knew must be watching these proceedings from somewhere. "This is in your hands, you know," I whispered. "Bring us the right dog."
Right at that moment, the cold rain that had been intermittent all morning stopped for good. The sun came out from behind the clouds. I told myself not to see this as a sign.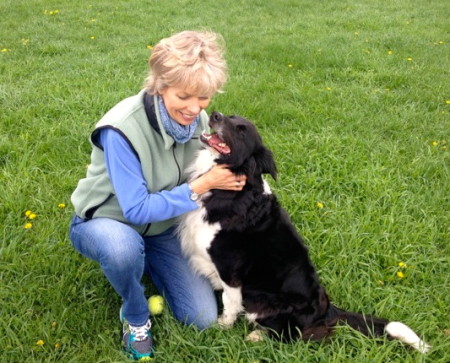 And then there you were. As soon as I knelt down, you put your soft cheek against mine. "Princess" became "Tess" in that instant – as if you'd whispered your new name in my ear. That pretty much sealed it. "She's the one," I must have said. Or something like that.   Because, of course it was obvious, we already belonged to you.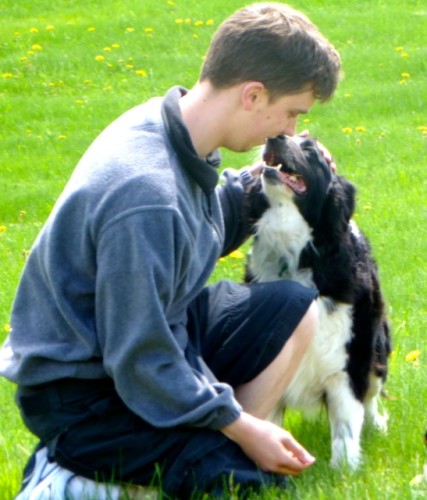 Nearly three weeks into our new life together, you already  have it all figured out: chasing down tennis balls, barking at squirrels, come and sit and wait, leash walks and woods rambles.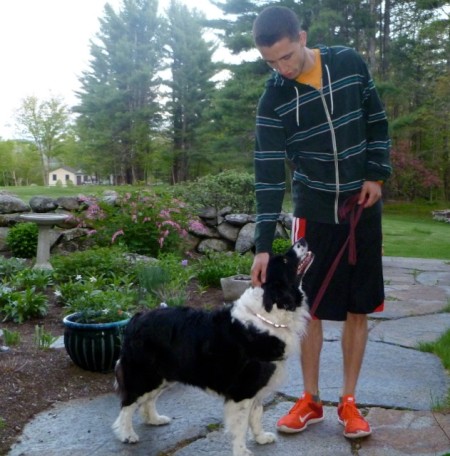 You know the men who live in this house are different from the ones who hurt you in the past.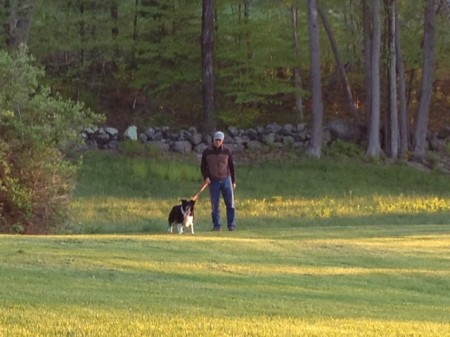 You know early morning is the best time of day, that the dogs we meet on the road are friendly, that people who come to the door are kind, that the bear who ambled into the yard at dusk the other night to raid the bird feeder was definitely not one of "us." (Finally, we heard you growl, saw the white ruff on your neck bristle to attention.)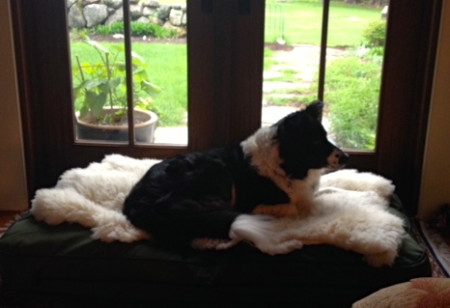 You know where to sleep and not to beg at the table and to stay off the sofa. You know that pockets hold treats, that grass is for rolling in, that tennis balls are reliable, ever-ready companions and that brand new plush toys can be destroyed in less than ten minutes. You know that when I leave a room, I always return. You know that car rides with your new family lead only to good places and that they will always end up right back where we started from: home.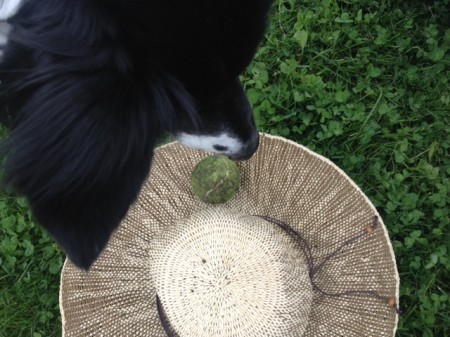 You know the joys of rest and of play, and that here and now are the very best places to be.
Most important of all, though, you know just how to ask for what you need the most. A paw placed on my knee means it's time for us to gaze deeply into each other's eyes, for one of our many long heart-to-heart chats. You squint up at me, nose lifted just so, to receive a kiss or to offer a delicate one of your own.
"Tell me you love me," you insist.
And I do.
upcoming. . .
I'm on the road a bit in June, and would so love to meet you at one of these events.
Friday, June 6
2:00 pm
"Wine and Words"
Bayswater Booktique
12 Main Street
Center Harbor, NH
603-253-8858
http://www.bayswaterbooks.com
Monday, June 16
4 pm
Minot-Sleeper Library
35 Pleasant St.
Bristol, NH 03222
603-744-3352
www.minotsleeperlibrary.org  
Fri. June 20 – Sun. June 22
Nantucket Book Festival
Nantucket, MA
http://nantucketbookfestival.org