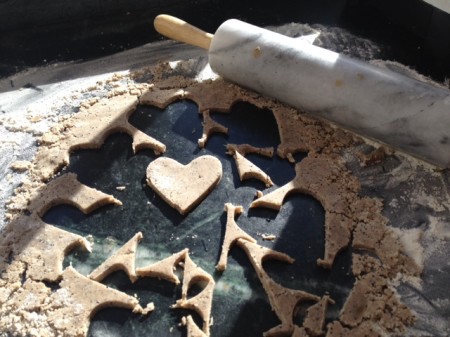 "And, in the end, the love you take is equal to the love you make."   ~ Paul McCartney
Hearts:
When my sons were young, we always made Valentines.  It was a joy for me to join my boys at our old Formica table in the playroom and, for a few February afternoons each year, devote ourselves to frilly matters of the heart.
Of course, we went all out. Our supplies were bountiful: stacks of construction paper, doilies, paper hearts, pink ribbons, lace, glue sticks and lots of sparkly stuff.  And the lavish creations borne of our efforts pleased us greatly.  Valentine's Day was easy to celebrate: cozy, hands-on, messy fun.  Love made visible.
I still have our old box of Valentine paraphernalia in the basement, though it's been over a decade since the three of us made cards together and the glue sticks have no doubt turned rock-hard.  I considered the box briefly the other day: should I carry it all upstairs?  Sit down by myself and cut up a few red doilies for old times' sake?  No, I realized, that would just feel weird.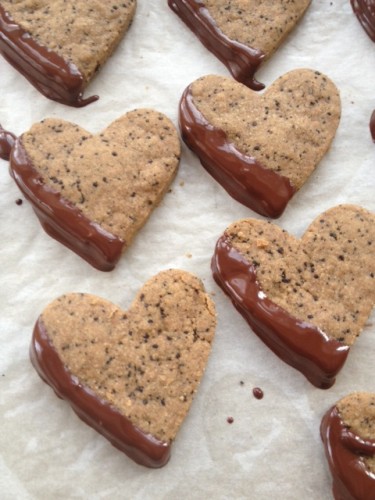 Instead, I satisfied my hands-on urge by making some grown-up Valentines for the  people I carry closest to my heart.  Baking these cookies turned out to be as pleasurably messy as the arts and crafts productions of old – and even more gratifying:  the results were edible.
So, a new tradition is born, I think,  thanks to two recipes that are most definitely keepers. (Scroll down for my recipes for Chocolate-Dipped Espresso Hearts and Dark Chocolate Espresso Hearts.)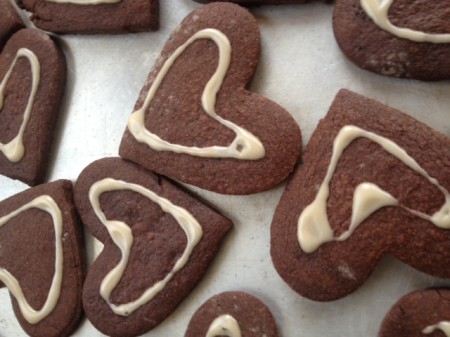 A Valentine's Day story

:

My husband and I mark Valentine's Day as the anniversary of our falling in love nearly thirty years ago, over the course of a long-planned weekend alone at my parents' house on the coast of Maine.  We'd been dating on and off for a couple of years by then, though not seriously or, on his part, exclusively. I was living in New York City and he was in Cambridge.  He was ten years older, we were different in every way (as he liked to remind me) and, although I was crazy about him, our prospects for long-term togetherness seemed discouraging at best.

As we drove north from Logan, Steve took his eyes from the road for a moment, glanced my way, handed me a small tin of chocolates and said something like, "I've been thinking about you this week. And I finally just said to myself, 'this girl is a peach.'"

It was the closest he'd come to acknowledging any serious feelings for me; perhaps it was even a declaration of sorts from this guy who'd been insisting since we met that although he liked me well enough, I just wasn't his type.  I was a peach?   That seemed to me a positive sign: don't give up all hope, but proceed with caution.

We arrived at my parent's vacation house after dark, to discover that we'd been booby trapped. My mom and her friend had spend the previous weekend at the house,  "decorating" on our behalf.

There were hearts and flowers on every surface.  Cupids taped to the windows.  Candles strategically placed.  A book of love poetry open on the table, which was set for two with red cloth napkins and champagne glasses and a scattering of heart confetti.  There were new sheets on the bed, hearts balloons dangling from the light fixtures, Brie and champagne in the fridge.

I was mortified.

Having guarded my own smitten heart so carefully, lest it be broken by this man who seemed certain we weren't meant to last, I'd  just had my cover totally blown – by my own mother.  Not funny.

Steve laughed.

Shaking, heart pounding in my chest, I went through the house without even taking off my coat, gathering up all the offending knick-knacks and cupids, my face redder than any Valentine.  By the time I got back to the kitchen, Steve had opened the champagne and lit the candles.  I don't remember exactly what he said then, but the gist of it was:  "Well, I guess we could fight this, or we could just give in."

Three months later, he asked me to marry him.   (I still have the little heart-shaped candy tin he gave me all those years ago; it's near the washing machine, full of extra shirt buttons.)
Music:
What would Valentine's Day be without a love song?  This is the one I've been playing all week (although I still can't seem to listen to it without tears in my eyes).
"You Don't Need to Love Me,"  (click on the title to listen) is from the forthcoming Broadway Musical If/Then, which just happens to be rehearsing in the same building where Henry's been working on Aladdin.  (For more about the show, which is about middle age, and love and life, and roads not taken, click here.)
Flowers: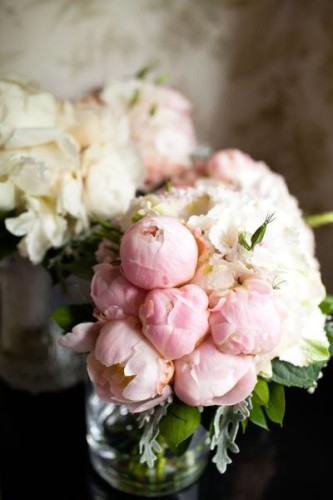 (My heart-felt thanks to Amy VanEchaute for introducing me to Flower Story and for sending me this lovely virtual Valentines Day bouquet of my  favorite flowers.)
Wishing you and yours a Happy Valentine's Day. Tell me, how are you making love visible today?
 Two very special cookie recipes:
Dark Chocolate Espresso Hearts 
(adapted from a recipe at Easybaked.com )
INGREDIENTS: (makes 36 medium cookies)
2 sticks (1 cup) butter, softened
1 1/2cups sugar
2 eggs
3 teaspoons vanilla extract
4 teaspoons instant espresso powder
2/3 cup unsweetened cocoa powder
3 cups flour
1/2 teaspoon salt
1/2 teaspoon baking powder
DIRECTIONS:
Cream together butter and sugar in a large mixing bowl.
Mix in eggs and then cocoa.
Place vanilla and espresso powder together in a small cup until coffee dissolves. Add this mixture to the batter and mix until completely incorporated.
Gradually add dry ingredients and mix until smooth (use clean hands at the end, to knead into a soft ball of dough)
Wrap in plastic and chill for at least one hour.
Allow cookie dough to soften a little at room temperature
Preheat oven to 350F degrees.
Roll out cookie dough on floured counter.
Cut into hearts and place on a parchment-lined baking sheet.
Bake for 8 to 11 minutes until the edges are firm.
Gently slide parchment paper off of cookie sheet and onto a flat surface. Cool completely before removing cookies from paper.You can serve the hearts plain, or with a little cocoa powder sprinkled on top, or you can ice them. I embellished mine with a glaze made of 1 C. confectioners sugar, 2 tsp. milk, 2 tsp. strong cold coffee, mixed well. Scoop the icing into a plastic bag, snip a corner, and decorate cooled cookies as desired.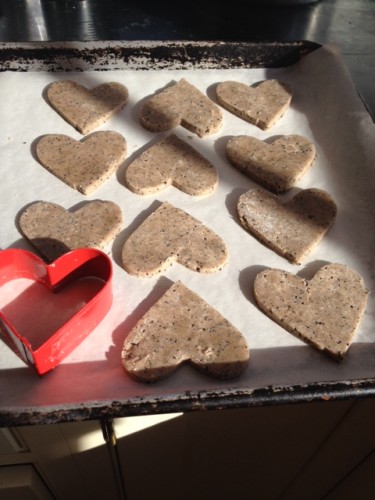 Chocolate Dipped Espresso Hearts
(adapted from FineCooking.com)
FOR THE COOKIES
preheat oven to 300F degrees.
8 oz. cold unsalted butter, cut into small pieces
1/2 C. granulated sugar
1/2 tsp. salt
2 1/4 cups flour (measure carefully; or weigh to get exactly 10 oz. of flour)
3 Tablespoons finely ground espresso coffee beans
Combine butter, sugar, and salt in bowl of electric mixer.  Mix on low speed until butter is combined with sugar but not completely smooth (1 – 2 min.)  Add the flour and ground espresso and mix on low till dough comes together, about 3 min.  Warning: this is a crumbly, dry dough.  You will have to gather it into a ball in your hands, and press it together.  On lightly floured surface, roll dough to 1/4″ thick. Cut hearts as close together as possible, arrange cookies on two parchment lined baking sheets, refrigerate for 20 minutes.  Bake cookies until golden on the bottom and edges and pale to golden on top — in my oven, this took about 40 minutes.
FOR GLAZE:  Melt 3 oz. dark bittersweet chocolate with 1 tsp shortening in a small bowl over boiling water, stirring — don't let it get hot.  Set a sheet of parchment paper on your work surface.  Dip edge of each cooled cookie in warm chocolate and cool on parchment till chocolate is "set," about two hours.  Enjoy!