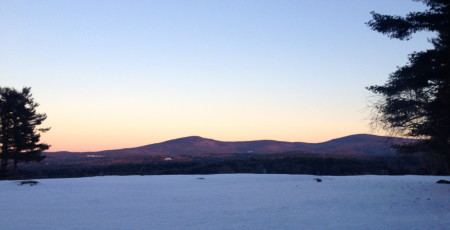 "If your daily life seems of no account, don't blame it; blame yourself that you are not poet enough to call forth its treasures."  ~ Rilke 
O
pen your eyes in darkness.
Listen to the heat kick on.
Snuggle more deeply into flannel sheets.
Say a prayer of thanks for the roof over your head, your warm house, the hot shower that awaits.
Turn your gaze toward the feathery frost on the window pane.
Allow moonlight to wash away sleep.
Watch stars wink out, the sky lighten by degrees, a scrim of rose etch itself across the mountain.
Rise with the sun.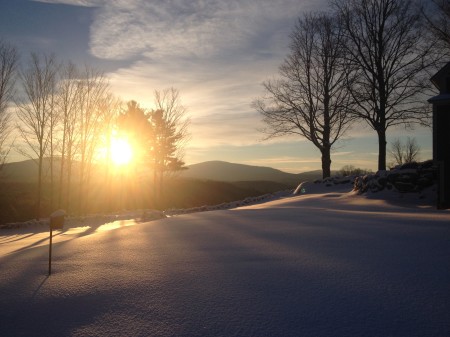 C
heck the weather: – 8 on your New Hampshire hilltop, 7 for the son working in New York City, a balmy 22 for the one in school in Atlanta,   -15 for your husband visiting his sister in Minnesota.
Realize: everyone in your family is waking up in a cold place.
Send each one a "Brrr-good-morning-I-love-you" text signed with x's and o's.
Brew your Peet's coffee with two extra scoops, the way you like it.
Drink slowly from the small blue mug that fits your hand just right, while the silent kitchen floods with sunlight.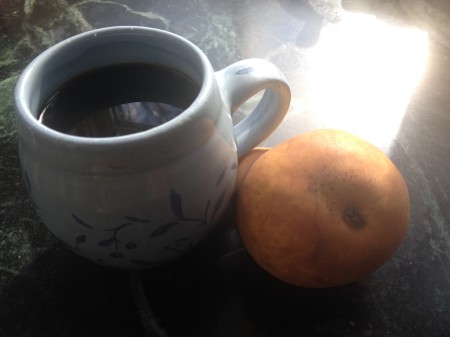 E
at your oatmeal with everything on it: sea salt, brown sugar, raisins, walnuts, a sliced pear, a handful of half-thawed blueberries you picked last August, yogurt from the farm on the other side of the mountain.
Read from the book of letters that arrived in the mail yesterday, a gift from your friend Margaret, who knows the workings of your heart. Allow the words, written over sixty winters ago between two other dear friends, both long dead now, to wend their way into your own here and now, startling your imagination to life: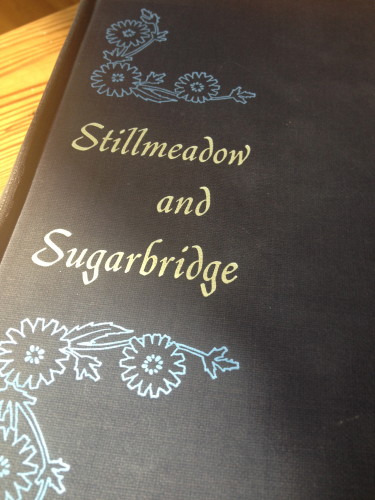 "Yes, there is something to be said for living  in this climate.  Don't you notice a special kind of warmth between the folks who stick it out? Who wants to go pick oranges and grapefruit, we ask? A winter sunset is worth all the gold in the Indies. And shoveling tons of snow is fine exercise, just as good as water skiing!"
W
ash your bowl, spoon, mug.  Turn up the music till it fills the rafters. Notice how gratitude gives rise to joy.
Call your sister-in-law in Minneapolis, just home from the hospital with a new hip.  Hear the relief in her voice: soon she'll walk again, and step out into her  backyard and fill her bird feeder with seeds.  Dash outside with a scoop of sunflower seeds for your own hungry chickadees.  Thank your hips for making this possible.
Dress for the weather: wool socks, long underwear, polar fleece pants, down coat, hat, the scarf Margaret sent you made from patched-together old sweaters, the Christmas mittens from your sister-in-law, also stitched from old sweaters.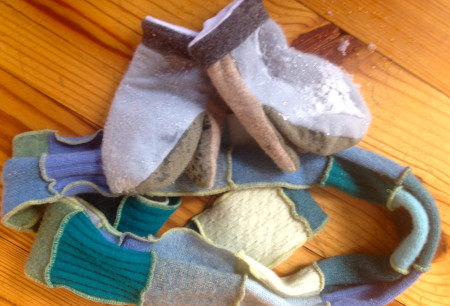 S
mile: you are an anti-fashion statement swathed in polar fleece and sweater scraps, reclaimed pieces of other lives, other mornings, other peoples old warm clothes.
Lace up your boots, zip your L.L. Bean coat, buckle on your snowshoes.  Go.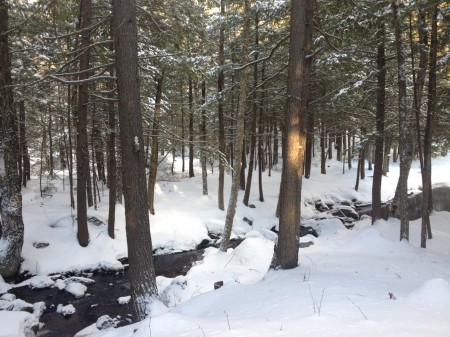 E
nter the cathedral of silence. Carve a fresh trail through the woods.  Feel your heart pound in your chest, your own two strong legs carrying you forward, the whoosh of powder in your wake.  Stop and take in everything: the sounds of ice cracking, water running, a drift of sparkling powder cascading from a bough, the creak of tall pine, a cardinal's sharp call, your own breath rising in plumes around your face.
Study the tracks at your feet and know: you aren't alone here.  Widen your circle of compassion to embrace these silent winter neighbors:  turkey, deer, hare, coyote, bobcat, shrew.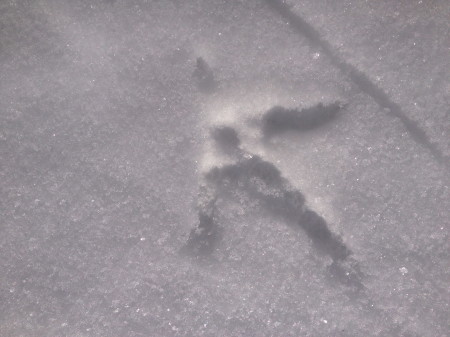 Lie down in a place no one as been before.  Watch the clouds drift by.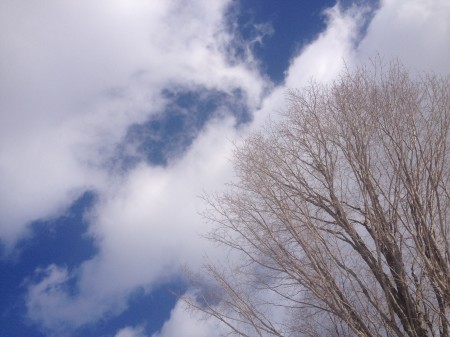 M
ove your arms, your legs. Remember what it felt like to be a child in the snow, making your own private magic, at one with the world.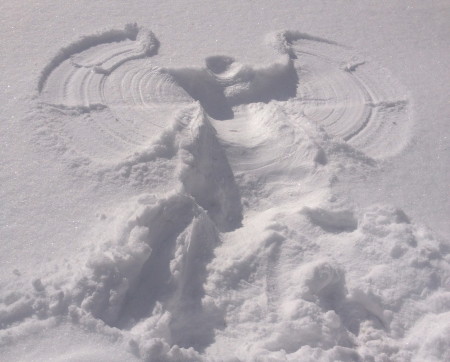 "May you awaken to the mystery of being here.
May you have joy and peace in the temple of your senses.
May you respond to the call of your gift and find the courage to follow its path.
May you take time to celebrate the quiet miracles that seek no attention.
May you experience each day as a sacred gift woven around the heart of wonder."
~ John O'Donohue