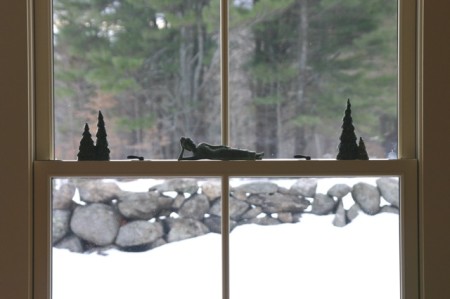 The first thing I did when I found out I was pregnant, twenty-five years ago this winter, was get in my car and drive to Harvard Square to buy a copy of What to Expect When You're Expecting.  I am a book person, a life-long reader.  And so my first response to anything new or challenging in my life has always been the same: go find a book on the subject.
For a few years, as I became a mother to first one son and then another, I read my way through an entire shelf of parenting titles.  I read books about every age and every stage, about attachment and achievement, discipline and diet.
But the book that finally set me on my own path, both as a mother and as a person, wasn't a parenting book at all.  It was a book called The Re-Enchantment of Everyday Life by a writer named Thomas Moore.
Most of us have a handful of books we consider seminal, books that make such profound, deep, and lasting impressions that we remember, even years later, exactly where we were and how we felt as the words landed in our hearts.
I was in a lawn chair at my parents' house in Florida, savoring quiet. Our boys, about seven and four at the time, were off somewhere with their dad. So I found myself in that relaxed, open, on-vacation state of mind that's particularly receptive to new ideas.
And, although I probably didn't know it then, I was very much in need of a new idea.  With each passing year, as our sons grew out of infancy, through toddlerhood and into early childhood, it seemed our life was moving faster.  The stresses of working and parenting and marriage intensified.  More and more, I felt as if my old idea wasn't working all that well.
The idea I'd begun with, the one that had led me to read all those books in the first place, was that if I worked really hard at being a mom, and did everything right, and signed our kids up for enough enriching activities, and somehow achieved a perfect balance between my work life and our family life, our two sons would grow up to have the successful, well-adjusted, happy, high-achieving lives we envisioned for them.
We were in the thick of all that — juggling school schedules,  doctors' appointments, playdates, lessons, and work and birthday parties.  The calendar was full. Everyone was busy.  I was managing.  We were fine. We were also exhausted most of the time.
So this title, The Re-enchantment of Everyday Life, captivated me.  "Re-Enchantment" sounded lovely.  It was exactly what I wanted.
In the book's opening pages, Tom suggests that to "re-enchant" our ordinary, mundane adult lives, we simply need to reconnect with the magical, "enchanted" world most of us knew as children.
As we grow up, he says, we get sophisticated out of enchantment.   We get too busy, too practical, and too smart about the things that cause children to wonder.  It made sense to me.
When I thought of my own leisurely, uneventful childhood in a small New Hampshire town in the early 1960s, the memories were still fresh.  I thought of a musty basement nook under our house, where I once placed a Concord grape on a cobwebbed windowsill and watched, day by day, until it turned into a raisin.  Wonder!  I remembered the scary excitement of sleeping outside in a tent in the back yard, the thrill of skinny-dipping in the middle of the night with my best friend.  I remembered reading Gone With the Wind and crying my way through the last pages of the book — and how, every day for a week, until I finally had to return the book to the library, I picked it up and re-read the ending again, weeping every single time, convinced that Margaret Mitchell's words held a secret power over me.
There were so many long, empty summer days spent reading books, which always meant entering a world of enchantment.  There were aimless bike rides to the sandpit and, once there, countless secret games and rituals and stories to share with my friends.  There were orange popsicles that cost a dime for the long ride home.
I remembered spending a hot summer afternoon sitting outside a neighbor's chicken coop watching a sick chicken die.  The mystery of life and death! I remembered believing in ghosts and fairies and haunted places out in the woods. I even recalled a day when I had so little to do that I sat down in the yard and told myself I wouldn't get up again till I'd found a four-leaf clover.  I stared into the grass for hours, until I'd found three, proof enough for me that the world was a magical place.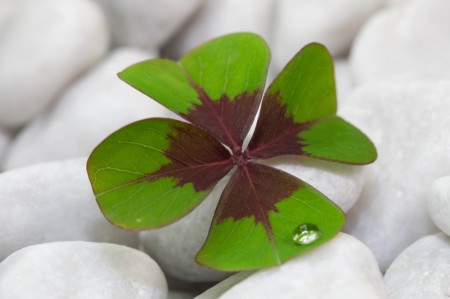 No, it wouldn't be too hard for me to conjure that childlike sense of wonder.
But I also wondered if my own sons, perhaps someday reading this same book as adults themselves, would have any idea what Moore was talking about.  It seemed possible they wouldn't have a clue.  And that unless we made some changes in the way we were living, our children might grow up with very little experience of either boredom or enchantment.   Sitting in my mom's lawn chair that day, reading this quietly revolutionary book, I got a glimpse of a different path.  It's not an overstatement to say it changed my life.
Of course, as Tom often points out, change begins in silence, in the private realm of the imagination.  And suddenly I had a new vision — of a different kind of pace for our family and a different approach to my own task as a parent.  I hadn't ever thought of motherhood as a spiritual practice before, but now I saw that for me, anyway, it could be.  A practice that would be more about deepening my own faith than following the experts' advice, more about being than about doing.
It occurred to me that my real challenge as a mother wasn't just to meet my children's physical needs, but to nurture their inner lives as well.  And that to do that, I'd need to carve out time to simply let my children be children.  Instead of finding things to do and creating experiences for them to have, I could create empty spaces in our days.  Instead of trying to hustle us all toward some kind of future happiness, I could trust that, left a bit more to their own devices, our sons would each bloom in their own ways and in their own time.
And instead of striving to do more and to be better, I would practice simply relaxing down into the here and now, and remind myself that the enchanted world of childhood is a place not to be rushed through but rather a garden of innocence to be appreciated and protected for as long as possible.
The Re-enchantment of our family life, the care of our souls, began right there, right then, with a dawning awareness that my real work wasn't all about my children, but about me, too.  Because, in order to care for my children's souls, I also had to care for my own.
I didn't know Tom Moore when I began to read his work.  But I'm quite certain that, were it not for his writing, I wouldn't have become a writer myself.  Approaching my own ordinary life as a practice worthy of mindfulness and attention changed the way I did almost everything.
Letting go of my need to be right, of my desire to understand and control, meant cultivating a deeper faith in the rightness of things as they were.  It meant trusting my children's destinies to unfold according to a plan greater than my own.  It meant resting more and accomplishing less, tuning in to intuition, making beauty a priority, creating rituals around everyday activities like meal time and bed time and story time.  It meant seeing each moment of the day as an opportunity for reverence and gratitude.
Bringing that kind of attention to my everyday tasks, I began to see our family, our life together, in a new light.  And the more awareness I brought to this life, the more deeply meaningful and precious it became.  And so I found not only a spiritual path, but also my subject as a writer.  The gift of an ordinary day.
This, of course, is territory that Tom and I share as fellow travelers — I owe him a debt of gratitude for first pointing the way.  And, though our work is very different in both genre and subject, it does seem that we were neighbors in spirit well before we became friends and neighbors in the world, living for the last few years just a mile from each other.  And yet, how could I have imagined, all those years ago, that the day would come when my spiritual and literary mentor would knock casually on my back door to drop off a galley of his latest book?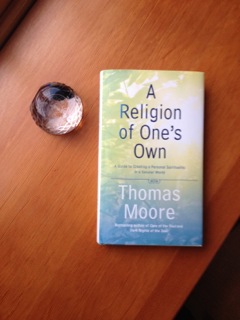 (I absolutely attribute this lovely bit of serendipity to the enchantment of everyday life.)
Reading A Religion of One's Own over the last week or so, I've been moved and inspired, as always, by my friend's deep compassion for our ordinary, everyday struggles to live well, to love well, to care for our planet and ourselves and one another.  A Religion of One's Own is very much both an expansion and a refinement of the ideas that first inspired me to craft a more contemplative, intimate, soulful life as a young mother.  Reading it, I found myself underlining and scribbling notes in the margin of every page – there is so much to think about here, so much to take in and use and share.
No matter what your faith or religious affiliation, A Religion of One's Own is an invitation to go both deeper and wider in your learning and in your faith,  a call to keep thinking, seeking, wondering, and celebrating.  I think of this book as a handbook for the spirit.  A reminder that life is both more joyful, and more meaningful, when we allow ourselves time and space to wake up to its magnificence and mystery.  And in that way, this new book, too, is about re-enchantment.  For a true, useful religion is grounded in the details of our ordinary lives  — and, at the same time, it invites us, again and again, to transcend them.  The holy and the ordinary work together. The result, always, is grace.
I know Tom would never consider himself a self-help author.  And yet I'm always grateful for his advice.  "Follow your dreams," he suggests.  "Speak from your heart, and make a life that is more soulful than practical."  These strike me as good words to live by.
Leave a comment to enter to win two books
It's my pleasure to offer a copy of A Religion of One's Own, signed and personalized by Tom, along with a signed copy of the new paperback edition of Magical Journey.  (Given how often I quote Tom, it seems only fitting to send these books off as a pair.)
To enter to win, simply leave a comment below.  I'd love to know how or where the sacred and the ordinary intersect in your life.  Or, you can simply say "count me in."
A winner will be chosen after entries close at midnight on February 7.  Good luck to all!
Of course, if you'd like to order Tom's book right now, you can do that, too.  Just click here. (I use the small commission I receive on books ordered here to purchase more books to share with you.)
Many thanks to you all for your wonderful song suggestions — I've been listening to music all week.  (Will compile the big list of all your recommendations soon!)