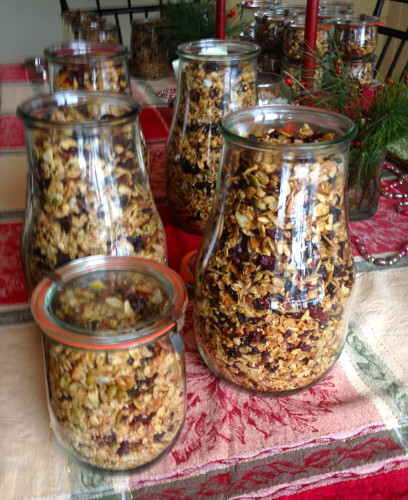 My grandmother Kenison crocheted afghans and made the world's best doughnuts, two skills I still wish I'd learned from her before it was too late.
She was also the first person I ever knew who made her own granola, back in the days when "health food" was considered a fad, "organic" might as well have been a foreign word, and the cereal boxes in our kitchen cupboard at home ran from Raisin Bran to Cap'n Crunch.
At least, on a visit years ago when I was newly married, I did have the foresight to write down Grammie's recipe.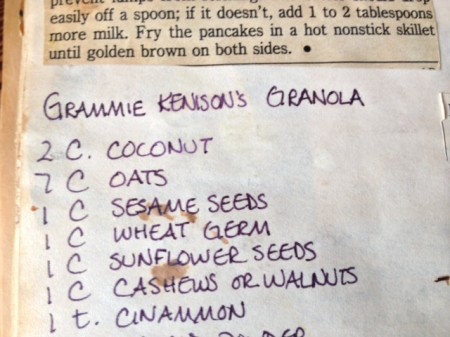 And although I can't present every member of our family with a hand-made afghan this Christmas as she once did, I am following in her footsteps. With the exception of books (I always give books!), most of the gifts I'm getting ready to wrap this year aren't coming from stores.  They're coming from me.
My granola isn't exactly like my grandmother's. I've taken some license with her original recipe over the years.  It's fun to play with new combinations of ingredients, and it never turns out quite the same twice anyway.  (She liked carob powder in hers; lately, I've been experimenting with cardamom in mine.) The one thing I always do, though, is make a lot.  And it's always delicious.  I think of my grandmother every time I start gathering the ingredients, and I feel happier creating something simple from scratch than clicking a "buy now" button on my computer or wandering through stores looking for the "perfect" gift.
As I type these words, the smells of maple and cinnamon and cardamom are still lingering.  Steve and Henry have been nibbling with every pass they make through the kitchen.  The floor is littered with stray oats and walnuts and sesame seeds.  The counters are sticky with syrup and crowded with every huge bowl we own. I haven't set foot outside all day, or spent a penny, or thought once about the Christmas party we all agreed not to attend.  I haven't answered an email, checked Facebook, or looked at my to-do list for the rest of the week.  There are all sorts of things I have yet to do.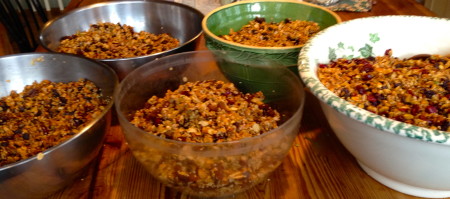 But something good has happened here, as the apricots and dried plums were chopped, as the trays went in and out of the oven, as the jars on the table were filled, and as my husband and son stepped in to help wash some dishes.
I've been reminded, once again, that I don't have to go out in search of Christmas spirit.  I can create it here in my own kitchen, with a yellowed, handwritten recipe falling out of an old notebook, a few pounds of rolled oats, an abundance of nuts and fruit, and a day given over to being right where I am, doing just one thing at a time.
Food made with love and given in joy is always gratefully received. I can pretty much guarantee that a jar of homemade "glorious granola" is a gift no one will shove in the back of a closet or need to return on Dec. 26.  Just be sure to keep one jar for yourself.
Are you making any gifts this year?  If so, what?  What is the best home-made gift you ever received?  I'd love to hear from you!
Glorious Granola (to keep or give away)
a basic recipe with some variations
1 14 oz. jar of organic coconut oil
4 T. unsalted butter (more butter = more clumps; feel free to increase or decrease here)
2 T. dark brown sugar
1 cup dark maple syrup
1 T. vanilla extract
1 T. good quality cinnamon
2 tsp. cardamom (optional)
8-10 cups old-fashioned rolled oats
1 cup of organic unsweetened coconut flakes (optional)
4-6 cups raw, unsalted nuts (I generally use a combinations of sliced almonds, sunflower seeds, walnuts, and  pumpkin seeds, but sometimes I switch in cashews, pistachios, and/or pecans.)
1-2 cups raw sesame seeds
4 cups mixed chopped dried fruit in any combination you like (sour cherries, cranberries, apricots, raisins, golden raisins, dates, plums, blueberries.)
½ cup finely chopped crystallized ginger (optional)
Sea salt or Maldon salt flakes
1. Heat the oven to 325 degrees.
2. In a saucepan over medium-low heat, heat the coconut oil, brown sugar, maple syrup, and butter until oil and butter are melted, stirring occasionally. Remove from the heat and stir in a generous pinch of salt, the vanilla extract, cinnamon, and cardamom if using.
3. Place the rolled oats and the mixed nuts in a large mixing bowl and pour the oil/syrup mixture over. Stir with a spatula to coat the oats and nuts evenly. Divide the mixture between three jellyroll pans. (Make thin, even layers; you should have enough left in the bowl for at least three more pans after the first batch are done.  If you like, line the pans with parchment – sometimes I do, but not always.) Taste for balance of flavors.
4. Bake until golden brown, about 30 minutes, rotating the sheets and stirring every ten minutes.
5. While still warm, stir in the dried fruit and ginger and sprinkle with more salt flakes to taste.   Cool completely before covering.  The mixture will keep in a tightly covered container at room temperature for at least a week.  Store the rest in your freezer in zip-lock bags or pack into jars to share.
A few tips
1.  Feel free to play around with this basic recipe.  As long as you don't over-sweeten or over-cook, you can't go wrong.  Taste your way along.
2.  You can use more butter, for a toastier, richer flavor and more clumps.  Try fruit puree (apple is good) in place of the oil for a lighter, crunchier result.  Cut back on the syrup or leave out the brown sugar if you prefer your granola less sweet.  Canola or vegetable oil works fine in place of the coconut oil.  Even a light olive oil works well. Any neutral oil is fine.
3.  Be liberal with the Maldon salt flakes and taste to get desired result.  What sets my granola apart is the perfect, subtle balance between slightly sweet and slightly salty. 
4.  Try different combinations of spices, sweeteners, nuts, and fruits.  (I choose organic ingredients whenever possible.)
5.  I like these:  apricot/cardamom/crystallized ginger; grated orange zest (mix in with the oats and bake)/cranberry/maple; lavender buds/lemon zest (again, bake in with oat mixture)/honey.
6.  Other things you can add, or not:  carob powder, flax seeds, hemp seeds, dried mulberries, gojii berries.  The recipe above is gluten-free; you can add wheat germ if gluten-free isn't a requirement for you.
7.  Don't overcook but make sure granola is evenly browned throughout, stir every ten minutes, never bake the fruits; always mix them in to your still-warm granola.
8.  Cool completely before covering, stirring occasionally.  
9.  Consider the recipe above a work in progress and allow it to evolve as you go.  This will make plenty of granola to divide up into generous gift portions, with some left for you.
10.  For a lovely presentation, pack your granola into classic Weck Tulip Jars, available online at http://weckjars.com