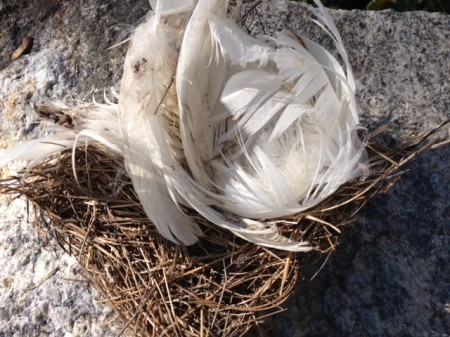 A Saturday afternoon in September, the last of them.  Where the air leaves off and my skin begins, I can't tell. They are the same temperature, the same softness, the same.  There is no need for a sweater or shoes. I sit in the lawn chair by the garden, eyes half closed, listening to the low, incessant churring of crickets, the intermittent hammer taps of a woodpecker in the maple tree overhead, the chatter of birds, their wing beats as they come and go from the feeder, the acoustic hum of bees burrowing into the jeweled nasturtiums.
It is that gentle, golden, in-between moment, no longer summer but not fully fall, either.  The sun, already sliding down the sky, casts long purple shadows across the grass and, elsewhere, creates translucent pools of light. It feels nearly holy, this luminous glimmer shafting through the trees. Everything is softening, crumpling, fading.  And yet, on this mild, sun-kissed afternoon it isn't an ending I feel, but a thrumming continuum of energy, an urgent, insistent turning toward life and change.
Any day, the hummingbirds will depart our New Hampshire yard for warmer climes, but for now they are here still, a busy iridescent blur vibrating in and out of the purple petunias, intent upon visiting each cascading blossom.
The sunflowers are spent, their heavy heads drooping upon slender necks. But I'm in no hurry to cut them down, not till  the finches and squirrels have finished  feasting on the seed heads.  Today, they are like a crowd at a banquet — eager, gathering around, intent on the work at hand. A neighbor's rooster crows, heedless of the fact that dawn was hours ago.  A red squirrel perches on the stone wall, chittering to no one.
On the other side of the house, I can hear my son laughing with his friend, the thwack of the basketball in the driveway, occasional cheers for shots made or missed.  Another day, and he and I will be on a plane heading south, delivering him to his new life at school.  What I feel — hearing him play as he always has, seeing his suitcases open on the bed upstairs, making our shopping list for Target in Atlanta — is not the sadness of an imminent good-bye, but readiness.  He is ready, too.
It's not his first leave-taking.  Four years ago this fall he went away to boarding school.  That time, the house rang with silence, as if a door had abruptly slammed shut on his childhood, on my day-in-day-out job as his mom, on the only life I knew.  I could hardly bear the sight of his empty room, his chair, the shoes he'd left by the back door.  A year ago this month, we caravanned to Boston in my dad's borrowed pick-up truck, our old van, the car, all packed to the brim, and moved him into an apartment in Boston for a gap year of back-healing, working, growing up, figuring things out.  Time well spent, as it turned out. And now, with two broken vertebrae mended and a year's experience of living on his own under his belt, he's eager to step into the long-envisioned future that has finally become the present.
I came outside an hour ago with a stack of mail to open, a bound galley to read, my phone in my hand, my mind buzzing with its own plans and busyness.
But all I've done is sit.  Listening.  Feeling. Being.
The quieter I am, the more I hear.  The longer I am still, the more I see.  The more my heart opens, the more it fills. Doing nothing, I am perhaps doing the only thing that matters. To be here now is not only a gift but a practice. And I am rusty.
"Remember this," I tell myself:  the rise and fall of boys' voices, a ball keeping time on pavement, birdsong, the bees' tuneless canticle, the time-addled rooster's piercing call. No need to hold on or to mourn, nothing to regret or anticipate.
The pliant, golden leaves rustle overhead, like the whisper of a curtain being drawn slowly back.  The sun slips out from behind a cloud. The day gives up its meaning slowly.  Silence becomes its own kind of language.  And this language without words yields its own kind of understanding.  There is a secret key that unlocks the world:  attention.
In attention there is presence.  In presence there is grace.  And then, into that grace arrives a blessed revelation:  it is enough, more than enough, to be here.  To be quiet.  To do nothing at all but sit in a chair in my front yard and receive what the world has to offer – the afternoon  leaning toward dusk, a finch poised on a sunflower, my sweet old collie sprawled in the grass beside me, a son turning the next page of his life, radiance everywhere – just now, just here, just for this moment.
Already the light is draining away.  A flash of red and a cardinal disappears into the pines, his graying mate bobbing along in his wake.  The basketball falls silent.  The back door opens, closes. A car engine turns over. Tires crunch down the gravel drive. The air grows cool.  I gather my sweater, my flip flops, my untouched pile of work, and head indoors to flick on lights, shuck corn, make dinner for my husband and our son.