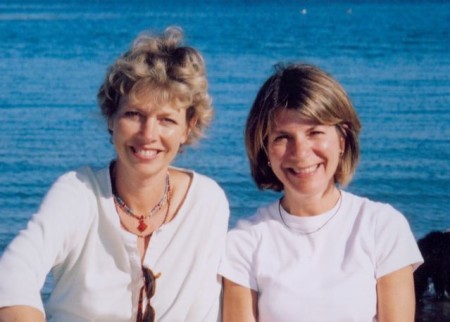 Three years ago this week, my friend Diane and I took a walk around her neighborhood.  I remember we went slowly, taking our time, enjoying the sunshine and each other.  Although we talked and laughed as we always had, my heart was heavy. I knew it would probably be our last walk together.
But what I couldn't have known on that August morning was that although Diane's own four-year journey with ovarian cancer was coming to an end, my walking partner's legacy would live on.
As I set out just after dawn today for a long, solitary walk on a quiet country road, I found myself thinking of my friend.  Not a day goes by when I don't miss her. I miss our long walks, our trips to the farmers' market, our overnight get-aways, fast rides in her little chocolate brown sports car.  I miss her e-mails (which always seemed to contain the words I most needed to hear), the sound of her voice, her perfect, light-as-air scones, her pleasure in a glass of good champagne, her no-nonsense advice about kids and recipes and neighborhood dilemmas.  I miss hearing her views on politics and tv shows and books and which jeans looked best on me. 
At the same, as the years go by, I find myself increasingly grateful for the clear sense of purpose she bequeathed to all of us she left behind. More than anything, Diane hoped that more effective treatments and earlier detection might make other women's prognoses better than her own. Nearly three years after her death, Diane's commitment to ovarian cancer research has not only endured, it has become an increasingly vital legacy
Given how dedicated Diane was to this cause, how tirelessly she worked even after her diagnosis to raise money, and how many miles she walked to support the ongoing research at Dana Farber, where she was treated, it's no surprise that so many of her friends have been inspired to follow in her footsteps.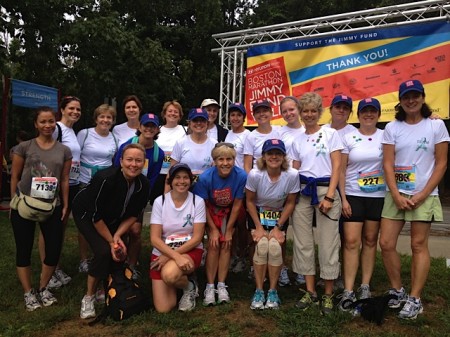 Team Diane was founded as a personal way for a group of us to remember our dear friend by continuing the work Diane herself began. On Sunday, September 8th, we will once again lace up our sneakers and walk the 26.2 miles of the Boston Marathon route.
The funds we raise go to Diane's Fund, established by Diane's family to directly support the cutting-edge efforts at the Dana Farber Cancer Institute to better understand the biology and improve the detection and treatment of ovarian and other gynecological cancers.
But Team Diane has become much more than a handful of friends raising money for a good cause. Our circle has widened, our commitment has deepened, our impact has strengthened, and we have built a community of hope and support for the many amongst us who have been touched or suffered loss as a result of these diseases. While we walk in Diane's honor and in her name, our walk is not about one woman's journey, it is about our journey, together.
Raising money has never been easy for me.  For years, while my sons were growing up, I happily volunteered to cook, clean, drive, edit, and organize for various causes I believed in. I was always happy to do anything – anything, that is, that didn't involve asking other people to open their checkbooks.
Joining Team Diane took me out of my comfort zone in several ways.  But training for months to prepare to walk 26. 2 miles has proved to be far easier for me than asking others to contribute cash – even for a cause I believe in deeply.  In the end, as I've done so often in the past, I look to my friend's example for courage.  Raising money was not easy for her, either.  But she did it — gracefully and with absolute commitment,  knowing the funds she raised would make a difference for others. And so, I gather my own courage and carry on; my guess is, nothing would have pleased Diane more.
Last year, Team Diane collectively raised over $50,000 to directly support the research efforts led by Diane's oncologist, Dr. Ursula Matulonis. She and her team are making significant progress every day. And she has reached out to thank us personally for making such a meaningful contribution to this urgent work. Our walk and your donations help make this work possible.
I am deeply grateful for any support you, my readers, are able to give. Together, we are walking and giving and working to change lives — and perhaps to save them.
How to donate, and a special thanks  from me to you!
As you know already, if you've been reading here for a while, I received a very special gift from my husband at Christmas time – a hardbound volume collecting all of my blog pieces, from the very first one I wrote back in 2009 up through last October (when he had to send the book to press in order to have copies ready for Christmas).  The View from My Window  is a personal book, created for me to share with family and friends (you can read more about it here).  But I do have a dozen of the original 30 copies left, and I would love to give them to you –  my way of saying "thank you" for supporting me in this year's walk.
To learn more or to donate to my walk, simply click here.
And then make sure to leave me a comment in the comments section below.  On September 3 (an extension!) I will draw the names of twelve contributors, at random and using the tool at Random.org, to receive a signed, hardbound copies of The View from My Window.  (I wish I could give a copy to each and every one of you.)
Thank you so much for reading, for being here, and for your generosity.  It means more than I can say.