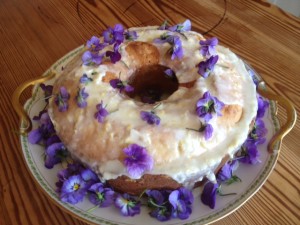 I long ago lost count of how many times I've made this lemon cake.  The recipe, clipped from the Boston Globe in the pre-internet age, is pasted with rubber cement into a notebook of recipes I began keeping the year before I got married in 1987.  The pages are all loose now, held together with a rubber band.  But I know exactly where the yellowed, glaze-spattered cake recipe is, should I ever need a quick refresher.  In fact, as I realized while creaming the butter and sugar yesterday morning, I don't really refer to the recipe anymore. I know it by heart.
Years ago, when the dad of one of Henry's classmates was dying of cancer, I made this cake every day for nearly a month.  Richard and I had become close during his illness, and I usually spent part of each afternoon, before school pick-up, at his house.  He and his wife had decided that his would not be a lonely death, but rather a carefully, lovingly populated one.  They wanted company.  They wanted their home to be filled with life and laughter and the sound of children's voices even as the end one young father's life drew near.
It was an education for me to be a part of that thoughtfully orchestrated leave-taking, an honor to be invited in, and an indelible memory that returns each spring as the daffodils bloom in my garden.  One day that early May, struck by the disconnect between the explosion of life and color in the world and the slow leaching of life from my friend's body, I cut every single daffodil in my yard, well over a hundred in all, and arranged them in jars in his room.
It seemed right, somehow, to take everything of beauty I could put my hands on and deliver vessels stuffed full of springtime into this household.  Everyone had some version of the same impulse it seemed — to meet death with life, grief with love. Other friends brought music, artwork, foot rubs, poems to read out loud.  The kitchen was always full of people, the tea kettle always on boil, the refrigerator always full of good food.
But as Richard's appetite waned, there was just one thing he wanted to eat, just one treat that actually tasted good, even if he could manage only a bite or two: a sip of coffee and a small slice of my lemon cake.  I couldn't do anything about the relentless progression of his illness, but I could make cake.  And so I did, again and again and again. Even now, thirteen years later, I never begin the process of grating lemon peel without thinking of Richard.
Yesterday, the daffodils were blooming at last in my New Hampshire garden.  The forsythia buds were opening before my eyes, the grass greening by the hour. And I found myself feeling  just a touch blue as I considered the fact that after many months of sharing readings and appearances with my friend Margaret Roach, author of The Backyard Parables, we were facing our final "duet" together.
We weren't sure how many people would be willing to leave their back yards on such a glorious spring Sunday afternoon to go listen to a couple of authors talk and read.  But for the two of us it was a bittersweet moment, the end of the road for this book publication journey we've shared since our memoirs came out within a week of each other in January.   I wanted to mark the occasion, to offer her a sweet something by way of saying "Thank you for being my friend and partner."  (What we've both learned is that book tours are lots more fun with a buddy!)
There was really just one thing to do:  make my lemon cake.  As it turned out, about forty-five people came to the bookstore and yet I'm pretty sure everyone who wanted a sliver got one.  We talked together about friendships and endings and the fact that nothing lasts.  And we shared stories and celebrated spring and acknowledged the beauty of beginnings.  For those of you who couldn't be with us, I'm sharing the recipe.
Glazed Lemon Cake

(Simple.  Dense. Lemony. Sturdy.  Good.)

2 sticks unsalted butter, room temperature

2 cups sugar (I use half a cup less)

3 eggs slightly beaten

3 cups flour

1/2 tsp. baking soda

1/2 tsp. salt

1 cup buttermilk

2 heaping tsp. grated lemon rind

3 tblsp. fresh squeezed lemon juice

Set your oven to 325.  Grease a ten-inch tube pan, line the bottom with piece of waxed paper cut to fit exactly, grease the paper, and then lightly flour the pan.  Set aside.  In the bowl of an electric mixer cream the butter and sugar until light and fluffy.  Add eggs one tablespoonful at a time, beating well after each addition.  Sift together the flour, baking soda and salt, and add to to dry ingredients with mixer on its lowest speed, alternating with the buttermilk and beginning and ending with the flour.  Beat in lemon rind and juice.

Pour the batter into the pan and bake on middle rack of oven for 65 minutes, until the cake begins to pull away from sides of pan. Cool for 10 minutes, then remove from pan and glaze (optional) while still warm.

For the glaze:  In a mixer cream together 2 cups confectioners sugar and 3 T. butter.  Add 3 heaping T. grated lemon rind and 1/4 cup fresh lemon juice.

 

Magical Journey — my last three readings (for a while, anyway)

I would love to see you at one of these events! And if you can't make it, please put the word out to friends in Nashville and Minneapolis.  

Thursday, May 2, 6:30 pm:  Parnassus Books, Nashville, TN  

Saturday, May 4, 7 pm:  Seventh Annual Motherhood & Words Reading, The Loft, Minneapolis, MN. 

Monday, May 6, 7 pm:  Common Good Bookstore, St. Paul, MN.

To stay up-to-date on future book news, the latest posts, and other doings, "Like" my Facebook page by clicking here. 

And to order signed/personalized copies of any of my books, click here.