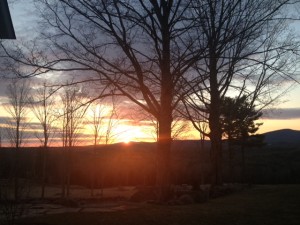 I try, pretty much every morning, to be present for the dawn, even if it's only to stand outdoors shivering in my flip flops and pajamas, gazing eastward. Often I snap a photo as the sun makes its entrance, amazed always at the silent miracle: the gift of another day.
Although I tend to wake up with all sorts of emotions already swirling through my consciousness, indifference is never one of them. Instead – and I don't think I'm alone in this – I'm often as not overcome with a wild brew of feelings as I stand on my small patch of earth and try to contemplate the much larger world out beyond my view and understanding.
Early yesterday morning, unguarded and unsettled, ears attuned to birdsong and wind, watching the sky brighten and the landscape glow with golden light, it was hard to imagine how life can possibly be both so beautiful and so horrific.
How, I wondered, am I to hold in my small, imperfect human heart both the tragedy that unfolded in Boston on Monday and, at the same time, gratitude that no one I know was hurt? How do we process the unimaginable?
On Monday afternoon, I drove a dear friend to the doctor and then we stopped for ice cream downtown. We sat outside in the mild sunshine eating peppermint stick and chocolate, happy in our innocence, our only worry the fact that we were filling our bellies way too close to dinner time. At home a few minutes later, lacing up my sneakers to take a walk, I had no idea what to make of a text that arrived from Jack saying, "I'm safe." My first, thoughtless response was, "Well of course you are."
Only when I opened my computer a moment later, and saw the scrolling news on the Boston Globe website, did I realize how lucky I was that the very first news I heard of the bombings came in the form of assurance from my younger son that he was all right. And yet, alongside my own relief was the realization that thousands of others were still awaiting news of loved ones, and that when it finally did come, not all the news would be good. Indeed, for many it would be devastating.
When tragedy strikes, it feels as if the entire world should stop and reassemble itself into some new pattern. Given the way grief, loss, and violence rip through our own precious complacency, we look around for some corresponding external shift, half expecting the moon and sun and stars to change course, too; wanting the entire universe to register and accommodate our human loss and somehow render it fathomable.
It doesn't happen.
The sun rises in the morning, unperturbed. The sky turns bright and sheer as a veil and slowly, imperceptibly, the last rim of snow vanishes under the eaves on the north side of the house. Out front, as they do each spring, the indefatigable pansies tip their tiny purple faces toward the warmth. The birds take up their song, regardless. Overhead, a pair of great blue herons glide silently toward the pond, reminding me of the steadiness of their return, year after year. The world spins on, abiding.
How we choose to live in it, and where we look for meaning, is up to us. Standing outside in the early morning — open, attentive, reverent – I allow myself to be filled with the solace of nature's eternal rhythms. Here, in the gentle breeze upon my cheek, in the joy of watching my dog run at full tilt, pouring across the field, in the squish of mud beneath my boots, I am nourished and restored even as the weight of sadness sits heavily in my heart. Reminded that I'm never far removed from the source and mystery of things, I'm reminded, too, of all that is beyond my comprehension and control.
Two days later, as the investigations into who and why and how grind on, the best response to the violence I can come up with is this: to reaffirm my faith in kindness and to commit myself even more deeply to a practice of living and speaking with compassion.
If I can remember that versions of what happened on Boylston Street on Monday afternoon are occurring each day, all over the world, then I'm reminded that we are all connected, and that there will be no lasting peace for me until there is peace for you, too, no matter who you are.
If I stop to consider that the attack that feels singular and incomprehensible to us – an assault on our home, on our Marathon, on our innocent people – is not unique at all, but the opposite, then I remember that until all people are safe, no one is safe.
If I can dissolve my own barriers and assumptions enough to taste the experience of life from inside someone else's skin, then I take a small step out of the numbness and daze which keeps me separate from the mistakes and miseries of our own messy human creation.
Last night, Jack called and we talked on the phone for a while. "It didn't really sink in until today," he said, "how close I was to what happened. How it could so easily have been me, or anyone I know, there at the finish line."
"Yes," I said. "It took me a while to grasp that, too."
Now I'm coming to think it is our task — as citizens of Boston, of America, and of the earth itself — to hold the truth in our hearts and minds: we are all one, and it is only through our willingness to reach out and touch the pain of others that the world will change.
Let's get together. . .

Appearances

It seems to me that the best book conversations (well, the best conversations in general) are the ones that take place over a good meal. So my writing buddy Margaret Roach and I are both looking forward to reuniting at a luncheon hosted by The Hickory Stick Bookshop in Washington Depot, CT, this Friday, April 19 at noon.  For the price of a book, you will get a catered lunch, a reading, and time to chat with the two of us too! Call the store at (860) 868-0525 for more info and to reserve your place. (And to read a lovely article about this special bookstore, click here.)

I first "met" Priscilla Warner right here last June, when she left a comment on a blog post I'd written.  I immediately read her wonderful memoir Learning to Breathe, she read my manuscript of Magical Journey and encouraged me through every step of the final revision, and pretty soon it felt as if we'd been friends forever — even though we STILL haven't ever laid eyes on each other.  That will change this weekend, when I go to Larchmont, NY, to speak at the Public Library  on Sunday, April 19, at 3:30 — an event Priscilla helped organize, in part, so we can finally meet in person.

Other spring-time journeys:

Margaret and I are doing our very last bookstore "duet" at the Concord Bookshop on Sunday, April 28, at 3.  (Think daffodils, home made cookies, and wide-ranging conversation– everything from the thorny questions of midlife to composting secrets revealed!)

I'll be back at Ann Patchett's beautiful Nashville bookstore Parnassus on Thursday, May 2, at 7 pm.

And from Nashville, I'll go straight to Minneapolis for my final two readings this spring: The annual Motherhood and Words talk at the Loft Literary Center on Saturday, May 4 and, finally, to cap it all off, a reading at Common Good Books, Garrison Keillor's beloved bookstore in downtown St. Paul on Monday, May 6.  Minneapolis friends, St. Olaf connections, Twin Cities readers, I want to see you all there! 

                  Housekeeping . . .

MOTHER'S DAY isn't far off.  I'm happy to sign book plates for your gift books (just send me an email through the Contact link.) Or, you can order any of my books — signed and personalized as per your instructions — directly through my local independent bookstore, The Toadstool, here in Peterborough, NH.  I asked Willard, the owner, if he'd be willing to gift-wrap books as Mother's Day gifts, and he said "Sure."  To order, click HERE.   This will bring you to an order form at the Toadstool's website.  Leave a note with your order, letting us know if you want your books personalized and/or gift-wrapped.  I'll sign them, we'll wrap them beautifully, and we'll get them right off to you or to the special moms in your life.

I've loved hearing from so many of you!  Your letters never fail to make my day — they remind me all over again how lucky we all are, to be part of a community of readers, seekers, thinkers, nurturers.  If you feel inclined to write a bit MORE, however, I will say that each and every reader review on  Goodreads and on Amazon is hugely appreciated  and hugely helpful too.  Thank you for spreading the word!