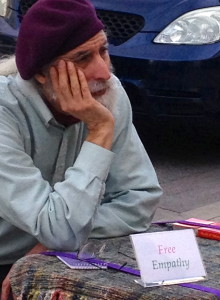 Perhaps it was his eyes:  the kindness there, the depth of his gaze.  Or maybe it was the quality of his listening, the way he seemed to hear with his whole body, leaning in to catch every word.   His lined face held no judgment, no impatience or tension or hint of boredom.  Nothing but love.  Waves of people surged by on the busy sidewalk, laughing and chatting, but his attention never wavered from the young woman who sat across the table from him, pouring out her tale.  I'm pretty he sure he didn't even notice me when I paused, and then hesitated before snapping my photo, uncertain about intruding on this very public and yet strangely intimate exchange.
Home at last from two weeks on the west coast, I find myself  still thinking abut this man who sits at a card table on the bustling, hippest street in Santa Cruz and  open-heartedly gives himself away.
"Free Empathy" his sign says.  And, indeed, there is not so much as a cup or a hat or a money box in sight, no way for anyone to pay for his compassion even if they wanted to.
Free empathy.  I wonder if there is any greater gift, any exchange between two people, that could be more valuable than this?
Free empathy.  Nothing less than an offer of refuge, of rest, of acceptance: you are safe here, and you are ok, just as you are.
Free empathy.  A promise to bear loving witness to another's struggle.
Free empathy.  A reminder that we won't save the world with big gestures or grand schemes, but by becoming better listeners.  By asking how someone else is doing, and then taking time enough to put ourselves in their shoes, to see the world through their eyes.
Free empathy.  One precious natural resource that is endlessly renewable.