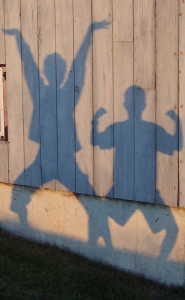 Before the first winter snow flies here in New Hampshire, some of us pound stakes into the ground alongside our driveways, to remind us later, after the landscape is blanketed in white, of exactly where the pavement ends and the lawn begins.  Nothing fancy, just a few metal rods, perhaps with a reflector at the top, to keep the plow or the snowblower from straying off track.  They are, quite literally, guideposts.
As I sat holed up in my bedroom today, making notes for the talk I'll give to a group of parents on the West Coast on Tuesday, I realized that some of the quotes that have shaped me as a mother are really the spiritual equivalents of those guideposts poking up through the snow:  words that keep me on track when the familiar landscape of our family life is suddenly altered by some challenge or unexpected turn in the emotional weather.
It's so easy, when things get stormy around here or seem a bit out of control, to lose my way.  But if being the mother of two sons who have now attained the impossibly grown-up ages of 20 and 23 has taught me anything, it's that storms pass and that control is an illusion anyway.  Still, it helps when the weather is wild, to have some markers pounded into the earth, words that remind me of where I want to put my feet, of the solid ground I know is there for me, just beneath the blinding swirl of whatever's coming down.
Attachment to outcome has probably been the biggest challenge on my own parenting path. Little wonder then that my central task as a mother seems to be practicing the art of nonattachment.  And so I look to the wisdom of others to remind me of what I already know:  I can love and care for my children, but I can't possess them.  I can assist them, and pray for them, and wish them well, but in the end their happiness and suffering depend on their choices and their destinies, not on my wishes.
It surprised me to notice today that none of the quotes that keep me on track as a parent actually come from books about parenting.  But perhaps that's as it should be. For the other thing this journey of motherhood has taught me is that my children are not extensions of me, and my real work isn't about changing them, or shaping them into the people I think they ought to be. It's about changing myself – learning to soften, to trust, to pay attention, to accept, and, most of all, finding the faith to let them go.
So, here are the guideposts I've placed along my own path, to keep me moving in the direction I aspire to travel.  What words serve as your guideposts on this journey?
(A word about this photo, taken ten years or so ago at sunset on a summer day in Maine:  I love the joy in these shadows, the memory of a vanished, distant time, the fact that Jack and I danced and played in that golden light and Steve grabbed his camera and captured the fleeting, precious moment.  It still makes me smile and get a little teary at the same time. And it reminds me: be present; we will not pass this way again.)
Words for the Journey
"To bow to the fact of our life's sorrows and betrayals is to accept them; and from this deep gesture we discover that all life is workable. As we learn to bow, we discover that the heart holds more freedom and compassion than we could imagine."   — Jack Kornfield
"I try to remind myself that we are never promised anything, and that what control we can exert is not over the events that befall us but how we address ourselves to them."   — Jeanne DuPrau, The Earth House
"It has something to do with submitting rather than dominating. Surrender, submit. Have faith, trust in the mystery. That's not easy. Surrendering one's life to living in, and serving, the beauty of a mysterious world is a big step. . . .The purpose of the journey is compassion."
— Joseph Campbell,  An Open Life
"Who you are is made up of three persons.  There is the one you think you are, the one others think you are, and the one you really are.  Work towards making all three the same. Then there will be peace and bliss."          —  Sri Sathya Sai Baba
"Live in the present. Do the things that need to be done. Do all the good you can each day. The future will unfold."  — Peace Pilgrim
 "Life is change.  Growth is optional.  Choose wisely."  — Karen Kaiser Clark
"The little things? The little moments? They aren't little."   — Jon Kabat-Zinn
 "Each morning we are born again. What we do today is what matters most."    — Buddha
 "To look deep into your child's eyes and see in him both yourself and something utterly strange, and then to develop a zealous attachment to every aspect of him, is to achieve parenthood's self-regarding, yet unselfish, abandon."
"We must love (our children) for themselves, and not for the best of ourselves in them, and that is a great deal harder to do.  Loving our own children is an exercise in imagination."   — Andrew Solomon, Far from the Tree
A Magical Journey update

Some books are review books. (Think a quotable rave from the New York Times).  That's not this book.  Some authors appear on The Today Show or The View, with answers to all your questions about how to be happy.  (Think instant ascension on the best-seller list.)  That's not me.  I am an under-the-media's-radar kind of writer.  And I'm pretty sure  Magical Journey is a word-of-mouth kind of book.  That's fine with me.  And I am deeply grateful to every single one of you who have bought a copy, shared a copy, or urged a friend to give it a try, saying, "Here, I think you'll like this, too."  Thank you!

Last week, Magical Journey was #1 on the best-seller list at Gibson's Bookstore in Concord, NH.  Sure, it's a small independent bookstore in a small city in the middle of my home state, but I'm pretty thrilled to be #1 anywhere.  And yes, readers made it happen.

Want to spread the word?  Here are three quick things you can do.  (With huge thanks in advance for your help.  It really DOES make a difference!)

1. Write a brief review on Amazon.


2.  Like my page on Facebook and share posts with your friends. (I update there often, and post news of every appearance too.)

3. Share the book!  (I just received a new box of beautiful, blank, custom book plates.  And I'm happy to personalize as many as you'd like and mail them right out to you.  Just drop me a line and let me know how many and where to send them. Valentine's Day gifts, perhaps??)

Also, check my Events page to see if I'm coming this spring to a bookstore near you. Thanks to the generosity of fans and friends, I'm on my way to the West Coast this week:  La Canada, Laguna Beach, and Pasadena.

If you missed Priscilla Gilman's thoughtful interview  Click Here.