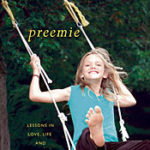 "Everyone has a story. Mine began in November of 2000 when I thought I'd given birth to the smallest baby ever born."
So begins Kasey Mathews' moving memoir Preemie, an account not only of a birth story gone terribly awry but also of a young woman giving birth to herself, learning to love and accept the person she is through the harrowing, humbling process of learning to love and accept her tiny, excruciatingly fragile baby girl, born more than four months premature.
Nearly twenty-three years after my own first pregnancy, I still remember a line from one of the many parenting books I read in preparation for my daunting new role of "mother." The gist of it was something like this: "In the days after you give birth, you will grieve the death of the idealized baby you have envisioned for nine months. And you will begin to love and accept the real, imperfect, and perfectly beautiful child who has come to you."
The very idea of grief having any part to play in the miracle of birth was too frightening to contemplate. And the notion that my own baby might be anything less than perfect was the kind of middle-of-the-night anxiety that I tried desperately to avoid. Much better, I was certain, to envision only the best outcomes: an easy delivery, a healthy baby, happiness all around.
But best outcomes are not always ours to call, and sometimes perfection is found not in our idealized images of the way we believe things "ought" to be, but in our fumbling, awkward, valiant efforts to grow up and become the people we are truly meant to be. For of course, before we can deeply love another flawed, imperfect, vulnerable soul, we must first be willing to love ourselves — even if who we are is so much less than who we still aspire to become.
Any woman who has experienced the trauma of giving birth to a premature baby knows just how quickly, and how devastatingly, a life can turn. One day you are choosing paint colors for the nursery, the next you are staring at the ceiling of a hospital emergency room; one minute you are diligently practicing your "hut" breathing, the next you are being prepped for anesthesia; one minute you are envisioning your own beautiful baby at your breast, the next you are swaddled in sterile scrubs, staring down at a pitifully small one-pound creature that looks nothing like the newborn of your dreams but, as Kasey so vividly describes, more like "a potato with tiny arms and legs."
"I thought if I could figure out why this was happening, I could make it stop," Kasey writes, describing the confusion she feels as emergency room nurses begin the race to save her unborn baby's life. She searches for clues, chronicling the past week's activities: the bath she took, the sushi she ate, a game of paddle tennis. The nurses assure Kasey it's not her fault that her March baby is coming in November, that it's nothing she did, nothing she can control.
Finally, I clutched a nurse's arm. She was walking backwards, facing me, guiding the gurney down the hall. I dug my fingers into her flesh. I needed to know she was real. She looked at me. Her eyes, framed in dark circles, softened. I thought I'd found my sympathetic audience. "You don't understand," I said to her in a more coherent, controlled voice. "This sort of thing doesn't happen to me."
She held my gaze for a moment, and I waited. A gold cross swung at the base of her neck.
She continued to look at me. And then she said, "It does now."
Last week, I wrote here about the momentous challenge inherent in the words "amor fati," or "love your fate." Preemie is the courageous account of one woman's struggle to do just that, to love not only her fate but also the small, desperately vulnerable and miraculously determined little girl who survived against all odds to become her mother's greatest spiritual teacher.
Kasey Mathews tells deep, painful truths about how it feels when a "perfect" life is jolted by reality. She writes about guilt and failure, shock and shame, loneliness and confusion and loss. And she writes about her own halting journey from darkness into light and from fear toward faith, a journey that surely illuminates our greatest and most universal human task: the work of learning to embrace imperfect beauty, of realizing that a good life is determined not by what happens to us, but by what we choose to make of it. Once again, amor fati.
I first met Kasey just three years ago this week. My own memoir, The Gift of an Ordinary Day had been in the stores for two days, and I was doing my very first book signing at a nearby book shop. There were all of four people in attendance; two of them were blood relations (my mother and my brother), the third was a mother from Jack's class at school, and the fourth was a lovely woman I'd never seen before. She sat down in a chair near the back and waved to me with a warm smile, as if we were already friends. I thought perhaps she'd wandered in by mistake, so little publicity had been done for this event. But no, it turned out that she was an actual reader; she had in fact come that day to see me. I scrapped my prepared talk, read a couple of chapters, and then sat down to chat a bit with my charitable audience of four.
Kasey introduced herself, and told us she was writing a book. As she shared the story of her daughter's birth, and of the fear and surrender and hard-won happiness of the last nine years of her family's life together, I found myself wishing that she would hurry up and finish writing. I wanted to read it, to hear about how Andie persevered and grew, and even more, how her beautiful mom had grown right alongside her. I didn't doubt for a moment that Kasey had a book in her. Her quiet eloquence confirmed her as a story teller, and her determination to offer hope and support to other women facing challenges of their own would surely carry her across the finish line.
A couple of weeks ago, I ran into Kasey and Andie, now a lively twelve year old, outside the grocery store downtown. Although I've followed each stage of Preemie's long labor and triumphant delivery (nothing premature about this birth!) I had missed Kasey's book publication party, earlier this summer. It was my first opportunity to say "Congratulations!" in person.
"I want to write about your book!" I told her. And with that, she reached into the back seat of her car, grabbed a copy, signed it, and handed it to me.
To win this signed copy of Preemie, along with a signed copy of my very first book, Mitten Strings for God: Reflections for Mothers in a Hurry, just leave a comment below. Write about how the words amor fati have resonated in YOUR life. Or, of course, just let me know you'd like to read this special book. I will draw a winner at random on Saturday, September 8. (In the meantime, visit Kasey at http://www.kaseymathews.com/.)
JIMMY FUND MARATHON WALK UPDATE:

I have just a week more to train for my 26.2 mile walk on September 9, in memory of my friend Diane. I've listened to a couple of books on Audible.com while walking the New Hampshire countryside. But mostly, these days, I watch the seasons change, and remember my friend, and our talks two summers ago as she thought about the legacy she would leave. It is for her, for these memories, that I will walk next Sunday.

To read more about my reasons for making this walk, click HERE.

Click HERE to make a donation on my personal fundraising page.

And to all of you who have already supported me in this effort, my heartfelt thanks!