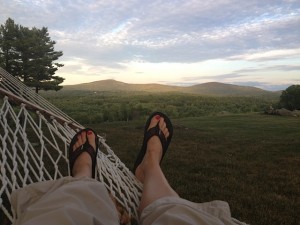 The toes in the hammock are a good sign. They mean I've remembered, for today anyway, that I already have enough. Enough time to rest, to play, to reconnect with my own idle, dreamy, summer-child self. They mean that, at least for today, I know this: my challenge is not to chase a perfect life, but rather to pause long enough to appreciate a perfect moment. Toes in the hammock mean that, just for today, I am choosing not to be overworked or overwhelmed or overcommitted. Today, some things are going undone. Not all expectations will be met, not all emails will be answered, and dinner will consist of the leftovers in the fridge. Instead of typing words on a screen or staring down a to-do list, or giving more than I can graciously afford to offer, I'm taking a break. I'm lying on my back under a tree, reading a book cover to cover, allowing my heart to fill and overflow with poetry, my soul to be nourished by the words of a kindred spirit.
I ordered Jena Strong's first collection of poems, Don't Miss This, a few weeks ago, just as soon as I read my friend Lindsey's passionately enthusiastic review. Although I am a serial reader of memoir, it's been a while since I allowed a new poet to enter my life. I'm a loyal re-reader of the poets I love, more likely to return to my handful of old favorites – Mary Oliver, Jane Kenyon, Danna Faulds, Donald Hall, and Stanley Kunitz – than to tune my ear to a new voice, no matter how heralded.
But Jena's book drew me immediately, in part because it is a memoir in poetry, a collection in which each poem stands fully and beautifully on its own while, at the same time, adding another strand to a story that I can't imagine being told in any other way. As Jena explains, "The poems here trace a journey – to some extent in real time – through marriage, motherhood, sexual awakening, separation, and healing."
I was startled, when I opened the book at random the day it arrived and began to read, to find myself in tears. Startled to feel such a powerful connection to this woman whose life path is so different from mine — who is so much younger than I am, and who is in the throes of mothering two small daughters, claiming her sexuality, coming out, and creating new relationships even as she struggles, with great care and compassion, to protect and honor the sanctity of old ones.
This, at a glance, is not the story of my life. And yet, it seemed as if every poem I read revealed to me something that is absolutely the story of my life. And what took my breath away was not the superficial details that separate me from this gifted young poet, but the slow, undeniable revelation of all that connects us: the intensity of emotion, the longing for self-acceptance, the faith that guides our steps and the sense of mystery that astonishes and humbles us as we make our slow, halting way forward. The love for our children, our spouses and partners and friends, and finally, for our own vulnerable, imperfect selves. The sustenance of seeing the sacred in the ordinary, the soul work of cultivating gratitude for a life that is not at all the one that was planned but that is, instead, the one we are meant to live. The courage to share a personal struggle, in the belief that it is only by revealing our cracks and fissures that we grow up spiritually, into our own true selves, at last.
To read this small, exquisitely written book and do it justice, I knew I needed to clear space. I needed to leave my cell phone on the kitchen counter, my work on my desk, the dishes in the sink. I needed to lie in the hammock beneath a vast, all-encompassing summer sky and allow myself the necessary luxury of deep reading. I have taken Jena's title as a directive: don't miss this. And so, today has been a first-page to last-page day, a vacation day right in the midst of everything, a gift to myself of time and poetry, beauty and kinship, summer air and chosen silence.
May you clear an essential space in your own life during this final month of summer and sink right down deep into something nourishing and good, something that feeds your soul. Take a chair outside, put your feet up, read a book that gives you back to yourself. Don't miss this.
>SUMMER READING!

Last week, I gave away copies of Mary Oliver's Collected Poems, Volumes One & Two. In the spirit of summer reading, and because I so enjoy sharing books I love, I've decided to give away a book each week during the month of August.

Jena's book is available to purchase here. (And her lovely blog,about "waking up, making the coffee, and seeing what happens" is here.)

To be eligible to win a signed copy of Don't Miss This, just leave a comment below, and tell me what YOU are reading this summer. I'll draw a winner at random on Tuesday, August 7.

In the meantime, it's a pleasure to share one of Jena's poems, one I've read every day since the book arrived. (As I said, I am a devoted re-reader of poetry that speaks to me.) And if you'd like to read more about Don't Miss This, click HERE to read Pamela Hunt Cloyd's beautifully nuanced review.

What If?

What if you knew
that everything was going to be okay,
that something was in motion
beyond your field of vision,
beyond even the periphery
of your knowing?

What if you knew
that everything you want,
everything you've been seeking,
trying to figure out, missing,
is right here, already whole
in your hands, in your life?

What if taking in what is
could satisfy your longing?
What if you could rest your frantic, racing, busy mind
and rest your neglected, tired body,
put your head down in someone's lap
to have your hair stroked,
like a cat, or a child?

What if you didn't need to understand
how it works,
but could enjoy the magic
of how love shows itself
in the most unexpected, simplest of gestures?
What if everything is just as it should be?

What if nothing had to be better,
bigger, different, or other?
What would you do then?
Who would you be?
JIMMY FUND MARATHON WALK UPDATE:

My training is underway for my 26.2 mile walk on September 9, in memory of my friend Diane. I've taken a few 8-mile walks, am picking up the pace, and am feeling the soles of my feet growing tougher, my legs growing stronger by the day.

To read more about my reasons for making this walk, click HERE.

Click HERE to make a donation on my personal fundraising page.

And to all of you who have already supported me in this effort, my heartfelt thanks!