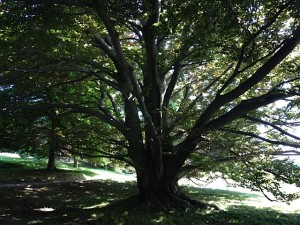 Have you ever fallen out of touch with a good friend? You'd really like to call; you miss her. But with every day that passes, it seems harder to reach out. So much time has passed and so much has happened. You wonder, Is it too late to reweave the threads of intimacy? Catching up can be harder than staying close.
The weeks go by, the months, the years, perhaps. More change, more water under the bridge. The life you're living now isn't the same one you shared all those yesterdays ago, back when you and your friend knew all the ins and outs, the ups and downs, of each other's days. Where to start?
That's the question I'm asking myself this morning as I sit propped up in bed, with my laptop on my knees. Where to start?
For two and a half years, I wrote here each and every week. What began as a way to publicize my book The Gift of an Ordinary Day very quickly became a treasured two-way conversation with you – readers, kindred spirits, new friends. A conversation in which I've most certainly received more than I gave.
I posted a weekly reflection for you, and you wrote back, sharing your lives with me. You generously offered wisdom, gratitude, advice, book recommendations, and, most of all, connection. After a while, I couldn't imagine NOT showing up each week to write these essays. My commitment to myself had transformed into something else altogether: a commitment to a vast web of relationships I've come to treasure.
But, I haven't been a great friend to this blog of late. Months have passed, and my posts have been sporadic. I've missed our weekly conversation. At the same time, it's felt as if time itself has picked up speed. The truth is, I've found it hard even to be present for my family, let alone to claim a few quiet hours to sit down and gather my thoughts onto a page.
Not long ago I wrote in an email to a friend that I've been humbled, over the last six months or so, both by what life demands of me and by what it offers. A challenge at every turn, it seems. And yet, too, gifts of extraordinary beauty. Lately, it's been difficult for me to accept those gifts with open hands because I've been so consumed by the challenges.
I had a book deadline to meet, and then to meet again, and yet again after that. (There was the deadline for the first draft, back in April; the deadline for revisions in June; and finally, just four days ago, the Big One, for returning the final, copyedited manuscript to the publisher.) I made it. But not easily, and only by leaving much else undone.
At the same time, I've been called upon to help loved ones going through unexpected hardships. Caring for a dear friend through a life-threatening health crisis has been both challenging and fulfilling, certainly an opportunity to learn and grow. Trying to figure out how to help our son Jack recover from two debilitating stress fractures in his spine is part of my job as his mom these days. (It probably goes without saying that nineteen-year-old boys in chronic pain are not the easiest creatures to live with.) These last months have been about doctor visits, MRIs and CAT scans, trips to specialists and herbalists, lots of research, blender smoothies and Chinese remedies. Not anyone's choice; just the way it is right now.
And yet, even in the midst of deadlines and obligations that have felt overwhelming at times, there have been gifts to treasure: A day in spring when all the peonies and irises and lupines bloomed in the garden at the same time. Sitting in the audience with my husband as our son Henry played keyboard for a production of The Music Man on Cape Cod. Relaxing by a fire on our hilltop with Steve and an old friend as 4th of July fireworks filled the night sky. Rounding a corner and seeing this glorious ancient beech tree, its branches aglow with late afternoon light, while on a walk near my friend Margaret's house.
The demands of my life, I realize, are here to stay. They may shift and change, as what's urgent one week is supplanted the next by some new need or obligation or crisis. But there's no such thing as smooth sailing, or an empty road, or a clean slate. Real life is stormy, bumpy, complicated. Perhaps my real challenge is not about ducking my head and leaning into a task with single-minded focus until it's done (it may never be done!), but about remembering to stop once in a while, to look up, open my hands, and accept the gifts that my life offers me right alongside the challenges.
Already, I sense summer slipping toward fall. The drought in New England has given our thirsty landscape the brittleness of autumn two months early. Time marches on relentlessly, but I don't have to. I can pause whenever I want to. I can take a deep breath, and decide where I want to place my attention in this moment.
Looking at my calendar, my to-do list, the stack of unsorted mail on the desk, I can allow anxiety to have its way with me. Or, I can choose instead to see a bigger picture, the abundance of my life just as it is.
On this early morning, it feels good to be back here, catching up with you. I have a new book coming out in January. (More on that soon!) I've just committed to walking The Jimmy Fund Marathon Walk again this September, in memory of my friend Diane. (More on that soon, too, but first I better put on my sneakers and start training!) I have a stack of unread books by my bed. (I'm eager to share them with you.)
Meanwhile, I am making a commitment to myself for these next few weeks of summer: To meet life's demands as they arise, but to gratefully accept its gifts as well. I intend to take a swim in the lake, read a book in the hammock, wander through town with an ice cream cone.
And I'm going to stay in closer touch. Because taking time to catch up with a friend is absolutely worth the effort — in fact, it's really a gift we give to ourselves.
So my friends, hello. It's good to be back. And I wonder: What has your life been demanding of you this summer? What has it offered?