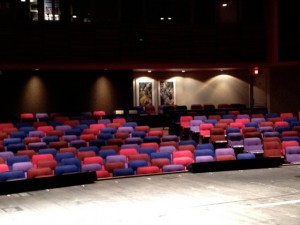 "You have to admit, this is an indulgence," my husband says, as we walk across the windswept campus to meet our son. We've flown all the way from New Hampshire to Minnesota, just to watch the last performance of a production of "A Chorus Line."
The way I see it: going out to dinner is an indulgence. Buying jewelry or a new pair of boots is definitely an indulgence. Raspberries in February, yes. But taking a couple of days off and flying halfway across the country to watch our son realize his life-long dream of being a musical director — especially for a full-scale, no-holds-barred production of a Broadway classic – to me this feels as essential, as important, as anything I've ever done as his mother.
There is not an empty seat in the theatre. The house lights dim. Henry, dressed in black, walks out and takes his place in front of the keyboard at the rear of the stage. For a moment, the spotlight falls on him as, his back to the audience, he lifts a hand to cue the band and begin the show.
How does anyone become who they are meant to be? How are life stories written, paths revealed, passions ignited? By what alchemy of genes and temperament and mystery are gifts bestowed, talents honed, and then offered to the world?
I remember this: We have flown to Orlando on the afternoon of December 25, with two-year-old Henry, to spend the second half of the day with Steve's parents. We are still newlyweds, and every holiday feels like a game of push-me-pull-you between our two families; having bestowed a grandchild, we are much in demand. It is Sunday morning, the day after Christmas, and we have just finished brunch with Steve's family at a glittery Disney World hotel.
There, in the sun-drenched lobby, an enormous grand piano gleams. Our toddler walks toward it as if drawn by a magnet. His dad follows, on the job, not about to let his kid start banging the keys in this very public place. But Henry is not a key-banger. He stands with a hand on the piano as if mesmermized; he's never seen one before, has no idea what it's for or what it does, knows only that he needs to know. Steve lifts him up onto the bench and sits down beside him.
My two guys are dressed in the matching teal and purple flannel shirts I've given them for Christmas – maybe they do look a little corny and out of place amongst the red and silver holiday décor of the Hilton, but they are, to my mind, adorable. They spend a few minutes there, meeting the first piano of Henry's life. Tentatively he plunks a couple of notes. I snap photos, mostly because of the matching shirts. I am not thinking, "Maybe he'll be a musician"; in fact, I'm probably not aware of much other than that Steve's folks must want to get on the road, and that I've eaten too much. But, we still have the pictures I took that morning. And, looking at them now, I know: it began right then, in that moment twenty years ago when a little boy first touched a finger to an ivory key and heard music of his own making.
In one hundred days he will graduate from college. He is sending out resumes, putting together recordings, doing interviews with theatre directors by phone, trying to figure out the next step of his journey toward his Broadway dream. But this weekend, sitting in the audience and watching our son play piano and conduct the pit orchestra he'd been rehearsing and coaching for weeks, we had a glimpse both of his past and his future. Being there wasn't an indulgence. It was an opportunity to pause and give thanks for every moment that led to this one: our son doing what he loves most and offering the best of all he's worked so hard to be.
And what is our real job as parents, if not first to nurture the beings entrusted to our care, to have faith in their inchoate processes of growing and becoming, and then to show up, again and again, for as long as we are able, to bear grateful witness to their unfolding destinies?