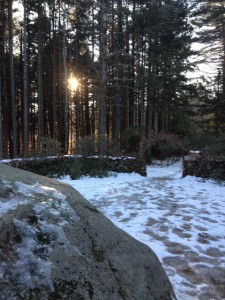 We sat around the kitchen table after dinner last night — my son Henry, my husband Steve, and two of our dearest friends in the world, Lisa and Kerby.
I met Lisa eighteen years ago, when Henry visited her kindergarten classroom for the first time as a small, shy four-year-old. He already had an IEP from the public school system and a medical file that was two-inches thick. He'd been diagnosed with asthma at three months, sensory integration dysfunction and low muscle tone at two, and various other physical and developmental delays and concerns ever since. He saw an occupational therapist, a speech therapist, and a physical therapist every week – to learn how to do the things that other children his age could do without being taught, things like moving his tongue from side to side, skipping, or jumping up and down. To say we were worried about him would have been an understatement. We were first-time parents, and it seemed that every expert we talked to pointed out something else that was wrong with our son.
Lisa, quiet and gentle and observant, watched him in her classroom for two mornings. And then she did what no one else had ever done: she told us what was right with him — how carefully he listened, that he was clearly drawn to music, that he was emotionally aware, empathetic beyond his years, and kind.
She became Henry's teacher and, soon, my friend. Our sensitive son thrived in Lisa's rose-colored classroom. "I don't know what you guys are doing," said the occupational therapist after six months, "but it's working. Henry doesn't need to come anymore." Soon, the others concurred. Meanwhile, Lisa and I clicked. We ran together, hiked, shared books, laughed and talked over countless cups of coffee. Steve and I met her future husband, and the four of us grew as close as two couples can be. In time, Lisa became Jack's kindergarten teacher as well.
Our families spent time together, her three older boys much admired and emulated by our two younger ones. The memories piled up: New Years Eve feasts, camping out at their New Hampshire cottage, weekends in Maine, ferry rides to Monhegan and hikes around the island, wonderful meals cooked over campfires, long walks, and exhilarating swims. Years of affection and laughter and good times. When I turned forty, we celebrated at the cabin in the woods, watching the October sunset from a high hilltop, and then hiking down in the darkness to light a fire, share champagne and hot soup at the hearth, and then pile on hats and mittens for sleeping in the crisp fall air. It is still my favorite birthday ever.
Ten years ago next month, my friend's older son was killed, just a few months shy of his college graduation. My own memory of that horrific day is still so fresh it's hard to believe it's been a decade. I remember Lisa asking, a few days after the funeral, "How will I live without him?" I remember not knowing how to answer her. I remember wondering, day after day and month after month, how I could help and what I could do. And I remember realizing there was no way to help and nothing anyone could do — except keep showing up.
Ten years ago, I couldn't imagine what it would be like to lose a child. I still can't (although being Lisa's friend through these wrenching, difficult years has helped me to understand). But ten years ago, I couldn't imagine a lot of things.
Back then, I couldn't imagine how my friend would ever heal, or how her family would keep going, or even how the two of us could ever possibly laugh again over nothing, the way we always used to do. I couldn't imagine my own sons all grown up; how would I ever release them to the world and all its dangers, or bear witness to their loss of innocence?
Maybe a certain lack of imagination is what saves us from being paralyzed with fear for our children as they make their way in the world. Certainly what seemed unimaginable when my own sons were nine and twelve, the year that Morgan died, has slowly, inevitably, become the reality I've learned to take in stride as the years rolled by.
Right under my eyes, my children have done the unimaginable: they've grown up. They drive cars and stay out late and have friends I don't know and drink beer and pay bills and make choices both good and bad and hold down jobs and put money in the bank and learn things I can't begin to understand and have lives that belong wholly to them, lives they live away from me.
I couldn't imagine any of this, and now I am living it. And, you know what? It's okay. In fact, it is unimaginably good. In four months, I will be the mother of a college graduate myself. The boy who had to be taught how to send a message from his brain to his tongue is an accomplished pianist, an A student, a young man whose talents far exceed anything I could have imagined on that day when I crossed my fingers and prayed that he could hold his own for a morning of kindergarten. The other day, as we sat during intermission at the Boston Symphony, he patiently explained to me the mathematical theory behind post-tonal music. At this moment, Jack is in Montreal for winter break with thirty friends from his senior class and no adults. Even a year ago, I couldn't have imagined granting permission for an unchaperoned road trip to a city five hours away where the drinking age is basically moot. And yet, after many conversations and agreements about how often he needed to check in with us, my husband and I found ourselves on the same page about this: ready to say "yes."
There comes a time when our job is no longer to keep our children protected under our care but to entrust them to themselves. They are going to leave us anyway. But I think perhaps we give them a special gift if we can summon the courage to let them go with our blessings and our faith.
"Keep some room in your heart for the unimaginable," writes Mary Oliver. This strikes me as profound parenting advice, a reminder that there is so much more to this life than we can possibly see or touch or understand at any given moment. Our children's paths are revealed slowly and in time, their true gifts perhaps obscured; their destinies not ours to write. We will love them no matter what. But we can't keep them safe. And somehow, we must make our fragile peace with both of these truths. Keeping some room in my heart for the unimaginable makes it a little easier. For what can any of us do, but work our way toward surrender, surrender to reality in all its beauty and mystery?
A lot happens in ten years. What I've learned from sharing my friend's journey is that grief doesn't go away, but, like everything, it changes over time. The empty place in your heart is never filled up, but it changes, too. You get a little more used to the hole being there, and you learn to feel your way around it. Your sadness slowly becomes a bit more bearable for being familiar. You begin to realize that the world is full of people with broken hearts, and that what you thought was unique and singular to you is in fact part of being human. You are surprised when, for the very first time, you laugh again. And then you discover that, even in the midst of unimaginable sorrow, there are also moments shot through with grace and, yes, happiness.
Which brings me back to last night, and our dinner table. We lit the candles and ate chili and cornbread. We talked about the ten-year anniversary of Morgan's death, a few weeks away, and how the girl he had planned to marry is a mother now herself, expecting her second child. She and Lisa stay in touch, bound still by their love for a young man who died too soon. After dinner, Henry gave Kerby a piano lesson, and helped him work through a song while the rest of us did dishes. Then we all sat around the table and played Balderdash. Before we knew it, it was 11:00 and we'd been laughing for hours. Eighteen years ago, when a kindly kindergarten teacher put her hand on my son's small, vulnerable head and said, "I think he'll be fine," I couldn't have possibly imagined a day when that boy would be a man, sitting at a piano teaching a complicated jazz riff to that teacher's husband. Ten years ago, as my friend tried to get used to the world without her oldest son in it, I felt as if I'd lost her, too. I couldn't imagine a future lit by her laughter. But here we are.
Wholeheartedness Playlist

As promised, Henry helped me pull together the Wholeheartedness playlist before heading back to Minnesota this afternoon. Here are the songs that inspire you — us! — to dance as though no one is watching, love as though you've never been hurt before, sing as though no one can hear you, and live as though heaven is on earth. Thanks so much for all your great suggestions. I listened to the whole list as I cleaned house yesterday — loved it, and am pretty sure it's the first time Beethoven, the Muppets, and Louis Armstrong have ever shared a playlist. The list is below, and available for listening on the widget at the left.

Beethoven 7 (2nd movement)
What A Wonderful World (Louis Armstrong)
Moments Like These (Selah)
Free to Be Me, I'm Letting Go, This is the Stuff (Francesca Battistelli)
Celebrate Me Home (Kenny Loggins)
Blessed Be The Name of the Lord
Full Force Gale (Van Morrison)
What's Light (Wilco)
Wind Beneath My Wings (Bette Midler)
Santana Europa (Earth's Cry/Heaven's Smile)
How You Live (Point of Grace)
Blackbird (Sarah Vaughan)
Beautiful (Carol King)
Morning Has Broken (Cat Stevens)
Holy Now (Peter Mayer)
The Prayer (Andrea Bocelli and Celine)
Dance Me To The End of Love (Leonard Cohen)
A Living Prayer (Allison Krauss)
Rainbow Connection (The Muppets)
The Dance (Garth Brooks)
Forever Young (Rod Stewart)
Go Where Love Goes (Andrea Bocelli)
Desperado (The Eagles)
The Most (Lori McKenna)
Joy (George Winston)
Chant (Peter Bradley Adams)
By Thy Grace (Snatam Kaur)
Birds (Emiliana Torrini)
Diamonds (Girish)
Over The Rainbow (Israel Kamakawiwo'ole)
I Hope You Dance (Lee Ann Womack)
Mr. Blue Sky (ELO)
The Slender Thread That Binds Us Here (Kathy Mattea)