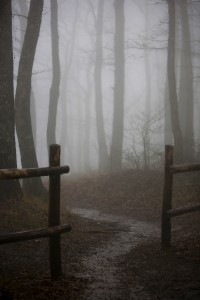 I've spent the last three weeks in one place doing one thing. And, although I will leave my mother's house two days from now with a stack of manuscript pages, I will also leave with a great deal more knowledge about how I get in my own way.
There are people, many of them dear friends of mine, who can't wait to sit down alone and shape their thoughts and feelings into sentences and paragraphs. I so wish I were one of them. There are some who have learned to trust their creative process, others who entertain a muse, some who simply feel most alive when they are creating. I am not any of these people, either.
For me, writing is a slow, halting journey from experience to thought to written word. It is a wonder I do it at all, given how inefficiently I travel, and how adept I am at coming up with countless more "productive" ways to spend my time. Show me a sink full of dirty dishes to address, or a few emails to answer, or an 8 a.m. yoga class, and all my mental synapses go into flight and alight mode. My house is never cleaner than when I have a deadline, my yoga practice never stronger than when I'm in the middle of a writing project. Here in Florida, in my mom's back bedroom, flight is not an option. I came all the way down here to sit in a chair and fight my own little battle with myself.
Last week my friend, the extraordinary (and extraordinarily prolific) author Beth Kephart wrote this about the craft of memoir: "We are speaking about how we shape what we have lived, what we have seen. About how we honor what we love and defend what we believe in. Makers of memoir dwell with ideas and language, with themselves. They counter complexity with clarity. They locate a story inside the contradictions of their lives—the false starts and the presumed victories, the epiphanies that rub themselves raw nearly as soon as they are stated."
Dwelling with myself. That really is my challenge. It is so much easier, so much more tempting, to turn away, to get busy doing something else, to skim along on the surface of my life instead of stopping, sitting still, going inside, and going deep. To write, or to read, about the inner life is to believe that what we think and how we feel matters. To be a friend of memoir is to stake a claim for the significance of the examined life. It is to say that our inner narratives are as important as the activities and achievements, the successes and failures, that fill our days. It is to say that locating the story within the contradictions of our lives is a worthy pursuit.
"We read," wrote C. S. Lewis. "to remember that we are not alone." It is also why we write. To remember that we have much to learn from our most difficult conversations with ourselves and with each other. And that in sharing the truth of who we are and how we struggle, we remind another struggling someone that they do not journey alone.
Thanks to all of you who contributed suggestions to the "Wholeheartedness" playlist. Next week my in-house tech support son, Henry, will be home. Together, we'll compile the list and post it here. Till then, feel free to add your favorite songs. (I've been listening to the ones I didn't know and I have to say, I think we're on to something: it's a great list of heart-opening, uplifting music!)