,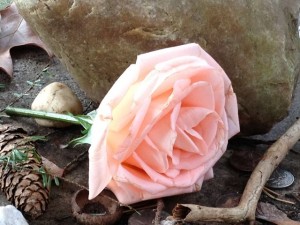 "Wholeheartedness." It's a mouthful. It's also the word that has been ricocheting around in my thoughts for a week. The word I keep coming back to when I imagine who I want to be and how I want to live. The word that is surely the antidote for the devouring self-doubt that's lately been haunting my days and keeping me awake at night. What I suffer with in the darkness is this: My best efforts aren't enough. I don't have what it takes to be the mother my two sons need, the wife my husband desires, the friend my own friends deserve, the writer I want to be, the woman I still hope to become.
And in moments of light, when I can quiet the voice in my head long enough to listen to what my soul is trying to tell me, I hear this: It is okay to stumble. You are allowed to fail. Doubt your doubts. (Because in fact you are okay just as you are.) Know that you are worthy of your joy and strong enough to survive your pain. Wholeheartedness is what you're here for.
I know that's all true. It's just that lately, I feel depleted, half-hearted, out of ideas and out of confidence. Not even quite up to the job of being me.
I packed quickly to go to Kripalu for the weekend; there wouldn't be time for much besides the yoga workshop Henry and I were doing together, but I stopped by my bookshelf on the way out the door and threw a couple of books into my bag anyway, almost at random. And then I kissed Steve and Jack good-bye, climbed into the car with Henry and, for the first time ever, our family split up for New Year's Eve.
Kripalu turned out to be a good place to usher in 2012. Many hours of yoga with my beloved, first-ever yoga teacher, Rolf Gates. A walk by the lake, particularly tasty kale for dinner, a long silent meditation at midnight, time to reflect on the year past and the one to come, deep sleep, early rising.
I loved the sense of belonging that washes over me as soon as I set foot through the door of Kripalu. I loved being in the very room this weekend that my month-long teacher training was held in last winter; the memories were fresh in my mind, the faces of my classmates easy to conjure. I loved not having to think about what to wear, or what to cook, or what to do at midnight, or how many glasses of champagne I should have. I loved having time in solitude and I loved meeting, at long last, my dear on-line friend Pamela, whose gorgeously written blog Walking on My Hands is one of the few I read religiously. And I especially loved it that my twenty-two year old son was so open and willing to sign on for the ride, to give yoga and meditation a try, to experience firsthand this place that's come to mean so much to me, and even to spend a weekend as my room mate. I know he did it for me, and his presence at my side was a gift. Henry may be a beginner on the mat, but he is a yogi in spirit.
(My husband Steve was happy to be home alone on New Year's eve, which is what he prefers anyway, and I'm sure Jack was quite relieved I wasn't around to tell him to "make good choices" or offer up some other motherly platitudes as he headed out the door to spend the night with his friends.)
Very early yesterday morning, I sat down with one of the books I'd brought along, an odd little volume that's been sitting, unread, on my shelf for a long time. A brief, unlikely meditation on unencumbered living, "Journeys of Simplicity" is essentially a collection of lists about traveling light: what Thoreau took to Walden Pond, what an 85 year old hermit needed to survive, what an anonymous Celtic woman prayed for a hundred years ago.
My book fell open to page 39, "Raymond Carver's errand list." According to Carver's partner and companion, poet Tess Gallagher, he always lived according to what she calls Carver's law. It was his practice, she says, "not to save up things for some longed-for future, but to use up the best that was in him each day and to trust that more would come."
Even as he was dying of cancer at age fifty, Carver continued to write and plan and hope. Just after his death, she found this to-do list in his pocket:
Eggs
peanut butter
hot choc
Australia?
Antarctica??
Hope. Wholeheartedness. Ordinariness. How beautifully these three qualities intertwine in our best, most essential expressions of our humanity. To live is to hope. To live wholeheartedly is to trust that there is always more to come, to believe in the rightness of things as they are, to drink hot chocolate and dream of far-off continents even as you confront the loss of everything you love. It was not lost on me that someone else's final, heartfelt errand list was the very first thing I laid eyes on as the first day of this new year dawned. The message from the universe seemed pretty clear: live fully, live here, live now. Wholeheartedly.
After two days of meditation and challenging yoga practice I was tired, a little sore, and more than a little raw when our last session began. As we moved through our final series of poses, I could feel the tears gathering behind my eyes, ready to spill. "You know," Rolf suggested, as we eased down into child pose, resting foreheads to mats, coming into stillness, "it is okay to be vulnerable. In fact a willingness to feel our feelings completely, to show our vulnerability, to acknowledge our own tenderness and confusion, is really what living wholeheartedly is all about. To be wholehearted is to be vulnerable."
And then, at that moment, a pair of knowing hands pressed down upon my back, smoothed along my spine, and rested there for a long, full minute. An assist in child pose, yes. But also, I'm pretty sure, some cosmic, loving gesture made on my behalf, just to make sure that the mail really was getting delivered: "wholeheartedness."
The tears I'd been fighting off all weekend came then, tears of surrender and grace and relief. I didn't have to make a new year's resolution I couldn't keep, or choose a word to try to live up to. The word I needed found me, hovered for a while, and landed. What better time than right now, the dawn of this new year, to give up my own unnecessary suffering, suffering that is all about believing I need to be someone other than who I am?
And so, gently and with great love, I say to myself – and to you, too – as we step into 2012: "Live wholeheartedly. Know that your vulnerability means that you're alive. Remember who you really are. Use up the best that's in you each day, and trust that it's enough."
Yesterday, on a gray, colorless January 1, this rose was a singular spot of color. Someone had placed it on an altar in the woods, and there it lay – exposed, vulnerable to the elements, yet, bravely, pinkly, wholeheartedly being itself, a rose in winter. May we, too, bloom with wholeheartedness in this new year.
Do you have a word that is your touchstone? Does the idea of "wholeheartedness" resonate with you? I would love to know!