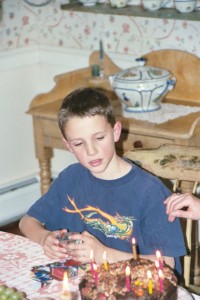 He turns nineteen tomorrow.
Last week, we were in Boston for a college interview. It was an opportunity for him to tell his story in person, this young man who attended three different high schools, spent nine winter weeks living in the woods and sleeping under a tarp, got into his share of mischeif, and has not always seen the point of homework.
"If your fifteen-year-old self were sitting here in the room right now," the college admissions person asked, "what would you have to say to him?"
"Well," the about-to-be-nineteen-year-old replied, "I'd have a lot of advice for him. But he wouldn't listen to any of it."
And then he thought for a moment, and added, "And actually, although I would really want to save him from some pain and trouble, I think I'm glad that he'd blow me off, because those were all lessons he really had to learn himself, the hard way, by living through them."
Jack told me this as we drove out the Mass Pike, back toward his school. He said that, looking back, he wouldn't want to change anything about these last few years, difficult as they were at times, because everything he'd done, and even the mistakes he'd made and the consequences he'd endured, had made him who he is today and brought him to the place he is right now — a place that is exactly where he wants to be.
I remember the first time I ever laid eyes on my younger son, nineteen years ago tomorrow. He was delivered out of my body and into my arms wide awake, curious, and hungry. He looked, to my husband and me, a bit like a tiny, benign Jack Nicholson, with his spray of fine dark hair pointing northeast and a funny little scrunch at the eyes. I remember gazing into that brand new and already beloved face and making a wish for the future, a wish that this child's life would be one of ease and health and happiness.
Tonight, I send my son a different wish: that he will always regard his life with gratitude. Much as I might wish to protect him from strife, what I wish even more is that he might ride out the hard times knowing that each moment offers its lesson, each day its own blessing. Because the truth of it is, we don't need things to be easy or perfect in order to be happy, nor will they ever be. Not for long, anyway. Life is hard, and loss and disappointment are always part of the equation, as Jack has already figured out. And yet, as David Steindl-Rast writes, "Happiness is not what makes us grateful. It is gratefulness that makes us happy."
I baked Jack a cake, the very same cake he had when he was nine, with M&Ms and walnuts and chocolate chips on the top. I packed it up in a box, along with plates and napkins and forks and even a few party hats, and mailed it to arrive tomorrow, in time for him to gather some dorm mates around to help eat it. And I hope that sometime during the day, between class and soccer and basketball practice and dinner and study hall and hanging out with friends, he pauses for just a moment to regard his own young life as the fathomless mystery it is. May he continue to grow up knowing that the boredom and pain of life are as essential as the excitement and the gladness. May he come to understand that every choice he makes matters. As does every minute of every precious day. And may he begin to see that all the moments, even the little ones, are key moments, and that life, yes life itself, is the gift.