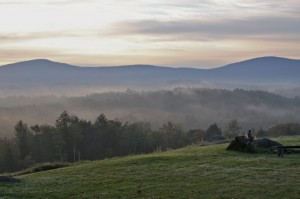 It was the softest of mornings, the quietest of sunrises, the loveliest day to step out into. I cherish these September days — the silky air, the damp, sweet scent of summer succumbing to fall. I walked across the wet grass, sat on a rock, and watched the mists drift across the valley, the sky brighten, a single bird soaring high, silhouetted against the sky. Never do I appreciate the beauty of home more than on a day when I have to leave it.
I type these words in an airport terminal, waiting for my delayed flight to Atlanta, where I'm giving a talk tomorrow on "the treasure of an ordinary day." These invitations still catch me off guard; the idea that someone would think of me as a public speaker, as a person with enough wisdom to impart that my appearance is worth organizing an event around. But I'm learning to trust the people who ask, to gather some thoughts, and to go where I'm wanted.
Of course, I have nothing to offer those who come to hear me speak that every one of us doesn't know already. The themes are plain and simple: That life is precious. That we already have everything we need. That we can choose to be grateful. To see what's right in front of us. To be in the present moment. To slow down, rather than racing so fast through our own lives that we miss them.
I also know how hard it is to remember what we already know. If you're like me, you probably have to remind yourself, over and over again: to notice where you are, to accept what is, to love that. Sitting still helps. Coming to a stop and allowing my busy, wild mind to be at rest is the only way I've found to be truly mindful. It's why, after years of not meditating, I finally do. Walking helps, too. It's why, although I love to run, I also spend hours each week walking alone on the empty roads near my house, allowing my thoughts to drift and noticing everything there is to notice.
Last week, I spent a few days alone at a friend's tiny, secluded cabin. There was no internet, no opportunity to toggle back and forth, as I tend to do at home, from e-mail to a friend's latest blog post to my own stop-and-go writing to the most popular stories in the New York Times. With nothing to do but sit and write, I sat and wrote. With no company to keep but my own, I got back in touch with a deeper, quieter part of myself. With no to-do list to whittle away at or schedule to keep, I felt the expansiveness of an hour, an afternoon, a day. Time became generous.
I tried to carry some of that spaciousness home with me. To remember my own capacity for quiet, focused attention, whether I'm alone in a cabin or standing at a podium in front of a room full of strangers. I can react to events, get carried away by stress, allow myself to be distracted and distractible. Or I can simply do the next thing that needs to be done, with care and commitment and faith in the rightness of things as they are. Without making a fuss. This is the way I want to live. And yes, I do need to keep reminding myself.
The photo my husband took at dawn this morning captures the fleeting beauty of the moment. It says "peace" to me. It's easy for me to be grateful when I'm sitting in my own backyard, feeling blessed to have these gentle mountains as my neighbors.
Now, held captive in an over-air-conditioned terminal, with CNN blasting away, boarding announcements crackling over the loudspeaker, and the smell of pizza in the air, gratitude is a little more challenging to practice. But it occurs to me that living mindfully isn't just about sitting and meditating, or about appreciating a beautiful sunrise. The real practice comes when we are called to keep going even when things aren't exactly going our way. It's using what's at hand, and being ok with that. And so time is generous here, too. I have hours and hours to myself, with no place to go and nothing to do but wait for my delayed plane to arrive at the gate. Annoyance, or grace. The choice, of course, is mine. Perhaps the treasure of an ordinary day is always right in front of my nose; all I have to do is decide to see it.