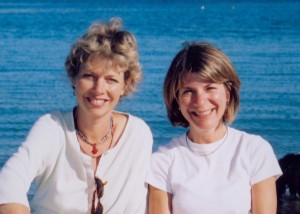 I can see it vividly: an August morning, just exactly a year ago. My friend Diane and I were taking a walk, as we had done together countless times over the last eighteen years. As we made our way slowly down the hill near her home, the summer sun warm on our backs, we watched our two elongated shadows, side by side, moving companionably along in front of us. A pair of women walking, a pair of shadows dancing to our rhythm: a small, ordinary moment, but one I will remember always. I knew even then — I think we both did — that this was yet another "last" for us, that in the future my shadow and I would walk alone. Less than three months later, I lost my beloved friend to ovarian cancer at age 55.
We met when we were both pregnant with our youngest children, our bellies nearly touching as we joyously discovered that we were backyard neighbors with much more than a shared bit of fence and autumn due dates in common. Over the years, as our children grew up and we grew older, traditions were born — fireworks on town day, harvest dinners in October, annual overnights in Maine (where this photo was taken), champagne toasts, raspberry picking and birthday scones, to name just a few. The memories accumulated as our friendship deepened.
When she was diagnosed in the fall of 2006, Diane's disease was already quite advanced, as is often the case with ovarian cancer. Under the care of the Dana Farber Cancer Institute, she lived a full and active life for four more years. While undergoing treatment, she continued to care for her family and friends, to work in her community, to engage in politics, to cook, laugh, ski, read, walk, and love — to be Diane.
Anyone who knew Diane Brewster saw firsthand how tirelessly she worked to advance the principles and causes she believed in. In the last years of her life, that list was topped by her commitment to ovarian cancer research. It was her great hope that more effective treatments and earlier detection might make other women's prognoses better than her own. Shortly before her death, she made a decision: she asked that those who wished to honor her memory make donations to Dana Farber's Ovarian Cancer Research fund.
On September 18, I will participate in the Boston Marathon Jimmy Fund Walk, along with fifteen of Diane's dear friends, to carry forward her commitment and her hope. Dana Farber researchers are on the cutting edge of progress against this disease which claims the lives of more than 15,000 women in the U.S. every year. Diane's oncologist, Dr. Ursula Matulonis, and her colleagues are currently studying six promising new agents against recurrent ovarian cancer in clinical trials, work that Diane furthered through her own participation for as long as she was able.
Amazingly, Diane was able to complete three Jimmy Fund walks in the years following her diagnosis, testament to both her unflagging courage and her commitment. I will walk those 26.2 miles next month knowing that nothing would please Diane more than the sight of her friends supporting the cause she believed in so strongly. Dr. Matulonis, who came to consider Diane a friend as well as a patient, will be walking, too. At the end of her life, Diane was very clear: she wanted to make a difference for those who came after her. She did, and she continues to. It is part of her remarkable legacy that she has inspired so many of us to lace up our sneakers, reach out to our friends and loved ones for support, and join the cause she believed in so passionately.
Diane envisioned a day, perhaps not so far off, when ovarian cancer would be a chronic, manageable illness rather than the statistically terrifying diagnosis it is for most women today. As I walk the roads and trails near my home in New Hampshire, trying to increase my distance, build my endurance, and prepare my feet for the greatest physical challenge I've ever undertaken, I remind myself that, with every mile walked and every dollar raised, we move a little closer to realizing Diane's vision. I see just one shadow before me these days, but I know I'm not walking alone after all. I feel my friend's presence with every step.
When Diane died last fall, I wrote here about the loss of my friend. And then, in the weeks that followed, I was overwhelmed by my readers' compassion and kindness. So many of you took time to write me, to comment in this space, and to share your own stories of grief and loss and healing. And so I extend an invitation here to anyone who might wish to contribute to my walk. Every one of your dollars will go directly to Dr. Matulonis and the Ovarian Cancer Research Fund. And you will help me reach my personal fund-raising goal for Team Diane.
It's easy to contribute. You may give in one of two ways:
• Visit my fundraising page at the Walk web site and follow the instructions to make a gift online.
• Write a check payable to "Jimmy Fund Walk." On the memo line, write: "Dana Farber Ovarian Cancer Research Fund." Send it directly to me at: Katrina Kenison Lewers, 101 Middle Hancock Rd, Peterborough, NH 03458.
And, as my thanks to you, a book give-away.

Among the many things Diane and I shared was a love of cooking and a delight in exchanging recipes. The last birthday gift she gave me was Anna Thomas's wonderful cookbook, Love Soup, which became an immediate go-to in my kitchen. I've just bought 5 copies of this lovely book, to pair with signed copies of my own The Gift of an Ordinary Day. If you choose to contribute to my walk, and you let me know with a comment here, you'll be eligible to win one of five pairs of these books. I will draw 5 names at random from the Comments section (using the tool at www.random.org) to receive the books. Deadline: midnight, Monday, August 15.