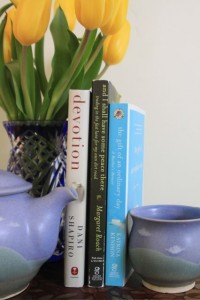 Last month, my pal Margaret Roach and I gave away four books each – and in return, you gave us hundreds of thoughtful comments and generated the best reading list we'd seen anywhere. So of course, we thought: Let's do this again! This time, we're celebrating the official publication date of Margaret's And I Shall Have Some Peace There, as well as the new paperback edition of Dani Shapiro's gorgeous memoir, Devotion. What better way to enjoy the gift of these ordinary days of February than with good books and good friends?
If there's one thing (actually there are many, but you'll figure that out!) that our three stories have in common it's that we all touch on matters spiritual. As writers, as women, as humans, we have each found ourselves longing for something ineffable – call it more feeling, more spirit, more love, more faith in life as it is. And we've drawn closer to this "more" in the most ordinary places: the garden, the yoga mat, the kitchen sink, the dinner table.
Reading Dani Shapiro's Devotion, last year, I found myself thinking, "Oh, if only she had written this book sooner, I wouldn't have had to go to all the effort of writing one myself!" It was an odd notion, for Dani's spiritual odyssey – from a deeply religious and traditional Jewish childhood to a profoundly transformative exploration of Buddhism and yoga — bears almost no resemblance to my own casually Protestant rural upbringing and midlife floundering.
And yet, again and again, the questions that plagued Dani as she dealt with the early loss of her parents, her infant son's critical illness, and her nagging self-doubt and anxiety, seemed eerily similar to my own sense of loss and confusion as my children grew into adolescence and I felt the old routines and rituals that had sustained our family life begin to slip away. How could we be so very different, and still have so much in common?
I'm not even sure now who sent the first Facebook message, but, having tread so closely upon one another's heels through this rocky territory of loss and change and letting go, meeting face to face seemed like a small, yet utterly necessary, leap to make. It wasn't long before we managed to get ourselves seated across from one another over a couple of lattes, talking as if we'd been friends all our lives.
The last time I saw Dani, I brought her a signed copy of Margaret's bound galley, eager to connect even more wires and expand our little group. So what if, at first blush, Margaret's story of leaving the fast-paced world of New York publishing for a solitary life in the country appeared to have little bearing on Dani's explorations of faith and doubt and motherhood? I was coming to see that, once you peel away the first layer of external circumstance in any of our lives, what's left, pulsing right below the surface, is practically universal: the yearning for connection, contentment, meaning, and peace.
And perhaps this is the most wonderful thing about reading and writing memoir – private, unknown, and unlikely meetings of the heart and soul occur within the pages of books every single day. Certainly the relationship between author and reader can be as intensely personal, as intimate, as healing, as any in real life. As it turned out, Margaret herself was already a devoted Dani fan. We had all discovered one other in print first, had read each other's work with a sense of deep and abiding recognition, and had realized, with sighs of relief, that we weren't alone in our seeking after all.
Spirit. I search for it all the time, everywhere. And then I remember: it's always right here, right where I am, whenever I pause long enough to really pay attention to the world, whenever I notice what's already right in front of me. Certainly, I find it expressed in the words of these two extraordinary writers I've come to know and love, both in print and in life. What a pleasure it is to introduce them to you, to make our circle even bigger, to invite everyone in.
"Much has already happened, and has formed the shape of our lives as surely as water shapes rock. We can't see what's coming. We can't know it. All we have is our hope that all will be well, and our knowledge that it won't always be so. We live in the space between this hope and this knowledge."
–from Devotion by Dani Shapiro
"The greater Garden, capital G, perpetually tries to take over the relatively puny one that I have placed in its shadow. It musters forces far greater than a barn full of tools and these two hands. . .will be able to keep at a distance forever. We are small, we are nobody—but when we are out there toiling—turning the compost, harvesting the year's sweet potatoes, planting only the biggest cloves of the previous garlic crop to continue to improve our own strain—we are also part of something infinite."
–from And I Shall Have Some Peace There
by Margaret Roach
TO ENTER TO WIN ONE OF SIX SETS OF 3 BOOKS EACH, comment here and on Margaret and Dani's sites. Tell us: Where do you seek and find spirit in your life? If you're feeling shy, no problem, you can simply say "Count me in!" (But we do love hearing from you, and the more answers to our question, the more interesting the conversation!) Leave a comment on all three sites and you'll triple your chances of winning our books.
Entries close at midnight Saturday, February 19, with winners to be drawn at random (using the tool at random [dot] org) and announced the next day.

Remember: Once you post your entry here, go see Margaret and Dani to triple your chances. And if you've been sent over to my site by one of them, Welcome! I'm glad you're here. If you like what you read, do come back – you can subscribe in the box to the left.

Want the Books Now?