The page is a receptive ear for the soul's murmurings. Writing has helped me figure out what I know for sure and, more important, it has given me a way to grapple with those questions that seem to have no answers. At times, it has been a call and response between my doubting, uncertain, seeking self and some wiser self whose voice I'm still learning to summon and trust. But sharing what I write is what takes me to my edge, to that place where my own vulnerabilities are brought to light and exposed. And what a relief it is, always, to realize I can survive the glare, and that I'm not alone after all."
— from Magical Journey
Looking back, I see that my life as a "public" writer began with a long-ago holiday letter, which turned out to be the tiny seed from which my first book, Mitten Strings for God: Reflections for Mothers in a Hurry, took root and grew. Giving voice to my own yearning – for less racing around and more stillness, for less caring about what others might think and more faith in my own intuition, for less stress and more joy – I discovered the theme that has both shaped the person I've become and given me a subject that's proved inexhaustible.
It is December, twenty years ago. I have a month-old baby who is hungry all the time and never seems to sleep and a toddler who is turning three a week before Christmas. My husband and I are in the throes of renovating and settling into a funky, temperamental old house outside of Boston, learning about everything from asbestos abatement to furnace maintenance to lead paint.
He is working long hours in the city, commuting back and forth on the train; I have a job editing an annual short story anthology from home and spend my waking hours juggling paid work and housework, deadlines and child care, not to mention everything else that comes my way in the course of a day.
We have lots of news to share – a brand new son, a toddler's momentous milestones, a new house we love, two challenging careers – and barely a moment to stop and reflect on it all, let alone write personal notes to far-flung friends and family.
Reluctantly, I decide to give up my painstakingly handwritten Christmas cards, and to experiment instead with that much-maligned form, the "holiday letter." I tell myself it's a necessary stop-gap – the alternative being complete silence—during this exciting, exhausting, and utterly consuming life chapter.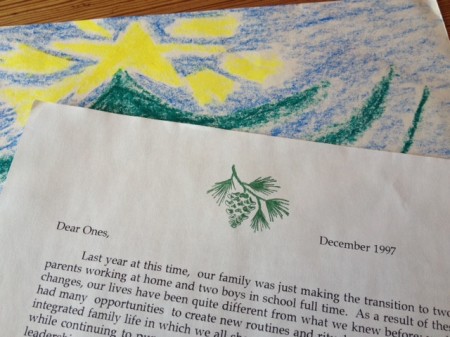 Four years later, with no major life events to report (the kids are growing up too fast; we're both working much too hard; all of us are way too busy. . .), but having continued our holiday tradition, I write a different kind of letter. I skip the milestones, the achievements, the year's highlights, and describe instead my longing to slow life down and tune in to a gentler rhythm.
I write that when I do pause long enough to fully experience my own life, my young children seem happier and more peaceful as well. Suddenly we have something that really seems worth celebrating: the pleasure of real togetherness. I admit that I have a lot to learn about being present. I wonder how I might change my life, figure out what really matters, and begin to let some of the other stuff go.
These are simple reflections, to be sure. But my "no news" Christmas letter takes on a life of its own. Friends and relatives make copies and include it in their Christmas cards; people I scarcely know and complete strangers write me letters in return (it is the pre-Facebook era; these are typed and handwritten letters, delivered to my mailbox). Distant friends, long out of touch, call and write; acquaintances ask if I'll add them to our Christmas card list for next year; a writer friend reprints the letter in her newspaper column. Apparently, I've struck a chord.
My husband says, "You wrote your way into being who you are." I think he's right. I used to believe that in order to be a "real" writer, you needed to have some answers; that the old injunction to "write what you know" meant you better have your act together before you presumed to write about it. (If you are writing a manual about the tax code or a how-to book about building a house or a biography of a president, this is no doubt true.)
But the writer of memoir, as I finally came to see, has a different assignment and a different set of responsibilities. We arrive at the page with material born not out of our imaginations or history or facts, but rather the very stuff of our own lives, in all their mess and confusion and ordinariness. We write as a way of honoring what we remember and to make sense of what's right under our noses. We write in order to hold on to perishable moments. We write not because we have things figured out, but because we want desperately to know more. Pen in hand, or fingers poised over the keyboard, waiting patiently, leaning in toward ourselves, we learn to contemplate the subtle energies at work in our lives and to listen to what our stories are trying to tell us.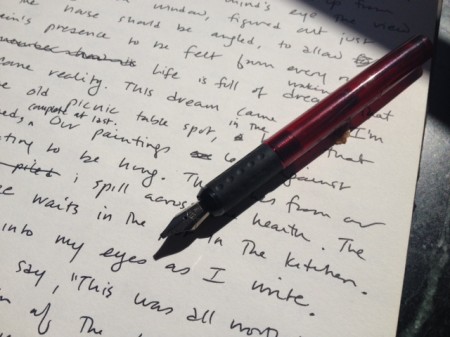 When my sons were young, writing was my way of reminding myself to actually do what I said: to slow down, pay attention, notice, be present, be grateful. Little wonder that the writing and the living became inextricably intertwined. Sitting alone in a room, separating the noise and distraction from what was truly meaningful and sacred to me, I found something worth claiming. Something that called upon all my inner resources and discipline. Something I could shape my life around. Something, I realized, that just might be worth sharing.
And yet, as my children approached adolescence and our family life became increasingly challenging, I shied away from writing about any of it. Teenagers are private creatures after all, and we were clearly moving into tricky territory. Besides, what if I was the only mother who struggled with so many conflicting feelings about her children growing up and leaving home? Would readers who came in search of parenting wisdom be disappointed to find just another confused mom, brushing away her tears and stumbling through the steps of this complicated dance called "holding on and letting go"? Could I actually move forward by writing what I didn't know? Would anyone be interested?
Wading in deep, with all my midlife fears and insecurities and desires eddying around, I discovered there is something liberating about getting naked on the page and then plunging right into the current.
In fact, I wrote The Gift of an Ordinary Day by pretending no one would ever actually read it. It was easier that way. Easier to take risks, to be vulnerable, to think of the writing as a private conversation with myself, rather than as a book in the hands of strangers. On publication day, I stayed away from our local bookstore and went to a parade instead. I couldn't admit it then, but I will now: I felt a bit queasy. Not completely exposed, but rather as if I was running around in public in my pajamas. My impulse wasn't to celebrate the arrival of finished books at long last; it was to go home, close the door, and make dinner, as if I hadn't written a book at all.
And then, within a week, the first letter arrived from a reader, a woman just my age in California. "You write what is in my heart," Tracy said. "You and I are kindred spirits and we would be fast friends if we were to meet." I read those words and let out a long breath, a breath I didn't even know I'd been holding.
So — I wasn't the only one after all. In fact, as the hundreds of letters I've received since that day have told me, in words that fill my heart and sometimes break it, we are all connected. Different as the details of our lives may be, when it comes to love and hope for our children and the longings in our hearts, we are far more alike than different.
And yet, as first one son and then the other grew up and left home, as I grieved the death of a dear friend, as my aging body began to sag and my wrinkles deepened, as my marriage changed, as the family rituals and routines we'd worked so hard and for so long to create were transformed or ceased to exist altogether, I found myself standing at a crossroads, uncertain of my way.
Mourning what was over, I wondered if anything that awaited me in the second half of life could ever be as fulfilling as the joys and challenges of the first. The "what now?" question loomed large, and I had no idea how to answer it.
Once again, it seemed, the only way to move forward was by writing what I didn't know. And so, hard as it was, I tried to have faith in the process, to feel my uncomfortable feelings, to grapple with the impossible questions, and to simply tell the truth of my life as it was. For I did know this much: my readers trusted me. Why not trust them in return?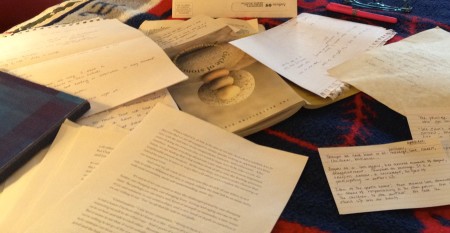 Magical Journey, my most recent memoir, isn't about achieving happiness once and for all, but about learning to cultivate contentment in the here and now. It's quiet work, this process of discovery and acceptance — a journey we can't plan or control, but rather one that unfolds in it's own way, in its own time. The spiritual journey, like the writing journey, is about showing up, taking one step at a time, and having faith that, if we're open and attentive, the way will reveal itself. Or, as May Sarton suggests in Journal of a Solitude, "Perhaps, we write towards what we will become from where we are."
A while back, I heard from a woman who was half-way through reading The Gift of an Ordinary Day. "I have the oddest feeling as I read your book," she wrote. "It's as if we know each other, as if I'm having a conversation with my best friend. I'm going slowly, because I want to make it last. But I can't wait to see how it all turns out."
"I'm wondering how it will all turn out myself," I replied. Because, of course, the journey isn't over when we close a book or type the final sentence of a blog post. It continues. Stories come to an end, but life itself goes on.
If you are here now, reading this page, then you are surely a kindred spirit, too, someone who also turns to the written word for inspiration, solace, and connection. I'm grateful for your companionship in this space, where I continue to explore the art and craft of writing as it intersects with the equally demanding art of living thoughtfully and well.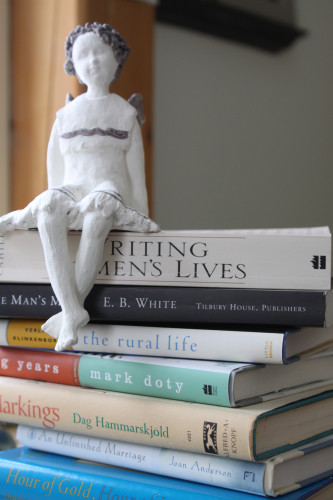 In the posts gathered on this page, I share glimpses of my own process, some of the books and writers I love, the joy of reading, and the importance of taking time to honor what is sacred and meaningful in our everyday lives.
Your thoughtful letters, comments on my blog,  and emails remind me each and every day that none of us is alone.  To be a mother, a parent, a human on this earth is to walk a common path of love and grief, exhaustion and exhilaration, fear and faith, astonishment and awe. What a relief it is, to discover that we really are in this together, that there are fellow travelers out here on the road, eager to link arms and share the adventure.
Curious about the writing life? Here, a handful of posts about the process. For my entire archive of posts related to writing & reading, click here.
• Writing lesson: On telling the truth
• On taking risks and hitting walls