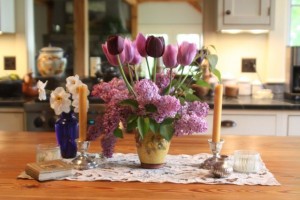 The lilacs bloomed this week, and tulips appeared like magic all through the front garden (it was quite a surprise to see the purple ones come up, as if part of some carefully orchestrated color scheme). Summer is nearly at hand, and it seemed that the shape of things had begun to emerge. I've been cleaning closets, reorganizing rooms, preparing myself for a full house again. After a long winter, I'm more than ready to trade the quiet of two for the high energy of four, imagining a party for the 4th of July, the pleasure of holding hands around the table, watching movies, retelling all our old jokes, getting everyone out to pick strawberries in June. I've even been thinking about how thrilled our dog Gracie will be to have both her boys around for games of catch.
Having sent out resumes, gathered references, and completed more than a few job applications over the winter, our son Henry found himself a month ago facing the grim realities of the economy and the tough job market for budding musicians. For the first time since he was in high school, it looked as if he'd actually be home for the summer. So, he shifted from Plan A (a job playing piano somewhere) to plan B (an opportunity to do anything else). He got busy and applied to become a full-time volunteer for the Obama reelection campaign, one of 55 young people who would be trained to start setting up infrastructure in New Hampshire. A phone interview later, he was hired.
My son, the self-proclaimed homebody, goes to college in Minnesota, spent January term in London, and has been under this roof for all of about eight weeks out of the last two years. So it was easy to look at the fact that he didn't get the piano job in Maine, or the paid internship at the musical theater in St. Louis, or the teaching job at the summer camp, as a blessing in disguise.
In the Mother's Day letter he sent me last Sunday, Henry wrote about how much he was looking forward to family dinners, hikes up Pack Monadnock, concerts at Apple Hill, taking runs with me, and having weekends off to spend hanging out at home. He thought there might be time to take an on-line class at Berklee, maybe go to a Red Sox game or two. I loved getting that letter, for of course I'd been looking forward to the exact same things. Hard as it seemed to believe, he'd be home in two weeks — right here, sleeping in his own bed, every night till the end of August.
And then Tuesday came, and a call from Henry. He'd gotten an offer, he said, to play piano and to be the assistant to a musical director in Maine. It was the summer job he'd wanted most and hadn't gotten, but now something had shifted, someone else wasn't coming, and they wanted him after all.
"I'm not sure what do," my son said. "I've already committed to the volunteer job. And I've been so excited about finally just getting to be at home with you guys. But it sounds as if they really want me to come up there. And I'll get to play a lot. I know I'll learn a lot. And the money's really good."
Sometimes the hardest part of being the parent of a grown-up child is remembering that my job is still to be somewhat more grown up than he is. Which, in this case, meant finding the wherewithal to listen and ask questions and listen some more, without jumping in and telling my twenty-one-year-old son what I thought, what I wanted, and how very much I'd been looking forward to having him around.
Could he weigh the commitment he'd made to work for free against the opportunity to pursue his musical career in the job he'd hoped for all along? Could he give up the attractions and comforts of home, and some time off, in favor of a contract that ends four days before school starts in the fall? Could he work this all through, find clarity in the midst of confusion, and make a decision that would feel right to him? I had to trust that he could.
Meanwhile, Steve and I had our own long talks. We confessed to each other how disappointed we were that the family summer we'd been envisioning might not happen after all. We pulled the plug on the family vacation we were in the midst of planning. We discussed the fact that our son really is an adult now, and that being an adult means going to work and creating a life that is separate from ours. And then we promised ourselves that if he ended up in Maine, we'd drive up to visit, to hear him play the opening night show. We reminded ourselves, not for the first time, that there is love in letting go.
Next week, I have to make a trip to New York to serve on a panel. Henry will fly in after his last final exam and meet me and Steve in the city. We'll have a great dinner, see "War Horse" at Lincoln Center, cram into one hotel room for the night, and make the long drive home with all his stuff. A few days later Jack will be home, too, and then we'll have four days of being together before Henry packs his bag and leaves for his summer job in Maine.
"Live your own life," Tao scholar William Martin advises parents, "with all your heart, and with all your mind, and with all your soul. There is no need to live theirs. They will do that wonderfully for themselves."
They do.