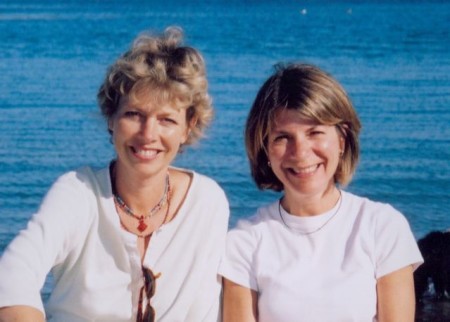 In two weeks, I'll turn 56, a birthday my dear friend Diane did not live to see. The photo above, my favorite of the two of us, was taken the year before she was diagnosed with ovarian cancer.
As always in the early fall, Diane, our friend Carol, and I had used my birthday as an excuse for a girls' getaway at my parents' house in Maine. For years we celebrated our time together with the same fool-proof menu: old Jackson Browne music on the stereo, lobster risotto (a collaborative culinary effort) and champagne for dinner, Diane's scones and fresh fruit for breakfast, long walks, and no-holds-barred late-night conversations – the kind that can only happen between the most intimate friends, away from home, with no kids or husbands within earshot.
I've been thinking a good deal lately about how Diane spent her 55th year. It was she who originally inspired the phrase "the gift of an ordinary day," for her delight in simple pleasures and time spent with her family and friends only deepened as she bravely faced both her devastating prognosis and a heartbreaking series of "lasts." Diane negotiated the realities of ovarian cancer with the same determination and clarity she brought to everything she did – continuing with aggressive treatment for her disease while fully embracing the joys of her own everyday life. Under the care of the Dana Farber Cancer Institute, she was able to do both for nearly four years.
During that time, she also worked tirelessly to support ovarian cancer research. As her own journey came to and end, Diane made clear her desire that her loved ones might carry on this effort in her memory.
Team Diane was formed in response to that wish.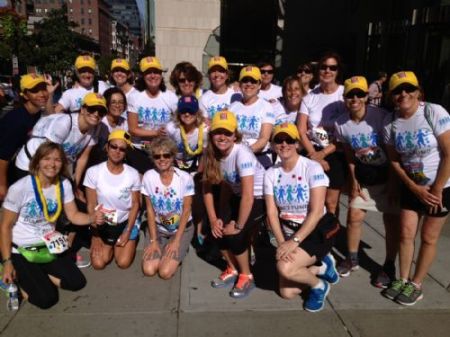 Walking together in the annual Boston Marathon Jimmy Fund Walk over the last three years, our small group has raised over $125,000 for Diane's cause — money that, by Diane's design, goes directly to her beloved Dana Farber oncologist Dr. Urusla Matulonis and her dedicated team of researchers. It's a great achievement, but of course there is much more work to be done.
Next Sunday, on September 21, I will join Team Diane for the fourth time to walk in this event that's become a touchstone of my life. I'm proud and grateful to be part of this committed group of walkers – some of us who knew and loved Diane, others who have joined because they've been moved by her story or touched by cancer themselves.   We are mostly women in our forties and fifties and sixties, and so we walk despite our own individual challenges – sore knees and cranky backs, cancer and Lyme disease, tight hamstrings and tender heels, the usual aches and pains of age. (Although I've got my own tricky back and gimpy leg to deal with this year, I didn't for one moment consider dropping out!)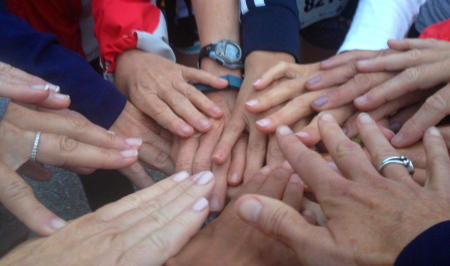 As always, we'll begin the day in the dark, eating homemade scones on the pre-dawn ride out to Hopkinton (another Diane tradition, happily continued). We'll hold hands for a moment at the start and then set out together, joining the more than 8,500 others who will be walking for a cure that day. En route, we'll share our BlisterGlide, sunscreen, and Ibuprofen. We'll urge one another on and catch up on one another's lives. We'll take plenty of stretching breaks and pit stops and remind each other to drink more water. And late in the afternoon we'll cross the finish line arm in arm, with cheers and tears, remembering our friend, knowing how proud she'd be to see us carrying on her mission. And knowing, too, that we are making a difference. Collectively, working together, we can improve the odds for every woman who is diagnosed with ovarian cancer.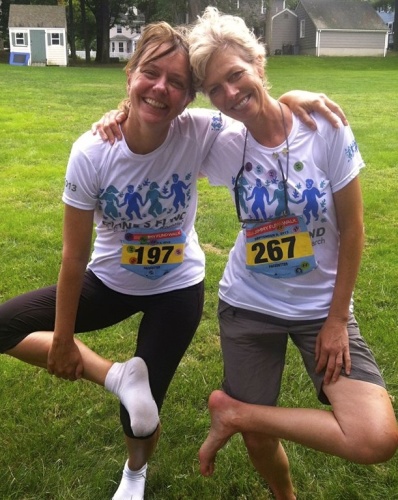 Once a year, I reach out to you, my dear readers, to join me in this cause that means so much to me and to so many others. For, as we all know, cancer touches each of us. As I write, my dear friend Lisa is being treated by an extraordinary team of doctors at Dana Farber, while another is celebrating her recent recovery from ovarian cancer. And so, it's little wonder that I'm more committed than ever to doing my part to help conquer this disease. I am deeply grateful for any support you are able to give. Together we're walking and giving and working to change lives — and perhaps to save them.
Thank you. Your support and your presence in my life means more than I can say.
how to donate – and a special thanks from me
Each year when I invite you to support me and Team Diane's efforts, I like to choose a book to give away here, one that has some special significance to this cause. I can think of none better than the first volume of Mary Oliver's collected poems, perhaps my favorite poetry book of all time. Four years ago, Diane borrowed my copy and found deep solace in these poems; later, when the book came back to me, her slips of paper were still in it, marking the ones that spoke most deeply to her. This too was part of her legacy: she wanted to remind us to pay attention, to love life and to live it fully, with gratitude and awareness and wonder.
So, if you do make a donation, make sure to also leave a comment below and let me know.
On Friday, Sept 26, I will choose one winner at random to receive Mary Oliver's New and Selected Poems, Volume One. (Needless to say, I wish I could send a copy to each and every one of you.)
Donating is easy.
        Go to my personal fundraising page by clicking here: 

http://www.jimmyfundwalk.org/2014/katrina4teamdiane#sthash.9xacweAR.dpuf.
Or send me a check: Make your check payable to "Jimmy Fund Walk." Write DIANE'S FUND on the memo line. Send it directly to me at: 101 Middle Hancock Rd., Peterborough, NH 03458.
Note: You may wish to check with your employer's Human Resources department to find out if they  will match your gift and double the impact.
Every single contribution is both meaningful and deeply appreciated.  Onward, with gratitude and love!