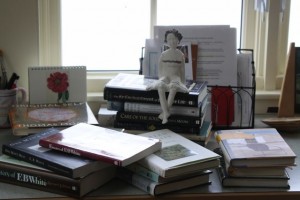 I confess: I haven't gotten my 2011 calendar set up yet.  I'm still straddling my old green desk planner and the spiffy new system that promises to turn me into a better- organized, more productive human being, if I would only take the time to create the to-do lists and break my projects down into next actions and manageable steps.  (Maybe tomorrow. . .)
But I do have my books organized.
Last weekend, I took every single volume off the shelves in my office and began a sorting process — the first step, for me, into new work for the new year.  I couldn't really explain why having a good, long chat with my books on New Year's Day felt more urgent to me than transcribing birthdays and doctors appointments into the empty days of 2011, but I think I get it now.
The process ended up taking a few days, much longer than I anticipated.  But it turned out that I needed that time, time to see which books would speak up and demand to be returned to the shelves, which ones had gone mute.
The reference books — my old dictionaries, Roget's thesaurus, the Chicago Manual, Bartlett's — were surprisingly easy to relegate to a pile and then, a few days later, to carry out the door. I have dictionary.com bookmarked in my toolbar, haven't hauled out my 5-pound Websters for years, and know there's no turning back now.  Long gone are the days when I would sit on my bed typing (picture a brown Smith-Corona electric), surrounded by dictionary, thesaurus, bottles of White-Out, first and second drafts marked up by hand.
The rest of the books, however, demanded a bit more in the way of conversation.  I found myself clearing a big, new space for poetry, creating a shelf devoted to women's memoirs, another to writings about nature.  I gathered up my yoga books into one accessible spot and relegated stacks of cookbooks to the basement.
Over the years I've somehow managed to acquire a veritable library of parenting books, from "You Are Your Child's First Teacher" to "Yes, Your Teenager is Crazy."  At different times, these books have offered much in the way of insight and inspiration as I found my own way through the joys and challenges of motherhood.  Moving the whole batch of them onto a high, accessible-by-stepladder-only shelf, felt like a rite of passage.  I'm not done being a mother, of course, but there's no doubt that my identity is less and less intertwined with my children, my role no longer defined by their needs.  As they become independent young adults, I, too, am carving out a new kind of independence for myself.  The responsibility for their lives is in their hands now, not in mine.  Which leaves me, suddenly, with a greater responsibility to myself and to the larger world beyond my own front door.
Placing my books back into new places on the shelves has turned out to be one way of beginning to answer the questions that have been on my mind for months now:  "What's next?"  And, "If I am not the 24/7, here-when-you-need-me mom of Henry and Jack anymore, then who am I?"
It occurs to me that, for the first time in my entire adult life, there is no one who actually "needs" me at all at the moment.  My sons are busy, fully engaged.  Both of my parents, at seventy-five, are happy and healthy, doing fine.  My husband's work is steady, our life together satisfying, even, dare I say, routine.  I have no friend in crisis, no loved one calling out for support.  And yet, the stresses and losses of these last few years have taught me how quickly life can turn.  Grief resides in me right alongside each day's happiness. To live in the moment, it seems, means to embody all moments.
There was a day in the early fall when I sat sipping tea with my friend Diane.  "Remember our hike in the White Mountains?" she said.  I did, of course.  "I wonder," she mused, "if I really appreciated that enough, if I lived it enough."
"You did," I assured her.  "We did.  Absolutely."  The truth is, we knew even then, summer before last, as we made our slow way up the trail toward Greenleaf Hut, near the peak of Mount Lafayette, that there would be no more mountains for her, that this trip that meant so much  was just one more "last" in a long series of lasts.  There were five us hiking that weekend, laughing and joking and urging one another on through the steep parts.  We weren't talking about endings, though, not at all. We were hiking with joy. Celebrating life.  Treasuring friendship.  Discovering what is possible when you choose to climb to the top of a mountain rather than sit at home waiting to see what's going to happen next.
"Did I live it enough?" That is the other question I carry in my heart into this new year.  I want to make sure that, when I pause to look back, and ask myself, "Did I live it enough?"  I, too, am able to answer, "Yes. Absolutely."
My books are back on the shelves now, in all new places.  And they are speaking to me, suggesting new paths, new places to go, new possibilities.  On the first day of January, I began reading a book called "A Year with Rumi."  A week later, and these daily poems feel like nothing less than emphatic calls, aligning every level of my being.  Tomorrow, yes, I'll be ready at last to begin writing in the calendar for 2011.  Oddly enough, I have a much better sense now of where I'm going.  Rumi, that wild, thirteenth-century Sufi mystic, is showing me the way.
Your grief for what you've lost lifts a mirror up

to where you're bravely working.

Expecting the worst, you look, and instead

here's the joyful face you've been wanting to see.

Your hand opens and closes and opens and closes.

If it were always a fist or always stretched open,

you'd be paralyzed.

Your deepest presence is in every small contracting

and expanding,

the two as beautifully balanced and coordinated as bird wings.

Rumi, from A Year with Rumi: Daily Readings, translated by Coleman Barks
More housekeeping:  If you have previously subscribed, and still haven't received my posts in your email box, please resubscribe.  It IS working now, though it's taken a few tries to get the systems running.  (Let me know if you're still having a problem!) Also, if you subscribe by RSS, make note of the new link: feed://feeds.feedburner.com/KatrinaKenison