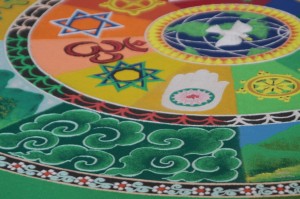 Ten years ago, my birthday. I am visiting a friend in New Hampshire. It is unseasonably cold for early October; already, less than two hours north of our Boston suburb, frost has ravaged gardens, stolen the life out of all the flowers in the big planters downtown. While my friend is at work, I spend the day wandering through her town.
Peterborough is just half an hour away from where I grew up, but it feels further, thanks in large part to the mountain in between, the harsher climate over here. When I was a child, we rarely came in this direction; "civilization" lay to the south and to the east, toward Boston, not up and over Temple Mountain in the direction of Vermont. Yet our occasional family trips — for summer evening ice cream cones at Silver Ranch, or to prowl antique stores with my mother — made lasting impressions. The town seemed special even then.
On this day, my forty-second birthday, my eye catches a sign propped up on the sidewalk in the middle of town: Tibetan Monks from the Drepung Gomang Monastery Create Sand Mandala. Each day this week, 9 –5.
I have no idea what a sand mandala is, but the door of the old brick building, a former Baptist church from the colonial era, is open, and I have an empty afternoon stretching out before me. It seems unlikely that a tiny New England village with a population of four thousand could support a multi-cultural museum, but that is exactly what the Mariposa appears to be: a welcoming community center devoted to bringing world culture to one small town in New Hampshire. I drop a donation in the jar, walk through a gallery stuffed with vibrant artwork, handmade dolls, puppets, and wall hangings, to the stairs leading to the second floor.
Upstairs, the soaring hall has been transformed into a sacred space. At one end of the room, an altar has been created, adorned with apples and oranges, small bowls of rice, flowers, candles, and a statue of the Buddha. On a large blue board on the floor an intricate design is taking shape, made entirely of colored grains of sand. I slip off my shoes, take a seat, and watch the monks silently bending to their work.
There are several monks, dressed in crimson robes, sitting quietly, meditating; two others are down on their knees on the hard wooden floor, hunched over, noses inches from the ground as they "paint" with what look like narrow metal funnels and small sticks. There is no sound but for the rhythmic tapping of metal on metal, as they painstakingly fill in their exquisitely detailed design with grains of colored sand.
Afternoon sun streams through the high windows. People come and go. A young mother arrives to watch with her little boy, who solemnly eats an apple, never taking his eyes from the monks, who look up every now and again, stretch, and smile at us, nodding hello. The mandala increases in complexity, each intricate design element appearing as if by magic from the thin streams of sand. Not a grain falls out of place. The slightest breeze or sneeze or misstep would destroy its geometric perfection. Yet the monks move easily around their creation, barefoot, their robes flowing, seemingly heedless of the danger yet as mindful of each movement as they would be if performing a dance. Unhurried, graceful, light-hearted. Peace pervades the room.
A thought arrives, alights like a bird upon my shoulder: I want to live here.
That night, back at home in Massachusetts, my husband is waiting for me; he and our sons have made a chocolate cake and a birthday dinner. But there is something going on in the back yard. The people who recently bought the house right next to ours have decided to cut down all the trees between our two houses. The chainsaws are still roaring. The landscape has changed; but it suddenly feels as if everything else has changed, too. Where, just yesterday, there were golden leaves shimmering in the sunlight, a thick, leafy canopy of protection and privacy surrounding our home, there is suddenly devastation. Our familiar tree-house view is gone, replaced by a stark, unfiltered view into someone else's brightly lit tv room. Tears fill my eyes. I say, "I think we need to move." I am as surprised by the words as Steve is.
Sometimes we recognize the defining moments of our lives as they're happening. But not always. It was a long time after that emotional October evening before my husband and I finally decided that yes, in fact, we were going to move. And longer still before we finally settled into a house of our own on a hilltop in the town of Peterborough. But looking back now, I know: for me, the journey to the place we now call home began in the presence of a group of exiled Tibetan monks from India, who came to spend a week creating a mandala for peace in a small town in New England.
This week, the monks returned to the Mariposa. They are traveling in the U.S. now at the request of the Dalai Lama, re-creating a new, breathtaking sand mandala designed to inspire world harmony and to honor all beliefs and all religions. Early on Friday morning, Jack and Steve and I sat for a while and watched them put the finishing touches on their week's work. The monks welcomed us happily, eyes twinkling. The mandala was breathtaking; intricate, finely textured, each minute detail meticulously rendered. A half hour passed; Jack needed to get to school, but none of us could bring ourselves to leave.
According to Buddhist scripture, sand mandalas transmit positive energies to the environment and to all who view them; they are believed to effect purification and healing. On this beautiful April day, there was no doubt at all: we were in the presence of peace, enveloped in love, steeped in goodness. Exactly where we were meant to be.
Funny how ten years go by and, while you're busy living your life, it is inexorably turning into something else altogether. Funny, too, how destiny is revealed, how it's only by pausing and looking back that we can truly discern the gifts given us by grace — the moments that have shown us who we are, that have illuminated the dark path, revealing just where it is we are meant to put our feet and the direction in which we are called to go.
Lately, I've been thinking a lot about intuition. Was it just a random thought, or some kind of inner knowing, that brushed against my awareness all those years ago, on my forty-second birthday, loosening my grip on things as they were and whispering in my ear that change was already in the wind?
I can't say, but I'm coming to believe that we are guided all the time, that support and direction are right there for us if we take time to pause and listen to the quiet inner voice that says, "go here," or "do that." Perhaps the way forward can only be revealed in those quiet spaces in between moments, when we are sitting still, so still that gentle breezes from another realm can be heard to murmur.
This spring, coming to the end of a time of intense work and reflection, I find myself once again at loose ends, humbled by uncertainty. Our two sons are about to graduate, one from high school and the other from college. Life is full of unknowns. But one thing I have learned is that there are energies at work in all our lives that can be trusted. Our job may simply be to ask the questions, to open ourselves to possibility, without presuming to nail down the answers. Perhaps there is no right answer anyway, other than the rightness of trusting that things will unfold as they are meant to — as long as we're willing to make room for our many ways of knowing, even the ones that seem beyond reason, the ones that dwell in the realms of soul, instinct, faith, mystery.
On Sunday, I returned for the monks' closing ceremony. The room I entered for the first time as a stranger over ten years ago was filled now with my neighbors and friends – it seemed that everyone in town had come out on this rainy afternoon to view the completed mandala and to bid it farewell. For, within hours of completing their masterpiece, the monks destroy their creation. In a deep bow to the impermanence of all things, the monks chanted, prayed, and then,using two ordinary paintbrushes from the hardware store, they swept the beautiful offering they had spent the entire week making into a small rainbow-hued pile.
I came home with a little packet of that sacred sand. And later today, when the sun comes out again, I will sprinkle it in the garden outside our kitchen door, in this place that we have come to call home.
NOTES TO YOU:

If you would like to see more photos of the mandala and the monks at work, please visit The Gift of an Ordinary Day on Facebook; I will have them posted there.

SIGNED BOOKS FOR MOTHER'S DAY As always, my wonderful local bookstore is happy to help with a special gift for a special mom in your life (maybe you?). Click here to order signed, personalized copies of Mitten Strings for God and/or The Gift of an Ordinary Day.