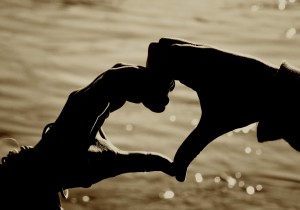 Last week, I wrote about wholeheartedness, a word that truly seemed to pick me, rather than the other way around, for 2012. On New Year's Day, my last morning at Kripalu, having accepted my word, I decided that I would simply allow myself to live into it.
Moment by moment, I would try to do the loving thing, whatever that might be. Instead of second guessing myself, worrying about what might happen next, or trying to come off a certain way, I would set my foot down firmly on the side of love over fear. And so, at the risk of being the one who loves more, I sat down and wrote a note to a friend, just to say, "you are important to me." At the risk of being silly, I emailed my husband to tell him I love him, as much when we're apart as when we're together. At the risk of seeming mushy, I let my son Henry know how much it meant to me that he was willing to spend the New Year's weekend eating brown rice and doing yoga with his mom, instead of hanging out with his friends.
Back at home, I made dinner for the family, lit the candles, held my kids' hands as we said grace together, and, at the risk of appearing vulnerable, allowed my full heart to overflow. The next morning, Henry and Steve left early for the airport and Henry's flight back to Minnesota, and I went hiking, arriving at the top of Pack Monadnock in time to watch the sun come up. Standing there alone on the top of a wind-whipped mountain at dawn, overcome by a sense of awe at the vastness and beauty of this world, I also realized that I felt more connected to myself than I have in a long while, a little more at ease in my skin and a little more accepting of the raw intensity of my own emotions.
"Wholehearted," it seemed, wasn't really a resolution I had to keep. In fact, it felt more like a choice, one I could make moment to moment, a way of inhabiting my life that feels akin to faith. Faith that life is already good, faith that I already have what I need, faith that I'm enough as I am, faith that things are just fine as they are, and faith that, no matter what the circumstance and even when I don't have a clue what to do, the loving thing is always my best bet. What a relief. And what a revelation. I kind of thought I'd just invented a whole new concept: Wholeheartedness!
I went home and had breakfast with my son Jack, and then I sat down to write a blog about Wholeheartedness. Within a few hours of posting it, as I read through the thoughtful, generous comments on this site and on Facebook, I learned, of course, that there is already an entire Wholehearted Living movement afoot — and that I'm just one more latecomer to the wholehearted conversation.
No matter. I am happy to be here, thrilled to jump in and learn more, to share what I discover, and to encourage you, too, in the words of Wholeheartedness pioneer Brene Brown, to "let go of who you think you're supposed to be and embrace who you are."
I have just finished reading Brene's wonderful book, "The Gifts of Imperfection" and can't recommend it highly enough. My own copy is full of folded pages and underlined passages.
A passage about courage particularly resonates with me. The root of "courage" is cor, Latin for "heart." And in one of its earliest forms the word "courage" meant something very different than it does today. Courage meant "To speak one's mind by telling one's whole heart." This, I realize, is what is required of all writers. It's how I want to live. It's how I want to be in relationship with the people I love. And, well, speaking and writing honestly about who we really are and what we're really feeling is scary stuff. "Ordinary courage," Brene suggests, "is about putting our vulnerability on the line."
Brene's TED talk on vulnerability and worthiness was one of the top ten TED talks of 2011. Pour yourself a cup of tea, treat yourself to a twenty-minute break, and give it your wholehearted attention. And make sure to visit her terrific blog, Ordinary Courage, where, as it turns out, she writes this week about the word that found her for 2012.
Elisabeth Lesser's book "Broken Open" is a wholehearted manual for living through difficult times. Given to me by a dear friend two years ago, when I was going through a difficult time of my own, it has remained my go-to book when I need to be reminded that every challenge I face makes me stronger, that suffering enlarges my heart, that a "whole" life includes both light and dark, joy and sorrow, emptiness and fullness. "So often," Lesser writes, we "tune out the call of the soul. Perhaps we fear what the soul would have to say about choices we have made, habits we have formed, and decisions we are avoiding. Perhaps if we quieted down and asked the soul for direction, we would be moved to make a big change. Maybe that wild river of energy, with its longing for joy and freedom, would capsize our more prudent plans, our ambitions, our very survival. Why should we trust something as indeterminate as a soul? And so we shut down."
As I struggle to write a book I feel uncertain about, agree to speaking engagements that make my knees shake despite being months away, and wonder what, exactly, my nearly grown children still need from me and how to give it to them, I remind myself that nothing really needs to be as complicated as I make it. I don't have to change who I am, I simply have to be who I am. I can tune in to the call of my soul. I can live wholeheartedly. I can embrace the gift of imperfection. I can do the loving thing and trust that love really is enough.
I am seriously thinking about creating a Wholehearted Playlist; when I do, I'll share it. Meanwhile, here's the song I've played a couple of times every single day since January 1, just to remind me of who I really am – and of how a really great song can set the tone for an entire day. Have a listen to Girish's "Diamonds in the Sun," definitely my song for 2012.

What piece of music says "wholehearted" to you? Leave a comment here – or, better yet, a suggestion for the Wholehearted Playlist — and you may win a copy of Brene Brown's "The Gifts of Imperfection." I would love to share her work with all of you, but since I can't do that, I'll choose two names at random after midnight on January 16 to receive the books.

Here's to singing our song in this new year, wholeheartedly!