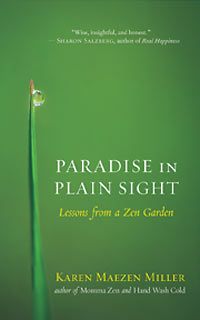 Come see the garden," my new online friend said to me, years ago. We had never met, barely knew each other through the ether, and yet here she was, inviting me to her sanctuary.
I was a New Hampshire housewife contemplating a field of granite rocks beyond my kitchen window. She was a west coast Zen priest, the rightful inheritor of a venerable Japanese garden tucked away in a suburb of LA.
What did we have in common? Perhaps it was something as simple as the belief that an ordinary life is a gift to be reckoned with — that folding socks and driving the carpool and washing supper dishes are opportunities for growth and grace. And we also shared this: a desire to fully inhabit the present moment by learning to pay attention to the ground beneath our own two feet.
It doesn't sound like much — being quiet, noticing where you are, appreciating what you see, realizing that you already possess what you've been looking for because you already are everything you seek.  Of course, this kind of seeing, this kind of unvarnished intimacy with one's self, is also the task of a lifetime. Hard work. Simple. Not simple. Endless. Worth it.
So, perhaps it wasn't a surprise that we first "met" because our books crossed each other's doorsteps. [continue…]