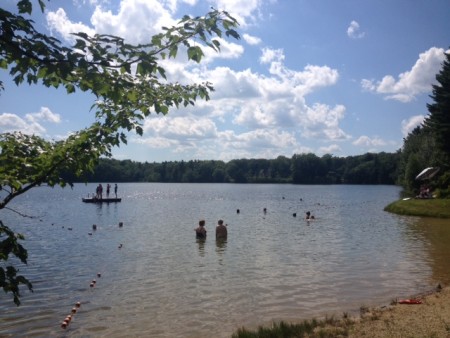 A mid-summer Monday morning. After a weekend away, I've spent a couple of hours setting the house back to rights. Emptying jars and vases of their dead flowers, vacuuming up the scattered petals, watering plants and deadheading lilies, gathering laundry into a hamper and getting the first load going in the basement.
The kitchen is quiet. Beyond the windows, which are all cranked open to their fullest on this steamy day, cardinals and blue jays vie for turns at the feeder — unaware, for the moment anyway, of the blueberries ripening on bushes just a few feet away. As always, it's a race between me and the birds to see who will get there first to harvest the small crop. (Usually, I lose. A watchful catbird is already hopping along the top of the chaise lounge in the yard, taking stock of the bounty.)
I must confess I'm feeling a bit unsure about what to write here after a few months of not writing at all. No excuses for the silence, other than that I've been busy elsewhere. To offer a full "report" would be impossible for me – and tedious for you. Yet, sitting quietly on my kitchen stool, I discover there are a few thoughts that have been waiting their moment to emerge after all. I can't say everything that's on my mind, but I can say this: I feel softened by the season, slowed down in my thinking but perhaps a bit more raw and open in my emotions. Life has been tender and lovely and bittersweet, suffused with beauty, laughter, and tears.
There have been no big revelations, but rather countless variations on this one small truth: joy and sadness are not opposites. In fact, they co-exist, all tangled up together in the same day, the same moment, the same unguarded heart. [continue…]