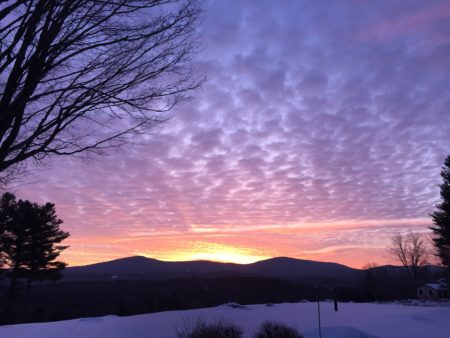 My mom, who is eighty, gets up in the dark every morning. She likes to sit near the window in her living room, mug of tea in hand, and watch the sun come up across the pond.   "I don't know how many sunrises I have left," she said to me recently. "And I don't want to miss a single one."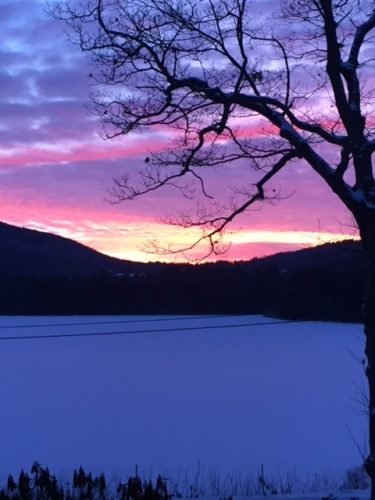 I may be twenty-two years younger than she is, but I feel exactly the same way. Over here on my side of town I'm up, too, watching the day begin. Sometimes my mom sends me a photo of her sunrise, and I respond with a photo of mine. You might think that after ten years of living in this house with its southeasterly view of mountains and sunrises, I'd take the dawn for granted. In fact, the opposite is true. What my husband and I have learned from rising early enough to observe the beginnings of hundreds of days here is that no two sunrises are alike. Of course I could sleep through the quiet drama, or lose myself in the morning headlines or my Facebook news feed, or go about my business of getting breakfast ready and coffee made. The day arrives, after all, whether I'm bearing witness to it or not.
But still, morning after morning, I stand in the kitchen or, often enough out in the yard in my slippers, and take note of the changing light. It's only a moment or two, a moment carved out of time and devoted simply to pausing and being and seeing. And every morning, almost without fail, my own heart lifts with the sun – for so begins another day on the planet, another day of being here, another day of striving to do a better job of being human than I did yesterday, another shot at more gracefully executing this precious, fleeting, endlessly surprising challenge of being alive.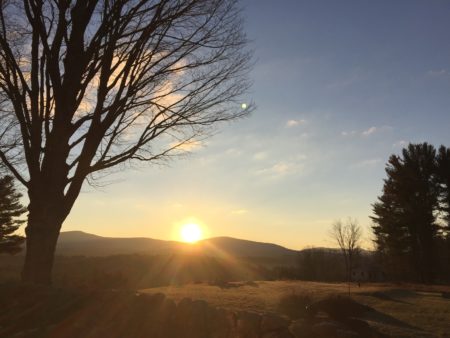 An early riser, an optimist by nature, a lover of mornings, I'm always eager to launch myself into the day. And it doesn't take much to make me happy: A cup of strong coffee laced with cream or a handful of frozen blueberries from my summer-stash in the freezer, a silly joke shared with my husband, a good-morning text from a far-away friend, the hairy woodpecker hanging upside-down at the feeder, busily extracting his morning ration of sunflower seeds, a sky fluid with traveling clouds executing their own sublime choreography, or a soft grey mantle of mist draped across the nearby hills. Looking around at the life I'm privileged to live, I see much to be grateful for.
Yet I'm also conscious these days, in a way I never have been before, that simple gratitude for all that's good in the world just isn't enough anymore. At least, it's not enough for me. [continue…]