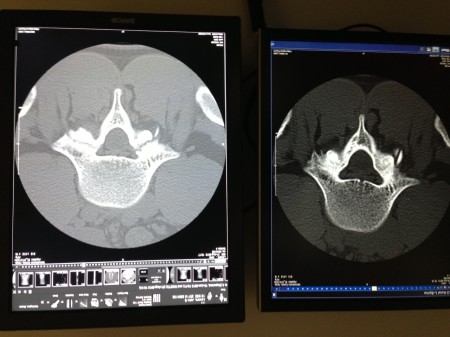 Nothing ever goes away until it has taught us what we need to learn
~ Pema Chodron
We looked at the X-rays together, my son Jack and I.
"This is last August," the orthopedist said, pointing to the image on the left, showing two clear fractures in Jack's L-5 vertebrae, fractures that, after 6 months, were showing no signs of healing on one side and only a minimal feathering of bone growth on the other.
"And this is now," he said, indicating the scan from last week. "Completely healed.
"I can tell you," he said turning to Jack and raising his hand for a high five, "this hardly ever happens."
I remember my very first glimpse of my younger son: the dark, cool room; the ultrasound wand sliding through the goop on my swollen stomach; my husband peering over me to get a look at the shadowy little curlicue of a person floating deep within my belly. It was, I am suddenly realizing, twenty-one years ago this summer – my son's entire lifetime ago, and yet still fresh and vivid in my mind's eye. The technician asked if we wanted to know the sex of our baby. [continue…]