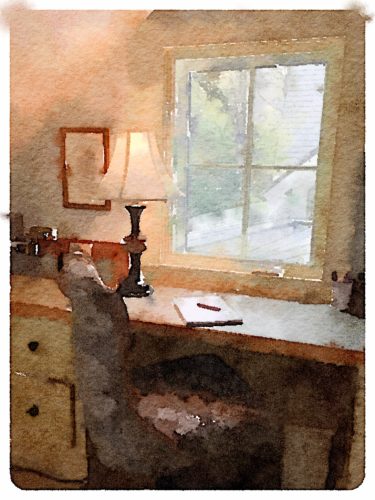 A few weeks ago I phoned my son Jack in Asheville. "How would you feel about me taking over your bedroom at home and turning it into a writing space?" I asked.
I'd hesitated for weeks before raising this idea. But Jack didn't hesitate in his response. "Oh, that's fine," he said, "you can do whatever you want with my room."
Although we have a tiny office on the first floor of our house, I've never written a word in it. The desktop computer is my husband's and his in-box sits beside it, overflowing with not-urgent papers and clippings and instruction manuals. The window above the desk looks out to the driveway and whatever vehicles happen to be parked there. The counter is a repository for checkbooks and bills to be paid, stamps and envelopes. And the chair, just the right height for Steve, is not very inviting to me. The office is a perfectly good place to write a check or Google driving directions, but it's not a space my muse has ever chosen to visit.
Most of the words I've produced over the last ten years in this house have come from a stool at the kitchen table, where I look out to a view of fields and mountains and sky. I've spent countless hours perched there, staring out the windows above the sink while trying to pull my thoughts together. As a mother, as a wife, as a cook and homemaker, and also as a writer, I've always been drawn to this room, my own home base, whether I'm chopping something, stirring something, washing something, or writing something. Soups and emails, jars of jam and blog posts, thank you notes and books, all have come from my kitchen. More often than not, several of these things are coming together at once, which means that the written work can easily be shifted to the bottom of my priorities list. No one actually cares if I write or not, but dinner does have to appear on that table every night.
And yet, as summer turned to fall this year, I found myself longing for some other kind of place, a place not in the middle of the action but away from it. A place in which some new work might begin to take shape, privately and quietly. A place where there is nothing that needs to be chopped or watered or cleaned or stirred, where books of memoir and poetry would be easily at hand, and where my laptop and notes and papers don't have to be put away at the end of the day so that placemats and napkins and silverware can be laid out in their place. [continue…]